myspam!
this is a collection of the dumbest spam krap I have received so far in 2005:
(updated regularly & often)
---

Subject: We make it lightly and rapidly than always to get the directions you take.
Our programme is your convenient, reliable and secret online upper course for FDA accepted medicinal directions. Our company propose brand - name and punctual general equivalents of United States drug and food administration customary instruction boluses throughout our completely licensed overseas pharmacy. Upon approbation of yours officinal information, a licensed therapeutist will issue a liberal organization which could be tight and dispatch to you in 1 business day.
---
Subject: PLEASE GET BACK TO ME ASAP !
Dear Respectful One, I am Miss Nancy Amidon Mbaye a 22 years old girl from Liberia daughter to late Lieutenant Col Mathew Amidon Mbaye , Director of External Intelligence at the Directorate of Military Intelligence (DMI).Liberia who was murdered during the problem in Liberia with my only sister by his bosom Friend Mr.Mbundu,Liberian businessman based in Kampala, Uganda when they seek refuge in his house. We the family members knew that Mr.Mbundu ploted my father's death because he acused my late father of cheating him out of a Diamond deal. My mother was murdered after two weeks of the burial of my father by unknown person ,It was this reason our Family Lawyer advised me to leave the country for my safty with some of my father's vital business documents. I am now in dakar senegal under UNHCR with these papers' because after the death of my father my uncle started to persecute us over my father's properties which he later snatched from us under treathning,and enventual death of my mother.now there is nothing I can do than to run for our life' which is very important to me as regards the advise of our lawyer. I am in critical condition to be under refugee with fears and sleepless nights and to compare with senegal where things are very hard every thing is highly expensive and can not afford anything in a condition like this. There is nothing i can do now because i can not decide to go into prostitution' thats over my dead body.The the only hope and source of my happiness at this times is that, my father left the sum of (US21.5 Million dollars) in a secuirty and finacier company some years ago by him and he made me the sole beneficiary which I am the only person that is aware of it and the next of kin.,the whole documments and contacts are with me,because my father loves me very much that was why he gave me every information about that money through our faithful lawyer. I am now asking you to stand on my behalf ,to stand as my partner and in time of the claim and investment as well. I have made up my mind to offer you 15% of the total money while the remaining will go into a productive investment. As I have mention earlier I will make the procedure to this issue to be well know to you,if I am given the opportunity to do so. Now i have called the security company and they told me that unless I have some body who will represent me with all the documments that is requared' that they are not going to release the money to me. so this is why i am looking for a reliable person that will go for it on my behalf to have the money retransfered to your account or a seperet account and help me to come over and meet with you.Please ,I am not trying to force this thing on you but its just a proposal so if you are intrested or know any body who will be willing to help me,feel free to write me for more informations and to tell you about my present situation. Remember this money is my life line and this information must be kept secrete and self-confidential for the seck of my life Please !. My Best Reagards, Miss Nancy Amidon Mbaye.
---
Subject: Doesn't pay on advertiziment - hold on yours resort with our assistance
No much project about stimulating hours in advance. When you order generic product then you get the like quality and gist that if you purchase not generic pills. You just obtain another name and additional terms. The brand name versions of the wares are more expensive because the other producers spend plenty on advertising.
---
Subject: TREAT AS URGENT DEAR PARTNER
Hello Dear I am writting this letter with due respect and heartful of tears since we have not known or met ourselves previously. I will be so glad if you can allow and lead me to the right channel towards your assistance to my situation now. I will make my proposal well known if I am given the opportunity. I would like to use this to introduce myself to you. i am Victoria Karegaye 23years old girl and I know that this proposal might be a surprise to you but do consider it as an emmergency.In nutshell, My (late) father Dr.Michael Kagame Karegaye ,was the managing and director of( Royal Dimaond COMPANY) KIGALI the capital of Rwanda. But he was killed along side with my mother during the longing civil war and all his properties was totally destroyed. However, after their death I managed to escape with a very important document (DEPOSIT CERTIFICATE that he made on my Name, i will tell you the amounth when i get your reply which i am the next of kin. Meanwhile,i am saddled with the problem of securing a trust worthy foriegn personality to help me transfer the money over to his country and into his possession pending my arrival to meet with you. Furthermore,you can contact the Bank for confirmation and i will issue a letter of authorisation on your name,that will enable the Bank to deal with you on my behalf.I am giving you this offers as mentioned with every confidence on your acceptance to assist me or take me as your wife and manage the money.Conclusively,i wish you send me a reply immediately as soon as you recieve this proposal, Until then,i remain with the best regards Miss Victoria
---
Subject: Pls your urgent reply needed.
My Dear, This letter may come to you as a surprise due to the fact that we have not met. The message could be strange but real, if you pay some attention to it. I could have notified you about it at least for the sake of your integrity. Please accept my apologies in bringing this message to you, I have to say that I have no intention of causing you any pain or harm. My name is Mr, John mensah Sulikuh, the director in charge of auditing and accounting section of Bank of Africa Ivory Coast of west Africa with due respect and regard. I have decided to contact you on a business transaction that will be very beneficial to both of us at the end of the transaction. During our investigation and auditing in this bank, my department came across a very huge sum of money belonging to a deceased person who died on November 16 1997 in a plane crash and the fund has been dormant in his account with this Bank without any claim of the fund in our custody either from his family or relation before our discovery to this development. Although personally, I keep this information secret within myself and partners to enable the whole plans and idea be Profitable and successful during the time of execution. The said amount was us$4M (four million united states dollars). As it may interest you to know, based on the information I got through world business directory on foreign business relations I was assured your ability and reliability to champion a business transactions without any problem. Meanwhile all the whole arrangement to put claim over this fund as the bonafide next of kin to the deceased, get the required approval and transfer this money to a foreign account has been put in place and directives and needed information will be relayed to you as soon as you indicate your interest and willingness to assist us and also benefit your self to this great business opportunity. In fact I could have done this deal alone but because of my position in this country as a civil servant, we are not allowed to operate a foreign account and would eventually raise an eye brow on my side during the time of transfer because I work in this bank. This is the actual reason why it will require a second party or fellow who will forward claims as the next of kin with affidavit of trust of oath to the Bank and also present a foreign account where he will need the money to be re-transferred into on his request as it may be after due verification and clarification by the correspondent branch of the bank where the whole money will be remitted from to your own designation bank account. May I at this point emphasise that this transaction is 100% risk free as I have made arrangements for a successful deal before contacting you. On smooth conclusion of this transaction, you will be entitled to 20% of the total sum as gratification, while 5% will be set aside to take care of expenses that may arise during the time of transfer and also telephone bills, while 75% will be for me and my partners. Please, you have been advised to keep top secret as we are still in service and intend to retire from service after we conclude this deal with you. I will be monitoring the whole situation here in this bank until you confirm the money is in your account and ask us to come down to your country for subsequent sharing of the fund according to percentages previously indicated and further investment, either in your country or any country you advice us to invest in. All other necessary information will be sent to You when I hear from you. I suggest you get back to me as soon as possible stating your wish in this deal on my confidential Email address above. Yours sincerely, Mr John Mensah Sulikuh.
---
Subject: From Mr.Farouk
MR. FAROUK ABDUL JOHANNESBURG SOUTH AFRICA TEL:+277 61000101 Dear Sir, URGENT BUSINESS PROPOSAL Courtesy of business opportunity, I take liberty anchored onstrong desire to solicit for your assistance on this mutual beneficiary and risk free transaction with you, which I hope you give urgent attention. To be precise, I am MR. FAROUK ABDUL Senior manager of ABSA BANK Limited JOHANNESBURG SOUTH AFRICA. In my department, we discovered an abandoned sum of US$ 27 Million (TWENTYSEVEN MILLION UNITED STATES DOLLARS) in an account that belongs to one of our customers who died along with his entire family in 1988 Lockerbie Pan American Airline plane crash. Since we got information about his death, we have been expecting his next of kin to come overand claim his money because we cannot release it unless somebody applied for it as next of kin or relation to the deceased asindicated in our banking procedures, but unfortunately to no avail and no body has come forward to claim the money. Therefore, upon this discovery that I and other two officials in my department now decideto establish a cordial business relationship with you,hence my contacting you. We want you to purportedly present your good self as the next of kin or relation of the deceased so that we can release the fund (money)into your account for safety and subsequent disbursement since nobody is coming for it and again we do not want the money to going to the government account as unclaimed bill . The banking law and procedures herein stipulates that any accounts abandoned or dormantfor a period of some years is subject to be closed and all money contained therein will be forfeited to the government treasury account. Now itis being speculated that the above sum will be transferred into government treasury account as unclaimed fund on or before July 2005. The reason for you to present your good self as thenext of kin is occasioned by the fact that the deceased customer was aforeigner. Mode of Sharing After the successful completion of the transfer is as follows, for the role you will be expected to play inthe whole exercise, we have agreed to give you Thirty (30%) of the total sum,and the remaining 70% shall be for my colleagues and I in support of therefore mentioned, you are urged to reply this letter indicating your readiness and interest to participate in the business. After your reply, you will be advised on the next step afterwards. I quite believe that you will protect our interest by keeping this business top secret and confidential. Your interest will be equally protected,as we must maintain maximum confidentiality. Trust to hear from you on this TEL NO.:+277 610 00101. Count on your earliestreply. Thanks Yours faithfully MR. FAROUK ABDUL
---
Subject: Not big prices but vast choice. Be confident about yours wellness.
What's worse, the similar medicine worths a lot more if it is marked. Consequently how come ought you pay more particularly while you will acquire the same drugs at a much cheaply value? Huge selection of our wares could support you to get the better of whatsoever of your own illness. In Pharmoze, we give you the equivalent medical preparations, the generic variation - the similar quality the similar formula - in a greatly rational worth.
---
Subject: call me immediately+0022507864655
APPEAL FOR URGENT ASSISTANCE. Dear, With due respect and with GOD all thing are possible that is why I call for help to please Permit me to inform you of my desire of going into business relationship with you. I got your contact from foreign trade bussiness chember. I prayed 7 days prayer over it and selected your name among other names due to its esteeming nature and there commendations given to me as a reputable and trust worthy person that I can do business with and by the recommendation , I must not hesitate to confide in you for this simple and sincere clean business 100% risk free assurance and I will like you to know that all neccesery arrengement have been ready. I am Micheal Radci the only son of late Mr and Mrs . decot radci, My father was a very wealthy cocoa merchant in Abidjan the economic capital of Ivory coast, my father was poisoned to death by his business associates on one of their outings on a business trip . My mother died when I was a baby and since then my father took me so special. Before the death of my father on January 2004 in a private hospital here in Abidjan he secretly called me on his bed side and told me that he has the sum of ten million,five hundred thousand United State Dollars.US$10,500,000 left in fixed /suspense account in one of the prime bank here in Abidjan that he used my name as his only son for the next of Kin in Depositing of the fund. He also explained to me that it was because of this wealth that he was poisoned by his business associates. That I should seek for a foreign partner in a country of my choice where i will transfer this money and use it for investment purpose such as real estate management or hotel management and I wil like you to know that before I contacted you I have been introduce you to the bank director where my late father deposited the my money before he died and the bank director told me that they are ready to transfer this money directly to your account as a new beneficiary of this money. then I will like you to get back to me intime so that I can gave you the contact of the bank where my latefatehr deposited deposite the money for you to spoke to the director so that we can proceed imediately and I wil like yout o get back to me imediately you receieve this mail so that we can settle this matter amicably and I will be waiting to hear from you in my hotel where I lodge my self becuase those bussiness association people that kill my father they are looking for me to kill me so that they can claim this money, so I will like you to please get back to me imediately so that we can proceed. I am honourably seeking your assistance in the following ways, so that I can go and summited it to the bank for imediately procedure. (1) To provide a bank account in which this money would be transferred into. (2) To serve as a guardian of this fund since I am only 22 years old. (3) To make arrangement for me to come over to your country to further my education and to secure a resident permit in your country. Moreover, I am willing to offer you 20% of the total sum as compensation for your effort/input after the successful transfer of this fund into your nominated account overseas. All the necessary arrangement has been made at the bank where my late father deposited this fund and the DIRECTOR of the bank told me that as soon as an account of my choice is forwarded to their bank that they will transfer this fund to my destination. Please RING me immediate you received this mail for us to proceed in this transaction which I beleived that you shall call me for good news that you have comfirm my money in an account which you will provide. Furthermore, you indicate your options towards assisting me as I believe that this transaction would be concluded within seven (7) days you signify interest to assist me. So thank you for your understandinga nd my GOD be with you till the day we are going to see face to face in your country and I will like you to always pray for me as orphan like me who have lost is parent. Thanks and God bless you. Best regards, Micheal Radci. I will be waiting for your call in the Hotel where I lodge + 22507864655
---
Subject: Bro check out this awesome new product
Hey man, here's that site I was telling you about. They are offering huge discounts now on Penis Enhancement Patches A top team of British scientists and medical doctors have worked to develop the state-of-the-art Penis Enlargement Patch delivery system which automatically increases penis size up to 3-4 full inches. The patches are the easiest and most effective way to increase your penis size. You won't have to take pills, get under the knife to perform expensive and very painful surgery, use any pumps or other devices. No one will ever find out that you are using our product. Just apply one patch on your body and wear it for 3 days and you will start noticing dramatic results. Millions of men are taking advantage of this revolutionary new product - Don't be left behind! As an added incentive, they are offering huge discount specials right now, check out the site to see for yourself!
---
Subject: THANKS FOR YOUR UNDERSTANDING
Hello, Please, consider this mail as very important and do let me know your honest response within the shortest time possible.Obviously, you have no knowledge of who I am, but I am Ms Eliza Moneka, from Sierra Leone, but resident in Gambia (West Africa). I am interested in investing in any lucrative business enterprise in your country and do want to use this opportunity to seek your advice on the possibility of investment in your area. Over the recent years, there have been cases of political instability in most countries here in Africa and as a result, I am afraid to invest my money here. On this note, I have decided to look else where for possible investment opportunities, hoping that I would achieve this goal with the assistance of a reliable person. I would like to know if it would be secured and lucrative to invest in your country and after a careful feasibility study of the various possible fields or industries in your country by your kind assistance, I would transfer my funds to your country for investment. In a nutshell, I do have a large amount of money to establish an ultra modern company in your country, but I will like to know the possible channels available in your area. Please, do assist me carry out a careful survey and get back to me on the various possibilities. If you do not have any much knowledge about investment or business, I will appreciate if you could recommend me to some business experts individuals/companies/business consultants) in your area, who might be of help to me. I do hope to know you better in the course of time and if trust is established between us, I might need you to be actively and directly involved in this proposed venture. But for the time being, I would like to know you better and hope we could get acquainted within the shortest time possible. In my next correspondence with you, I will give you a clue of how much I intend to invest in your country, but for now, I look forward to receiving your response and hope this opportunity would bring us closer for a possible business relationship between us in the near future. You do reply me with this email. Have a nice day and best regards, Ms Eliza Moneka
---
Subject: find a friend Whether you think you can or whether you think you can't, you're right!
Woman absent is woman dead. By doing just a little every day, I can gradually let the task completely overwhelm me. Death comes to all But great achievements build a monument which shall endure until the sun grows cold. I am always doing things I can't do, that's how I get to do them. looking Let us, then, be up and doing, with a heart for any fate still achieving, still pursuing, learn to labor and to wait. Absence -- that common cure of love. I don't do T A very well because I haven't got much of either. please read on page above Whether you think you can or whether you think you can't, you're right! To get what you want, STOP doing what isn't working.
---
Subject: re: Nobody know what this is fake.
You can't aim a duck to death. Absence from whom we love is worse than death, and frustrates hope severer than despair. Actors often behave like children, and so we're taken for children. I want to be grown up. Any real man must have real watches. It is all one to me if a man comes from Sing Sing Prison or Harvard. We hire a man, not his history. A short absence is the safest. The only way around is through. It's motive alone which gives character to the actions of men.
---
Subject: FW: Dwayne Showed Me How To Get In No Charge
Don't rely on the label on the bag. Gain backdoor access to this L3sb!an website. You don't pay a dime. This site only requires a credit card to prove you are over 18. That's it!! Go here Don't throw the baby out with the bath-water. Don't put all your eggs in one basket. Experience is the best teacher. First come, first served. Fore-warned is fore-armed. Hasty climbers have sudden falls. Hasty judgements are generally faulty. Honesty is the best policy. don't want more? If anything can go wrong, it will. It's a poor job that can't carry one boss. Let the buyer beware. Look before you leap. Nobody can serve two masters. One false move may lose the game. One man's loss, is another man's gain. Peace begins just where ambition ends.
---
Subject: find a friend
The Creator has not given you a longing to do that which you have no ability to do. Begin -- to begin is half the work, let half still remain again begin this, and thou wilt have finished. Celebrity is death --- celebrity -- that's the worst thing that can happen to an actor. We will either find a way, or make one. looking for someone? Absence of proof is not proof of absence. Thou wilt find rest from vain fancies if thou doest every act in life as though it were thy last. You must take action now that will move you towards your goals. Develop a sense of urgency in your life. please read on page above Until Ace Ventura, no actor had considered talking through his ass. Abstainer. A weak man who yields to the temptation of denying himself a pleasure.
---
Subject: FAMILY ASSISSTANCE
Dear friend, I pray that this mail will reach you in good faith and that you will give it urgent attention and handle it with secrecy because my life and that of my only surviving son Willaim is in great danger. My name is mrs veronica kome I am the widow of late Dr stephen kome from the district of Monrovia in Liberia.I got your contact from my husbands business file. My husband was until his assasination a very successful Cocoa and Diamond marchant. He was also deeply involved in the politics and civil war of Liberia. I am facing very difficult financial problems, gross intimidation and threat from my husband's extended family and in particular the rebel leader who is my husband's close relative.They have taken over all my husband's businesses estates,properties and even his local bank accounts. I am painfully subjected to sleep and make sex with the rebel leader before I can get some food and money to feed my son. Infact, my children James and Mary were murdered in cold blood, so I had to ask my only surviving son William to escape to Lome,the republic of Togo where he is residing under hiding. The reason why I am contacting you is to seek your personal help, support and assistance for my son William who is only 17 years to handle his father's only money deposit that we still have access to. My husband has a cash payment deposit of US$ 31.6 million with BTCI bank in Togo which was to be transferred to his overseas associate's bank account. I want you to come in as my husband's foreign associate and provide a new bank account to transfer this money urgently. If the money is transferred, you will arrange and move out William to your country and get him a school to further hiseducation. I sincerely propose to offer you 25 % of the money in compensation. Another 5% will be mapped out to cover all your expenditures, while the balance of 70% must be retained by you for my son. You can invest not more than 60% of my son's 70% in any profitable business of your choice with 50% of the profit retained for him. I am trusting you as a good believing God that you will not betray my confidence in you. Thank you so much and may God bless you and your dear family always. Yours sincerely Mrs veronica kome.
---
Subject: hey lets work together!
Strictly Confidential! Courtyard Chambers Serrano 76, 5-3 Madrid 28006 Spain Greetings I am Mr. Karl Hermanns, a Canadian attorney based in Spain and the personal attorney to late Mr.Hani Saiid El-Ali, a Lebanese national. Late Mr.Hani Saiid El-Ali was a private oil consultant/contractor with the shell petroleum development in Saudi Arabia, herein after shall be referred to as my client. Unfortunately, my client and his wife with their three children lost their lives in the Plane crash of Union Transport Africaines Flight Boeing 727 in Cotonou, Benin Republic on the December 25,2003. Since then, I have made several enquiries with his country's embassies to locate his extended relatives,but this has also proved unsuccessful. After these several unsuccessful attempts, I decided to personally contact you with this business partnership proposal. I have contacted you to assist in repatriating a huge amount of money left behind by my late client before they get confiscated or declared unserviceable by the finance and Security Company where this huge deposit was lodged. The deceased had a deposit valued presently at Twelve Million United State dollars and the company has issued me a notice to provide his next of kin or beneficiary by will, otherwise the account will be confiscated within the next ninety working days. Having been unsuccessful in locating any of my late client's relatives for six (6) months, I am now seeking your consent to present you as the next of kin/beneficiary to the deceased; so that the proceeds of this account valued at Twelve Million United States dollars can be paid to you. It is not necessary to be a blood relation to late Mr.Hani Saiid El-Ali,neither is it necessary to bear the same surname with him. It is even not important for the stand-in next of kin to be a Lebanese national. Already, I have worked out modalities for achieving my aim of appointing a next of kin as well as transferring the money abroad for us to share in the ratio of 50% for me and 35% to you, while we would collectively donate the remaining 10% to Tsunami Relief Course. Although, 5% has been mapped out for reimbursement of any incurrable expenses both local and international. It is my intention to achieve this transfer in a legitimate way, all I required is your honesty and co-operation, confidentiality and trust to enable us see this transaction through. The money transfer paper work itself will include a certificate of origin so that the receiving bank does not ask question. Also the paper work will include proper certificate that the fund being transferred is from non-criminal sources. In short this will be a proper and legal money transfer with apparently no risk involved. The transaction is guaranteed to succeed without any problem. If this proposal is acceptable to you, kindly email the following informations to me: A. Private telephone number and fax number. B. Your complete locational address. As soon as I hear from you, I shall provide you with further clarification that you may need. Your urgent response will be highly anticipated and appreciated. Best wishes, Mr.Karl Hermanns. Note: In the event you are not willing to assist, kindly notify me to prevent me from making further contact.
---
Subject: Andrew James*
Good Day, I am Andrew James from Cotonou, Republique du Bénin. My country is a french speaking Country colonized by France. Am an ordly to GENERAL USMAN MOH. He instructed me to send this mail to you. GENERAL USMAN MOH, is one of our SENIOR STAFF in the MILITRY here in the Republic of Benin. According to GENERAL USMAN he got your contact when searching for a reliable, honest and trustworthy person to entrust this business with and was simply inspired to pick you. I have the mandate of my partners to seek your consent for the transfer and investment of the sum of US$22.000.000(Twenty two million united states dollars only) into your personal or company's bank account. The funds is a residue of the over invoiced industrial contract bills awarded by our Government Militry Staff to some Foreign firms. This DEAL was deliberately hatched and carefully protected with all loopholes sealed. As his ORDLY, I have the cooperation and mandate of the GENERAL, GENERAL USMAN MOH and the Financial Secretary to seek the assistance of a willing foreigner to provide us with the facilities to transfer this money out of the West African sub-region for investment purposes. This is borne out of the non-stable and spurious political nature of the sub-region. The original contractors has been duly paid while this balance is left in an escrow account awaiting claims by any foreign company of our choice. We intend to pay this money out now since we will all be retiring soon and the contract award committee is also winding up their activities. Based on the laws and ethics of employment here, we as civil servants are not allowed to operate foreign accounts. This is more reason why we needed your assistance in providing an account that can sustain this fund for safekeeping and future investment with your comprehensive advise, assistance and partnership. AT this juncture, IT PLEASES ME TO INFORM YOU THAT IN THIS PROJECT YOU WILL ONLY TAKE CARE OF YOUR FLIGHT TICKET, HOTEL RESEVATION AND YOU ARE TO OPEN A NEW ACCOUNT WHERE THE MONEY WILL BE TRANSFERED FIRST BEFORE THE ONWARD TRANSFER TO YOUR ACCOUNT IN YOUR COUNTRY. APART FROM THIS YOU ARE NOT REQUIRED TO SPEND ANY OTHER MONEY.WHILE I WILL BARE THE COST OF TAXES AND DUTIES AND OTHER EXPENSES THAT MAY OCCURE IN THIS PROJECT. TRAVELLING TO COTONOU-BENIN REPUBLIQUE YOU NEED A VISA FROM BENIN CONSULATE OR THROUGH A VISA EXPRESS SERVICES. Kindly indicate your intrest by sending a reply to GENERAL USMAN MOH's e-mail address. Best Regards, Andrew James
---
Subject: this cartoon is not too funny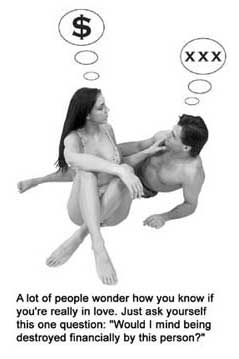 ---
Subject: Business Relationship
Hello! Compliments I have been searching for a person whom we can jointly invest, Trust in and also solicit an honorable partnership with. I want to confirm that your contact information was got from a web email directory. I represent a client who is interested in investing in your country in areas related to agriculture or any business of your choice, to initiate a proper and structured relationship. Please let me know what your response will be to an offer to receive investment funds in cash if; 1. The said fund amounts to US$8,500,000 (Eight Million, Five hundred Thousand US Dollars). 2. The said fund is in cash and needs to be transferred in the same state, due to some covert reasons. 3. The fund could be invested through your agency in the purchase of facility and assets for investment purposes within your country, in collaboration with the agency of the current brokers. 4. This transaction will result in you being paid a commission of 10% off the investment capital. 5. The fund owners desire absolute confidentiality and professionalism in the handling of this matter, due to risks of seizure of the fund and litigation if personalities are revealed. The fund owners have interest to invest in any of the following industries, depending on which is most transparent, low risk, and average profit yielding: Power Generation, Telecommunication and Software Development, Film Production, Hardware Manufacturing and Export, Medicine, Construction or Real-Estate Development. Based upon the information provided above, I would like to know if you shall be able to assist in the nature of managing the investment fund. You must note that the fund can only be transferred in cash, therefore if you are in acceptance to participate with us in the investment of the fund, you shall also need to participate with us in the transfer of the fund in cash in the manner of receiving the fund in cash and depositing it in a Trusted account opened in favour of the investment to be established. And this account would serve as the base or operating account for the investment. I am obliged to believe that you would be able to understand the information above, and should you need further information, please do not hesitate to ask. Kindly confirm receipt of this email.
Sincerely, Quazi Hossain (Esq)
---
Subject: from Mr. Domenic Brown.
3/5 Rider Hider Haggard Close Jo Borto South Africa. E-mail:mrbrown1910@yahoo.co.in From Mr Dominic Brown. In order to transfer out ( Thirty Six Million Dollars) from our Bank here in South Africa. I have the courage to look for a reliable and Honest Person who will be capable for this important business Transaction believing that you will never let me down either now or in Future. The owner of this account is Mr Laurie T Pierre a foreigner and the manager Of petrol chemical service here in South Africa a chemical engineer by Proffession and he died since 1990. The account has no other beneficiary And my Investigation proved to me as well that his company does not know Anything About this account and the amount involved is (36,000,000.00) Dollars. I want to transfer this money into a safe foreign account abroad but i Don't know any foreigner I know that this message will come to you as a Surprise as we don't know our self before but be sure that it is real And genuine business. I believe in God that you will never let me down in this investment. Your full contact phone and fax number will be necessary for this Effect. I await your response so as for us to proceed with the transaction. Best regards Mr Dominic Brown. Auditor General First National Bank South Africa
---
Subject: DONATION FROM SISTER NANCY
Calvary greetings to you in the Name of our Lord Jesus Christ., My name is Mrs nancy christiana rou a nationality of Kuwait. I am married to Mr Johnson rou who worked with Kuwait embassy in IVORY COAST for nine years before he died in the plane crash of 31 october 1999[with egyptian airline 990] with other passengers aboard as you can confirm it yourself through this web site.(www.cnn.com/us/9911/02/egyptair990.list/index.html) We were married for eleven years without a child. Before he death we were both born again Christians. When my late husband was alive we deposited the sum of USD$3.6Million (Three Million six hundred thousand U.S.Dollars) with one of good bank here in IVORY COAST . Presently, this money is still with the bank. Recently, my Doctor told me that I would not last for the next three months due to cancer problem. Though what disturbs me most is my stroke. Having known my condition I decided to donate this fund to church or better still a Christian individual that will utilize this money the way I am going to instruct here in. I want a church that will use this fund to churches, orphanages, Research centres and widows propagating the word of God and to ensure that the house of God is maintained. The Bible made us to understand that blessed is the hand that griveth. I took this decision because I don;t have any child that will inherit this money and my husband relatives are not Christians and I don;whant my husband money to be misused by unbelievers.I don ;t want a situation where this money will be used in an ungodly manner. Hence the reason for taking this bold decision. I am not afraid of death hence I know where. I am going. I know that I am going to be in the bosom of the Lord.Exodus 14 VS 14 says that the lord will fight my case and I shall hold my peace. I don;t need any telephone communication in this regard because of my health because of the presence of my family relatives around me always. I don;t want them to know about this development. With God all things are possible. As soon as I receive your reply I shall give you the contact of the Bank. I will also issue you a letter of authority that will empower you as the new beneficiary of this fund. I want you and the church to always pray for me because the lord is my shepherd. My happiness is that I lived a life of a worthy Christian. Whoever that wants to serve the Lord must serve him in spirit and truth. Please always be prayerful all through your life. Any delay in your reply will give me room in sourcing for a church or Christian individual for this same purpose. Please assure me that you will act Accordingly as I stated here. Expecting to hearing from you. Remain blessed in the name of the Lord. Yours in Christ, Mrs Nancy ROU.
---
Subject: GOODDAY PLEASE I NEED YOUR ASSISTANCE
Greeting, Sir, I am contacting you believing you are a honest and trustworthy person.I believe you will not betray the confidence I am willing to repose in you, for me to have contacted you even though we've not met before. My name is Mustapha Bar Bubacar ,the only son of late Mr.Muhammed Bar Bubacar who was the chairman /President/CEO,Cacao-Cafe & Agro-Alimentary industries plc.SCAFECAO)"Bouake" and ex-owner of Polyclinic LA-MADONNE, of the Republic of Cote d'Ivoire. You can find the story on this website: http://news.bbc.co.uk/2/hi/africa/2269238.stm On 19th of September 2002,a group of so called rebels took over the city of Bouake to over-throw the Government of Mr.Laurent Gbagbo the President of Cote d'Ivoire. On the 20th day morning at about 4:18am some fractions of the same group of rebels break into our house and killed our security guard and pass-through the gate entrance to the main building and took my father away to an un-known destination. After about four hours later we found him (my father) at the road side, by then he had been totally beaten and was bleeding to death lying in the pool of his own blood. From there, we rushed him to a near by hospital and hours later he sent for my mother. So he told her that he can not make it from the doctors diagnosis, he also told her that it was because he (my father) was not from the northern part of the country that he has been treated this way and also being a political activist. And again he said he is suspecting some of his business partners for conspiracy and this sort of brutality. He also told my mother that he deposited a huge amount of money i.e US$ 10.5million dollars(Ten million five hundred thousand us dollars only)in a Finance house in the Capital city of Senegal (Dakar) and also told her where he kept the whole documents concerning this deposit that is made for investment purpose in the western world. That same day, he (my father) gave up the ghost. Then with the help of the French soldiers, we escaped to Senegal, where we are now. I am now contacting you believing you are honest and trustworthy to help us to receive the money in your account for investment, I and my mother has decided in compensating you 20%of the total amount for your assistance . Please do take your time to go through the mail and get back to us, so that I will simply introduce to the Finance house where the fund are being kept now for onward transfer.so contact me through this my alternate email address for security reason. I am waiting for your response. Thanks and God bless. Mustapha Bar Bubacar .
---
Subject: Donation From Elizabeth Hamson.
ATTN:TO WHOM IT MAY CONCERN, Sir/Madam, I am Mrs Elizabeth Hamson,from Kuwait.I am married to late Mr William Hamson, who worked with Kuwait Embassy in Ivory Coast for Twenty-Six years before he died in the year 2002,after a brief illness that lasted for only five days. We were married for Eighteen years with a duaghter(Linda)who later died in a motor accident. Before the untimely death of my husband,we were both born again Christians. Since after his death I decided not to remarry or get a child outside my matrimonial home which the Bible is against. When my late husband was alive he deposited the sum of (US$3.5M)(Two Million,Five hundred Thousand United States Dollar) in a General Trust Account with a prime bank in Abidjan Cote d'Ivoire. Presently,this money is still with the bank. Recently,Following my ill health, my Doctor told me that I may not last for the next eight months due to my cancer problem.The one that disturbs me most is my stroke sickness.Having known my condition I decided to donate this fund to a Christain organization (Church) that will utilize this money the way I am going to instruct herein,according to the desire of my late husband before his death. I want this fund to be used in Christain Activities like,Orphanages, Christain schools, and Churches for propagating the word of God and to endeavor that the house of God is maintained. The Bible made us to understand that "Blessed is the hand that giveth". I took this decision because I don't have any child that will inherit this money and my husband relatives are not Christians and I don't want my husband's efforts to be used by unbelievers. I don't want a situation where this money will be used in an ungodly way. This is why I am taking this decision. I am not afraid of death hence I know where I am going. I know that I am going to be in the bosom of the Lord. Exodus 14 VS 14 says that "the lord will fight my case and I shall hold my peace". I don't need any telephone communication in this regard because of my health hence the presence of my husband's relatives around me always.I don't want them to know about this development.With God all things are possible. As soon as I receive your reply I shall give you the contact of the bank in Abidjan. I will also issue you the documents that will prove you the present beneficiary of this fund. I want you and the Church to always pray for me because the lord is my shephard. My happiness is that I lived a life of a worthy Christian. Whoever that Wants to serve the Lord must serve him in spirit and Truth. Please always be prayerful all through your life. Contact me on this e-mail. any delay in your reply will give me room in sourcing another Church for this same purpose. Please assure me that you will act accordingly as I Stated herein. Hoping to receive your reply. Remain blessed in the Lord. Yours in Christ, elizabeth hamson
---
Subject: PERSONAL
Dear Sir/Madam, I represent BROWNMIJ Import and Export Company based in UNITED KINGDOM. My company exports cocoa, rubber and timber for world trade. We are searching for representatives who can help us establish a medium of getting to our customers in Europe and America as well as making payments through you as our payment officer. Most of our customers pay out in cheques and we do not have an account in your country that will clear this money. It is upon this note that we seek your assistance to stand in as our representative in your country. Note that, as our representative, you will receive 10% of whatever amount you clear for the company and the balance will be paid to us. If you are interested in this business transaction, forward to us the information below: (1)Your full names, (2)Contact address and, (3)Phone/fax numbers. Thank you for your time. Very Respectfully, MR KELVIN BODE HEAD OF ADMIN, BROWNMIJ Import/Export Co. Goods for Import/Export Freight Fwdg. Svcs. CONTACT US
---
Subject: PROPOSAL
Dear, I am Mr.George Williams, a consulting auditor,NedBank Plc, Johannesburg-South Africa. During the course of my auditing work, I discovered an account worth $25,400.000.00USD opened in the bank in 1998 by a great late Estate Magnate. ([http://news.bbc.co.uk/1/hi/world/europe/859479.stm) It is because of the perceived possibility of not being able to locate any of Late Mr.Andreas Schranner next of kin known to the bank, according to the immigration data available to the bank that i contacted you. I have secretly discussed this matter with a close confidant attorney that will assist us produce legal back-up documents which would substantiate claims/position of next of kin and also enable us have a smooth and successful transfer of the fund to any foreign bank account which you are going to nominate. All validating and authenticating documents to enable you get this fund will be carefully worked out by the attorney. We have secured from the probate registry, an order of Mandamus to locate any of the deceased beneficiaries, and that makes this transaction 100% Risk Free and legal. The sharing ratio after completion of transfer will be thus: 60% for me, 35% for you, and 5% for expenses that may be incurred in the course of completing the transfer.Kindly indicate your interest to enable us, with your assistance,move the fund to the banks offshore clearing houses in Europe or Asia. All further correspondence should be through my alternative email: georgewilliams9@sify.com Accept my warm regards as I await your response. Sincerely, Mr.George williams Auditor Ned Bank Plc South Africa
---
Subject: Letter
FROM THE DESK OF: Mr.Anthony Uba Obaseki Dear Sir, I am MrAnthony Uba Obaseki, Bank Manager of a Bank (name upheld) I have an urgent and very confidential business proposition for you. In 1996 - 1997, an Oil consultant/contractor with the Nigerian National Petroleum Corporation, Engr. Nam Hyewon made a numbered time (Fixed) Deposit for twelve calendar months, valued atS$25,000,000.00 (Twenty-five Million Dollars) in my branch. Upon maturity, I sent a routine notification to his forwarding address but got no reply. After a month, we sent a reminder and finally we discovered from his contract employers, the Nigerian National Petroleum Corporation that Engr. Nam Hyewon died in Korean Air Flight 801, which crashed in Guam on August 1997. On further investigation, I found out that he died without making a WILL, and all attempts to trace his next of kin was fruitless. I therefore made further investigation and discovered that Engr. Nam Hyewon did not declare any next of kin or relations in all her official documents, including her Bank Deposit paperwork in my Bank. This sum of US$25,000,000.00 is still sitting in my Bank and the interest is being rolled over with the principal sum at the end of each year. No one will ever come forward to claim it. According to Nigerian Law, at the expiration of 6 (six) years, the money will revert to the ownership of the Nigerian Government if nobody applies to claim this fund. Consequently, my proposal is that I will like you as a foreigner to stand in as the next of kin to Engr. Nam Hyewon so that the fruits of this His labor will not get into the hands of some corrupt government officials. This is simple, I will like you to provide immediately your full names and address so that the Attorney will prepare the necessary documents and affidavits which will! put you in place as the next of kin. We shall employ the services of two Attorneys for drafting and notarization of the WILL and to obtain the necessary documents and letter of probate/administration in your favor for the transfer. I would need you as a Foreigner acting as the next of kin and sole benefactor to the inheritance of Engr. Nam Hyewon to claim from the bank. The money will be transferred to you for us to share in the ratio of 60% for me and 40% for you. There is no risk at all as all the paperwork for this transaction will be done by the Attorney and my position as the Branch Manager guarantees the successful execution of this transaction. If you are interested, please reply immediately via the private email address below.Upon your response, I shall then provide you with more details and relevant documents that will help you understand the transaction. Please observe utmost confidentiality, and! rest assured that this transaction would be most profitable for both of us because I shall require your assistance to invest my share in your country. Thanks and regards. Mr. Anthony Uba Obaseki
---
Subject: Urgent Please
FROM Mr.IDRIS MUSASA DIRECTOR OF FINANCE AUDITING AND ACCOUNTING UNIT, BANK OF AFRICA, DAKAR SENEGAL. DEAR FRIEND, MY NAME IS MR. IDRIS MUSASA, A BANKER BY PROFESSION AND CURRENTLY A DIRECTOR WITH BANK OF AFRICA DAKAR SENEGAL BRANCH. I GET YOUR NAME AND ADDRESS IN MY SEARCH FOR A REPUTABLE AND RELIABLE PERSON TO HELP ME CLAIM THE SUM OF UD$15.6 MILLION UNITED STATES DOLLARS DEPOSITED IN OUR BANK BY ONE OF OUR CUSTOMER WHO DIE WITH THE WIFE AND TWO CHILDREN ON THE 21ST DAY OF APRIL 2000 IN A CAR CLASH ALONG DAKAR-COLOBAN EXPRESS ROAD. SINCE HIS DEATH NO ONE HAS COME UP AS HIS NEXT OF KIN AND ALL OUR EFFORTS TO LOCATE ANY MEMBER OF HIS IMMEDIATE FAMILY HAS PROVE ABORTIVE THAT WAS WHY I DECIDED TO SEE IF I CAN GET ANYBODY WHO HAS THE SAME SURNAME OR LAST NAME WITH HIM VIA INTERNET PREFERABLY SOME ONE OF THE SAME NATIONALITY WITH HIM WHICH I BELIEVE YOU HAVE ALL THE QUALITIES WE NEED. WHY I AM CONTACTING YOU IS TO PRESENT YOU TO OUR BANK AS THE NEXT OF KIN TO THE DECEASED COSTUMER. HE WAS A DRILLING CONTRACTOR WITH SOME OIL COMPANIES HERE IN WEST AFRICA,BECAUSE YOU HAVE THE SAME SURNAME/LAST NAME WITH HIM AND HE IS FROM THESAME COUNTRY WITH YOU. SO IT WILL BE MORE ACCEPTABLE AND WISER TO PRESENTYOU THROUGH PAPER WORK TO THE BANK FOR THE CLAIM OF THE TOTAL FUND. I WILL GIVE YOU ALL THE NECESSARY REQUIREMENTS THAT THE BANK MAY REQUEST FROM YOU AND FOLLOW UP THE TRANSFER OF THE FUND INTO YOUR A/C AS AN INSIDER.IT WILL INTEREST YOU TO KNOW THAT I AND MY PARTNERS HAS BEEN KEEPING OUR EYES ON THIS FUNDS AND HAS PUT THE ACCOUNT BLIND AND COVERED TO THE PUBLIC BY KEEPING THE ACCOUNT DORMANT TO ENABLE OUR PLANS FOR THE FUNDS TO COME THROUGH AND THIS IS THE TIME AND WE ARE HAPPY TO LOCATE YOU FOR THE PERFECTION OF THE TRANSFER OF THE FUND INTO YOUR NOMINATED BANK A/C TO BE GIVEN. AS SOON AS I GET YOUR POSITIVE RESPONSE I WILL UPDATE YOU ABOUT THE MODE OF DISBURSEMENT AND WE WILL ALSO NEED TO KNOW ABOUT INVESTING IN YOURCOUNTRY AS A WAY TO OF HELPING YOU PEOPLE WHO SUPPOSE ARE THE ORIGINAL OWNERS OF THIS FUNDS . LOOKING FORWARD TO YOUR URGENT RESPONSE BY UPDATING ME WITH YOUR DIRECT TELEPHONE AND FAX NUMBER FOR EASY COMMUNICATION. YOURS SPECIALLY Mr. IDRIS MUSASA
---
Subject: confidential
Dear Sir/madam, This letter might surprise you because we have never met, but I believe that it takes just one day to meet or know someone either physically or through correspondence. However, I am the first son of His Royal Majesty Pepple Y. William, the traditional ruler of bonny province in Rivers state of Nigeria. I am making this contact to you in respect of USD45, 000,000.00(Forty Five Million United States Dollars), which I inherited from my father whom is now late. As you may be aware that my country is one of the largest oil producing countries in the whole world. My father is the ruler of the richest oil community in Nigeria and 0.5% of the Dollar value of each barrel is paid to my community?s (Bonny Oil Trust Fund) as royalty by the Federal Government. Several Multinational oil companies, such as Shell, Exxon-Mobil, Chevron and one of Nigeria's most expensive ventures in recent time, Nigeria Liquefied Natural Gas Company(NLNG), also offers my father a lot of gratifications as the royal father of the kingdom where they operate. Some of this money was accumulated from royalties paid to my father. The bottom line now is that my father is late and my step mother wants to forcefully install the son as the heir apparent to the throne. So I need your assistance to move this money so as to enable me fight for my rightful throne. I will give you 20% of the total sum, while 80% will be kept for me. I will explain further as soon as I hear from you. I look forward to your helping me. Yours sincerely, Prince Yobo
---
Subject: HELLO FRIEND
Dear friend, As you read this, I don't want you to feel sorry for me, because, I believe everyone will die someday. My name is shadak shari a merchant in Dubai, in the U.A.E. I have been diagnosed with Esophageal cancer . It has defiled all forms of medical treatment, and right now I have only about a few months to live, according to medical experts, I have not particularly lived my life so well, as I never really cared for anyone (not even myself) but my business. Though I am very rich, I was never generous, I was always hostile to people and only focused on my business as that was the only thing I cared for. But now I regret all this as I now know that there is more to life than just wanting to have or make all the money in the world. I believe when God gives me a second chance to come to this world I would live my life a different way from how I have lived it. Now that God has called me, I have willed and given most of my property and assets to my immediate and extended family members as well as a few close friends. I want God to be merciful to me and accept my soul so, I have decided to give also to charitable organizations, as I want this to be one of the last good deeds I do on earth. So far, I have distributed money to some charity organizations in the U.A.E, Algeria and Malaysia. Now that my health has deteriorated so badly, I cannot do this myself anymore I once asked members of my family to close one of my accounts and distribute the money which I have there to charity organization in Bulgaria and Pakistan, they refused and kept the money to themselves. Hence, I do not trust them anymore, as they seem not to be contended with what I have left for them. The last of my money which no one knows of is the huge cash deposit of Nine million dollars $9,000,000,00 that I have with a finance/Security Company abroad. I will want you to help me collect this deposit and dispatched it to charitable organizations. I have set aside 10% for you and for your time and also another 5% for any expences incured while excecuting this project. God be with you. shadak shari
---
Subject: Urgent Reply
I am Barrister NNAMDI IBENEME,an attorney to late Engr, A Bill,a national of your country who used to work with the Chevron Oil Company in Nigeria. On 21st april 2000, my client,his wife and three children were involved in a fatal accident , which took both their life , since then I have made several effort to locate any of his family member, but all seems to be unsuccessfully, therefore i decided to solicet for a foreign partner whom i shall present as next of kin to the Security Company in Spain, where my client deposited a consigment, which contained about $18,6milllion dollars, as i have been mandated by the security company to provide his next of kin, or they will get his consingment consificated,as a result of non beneficiary. Inview of this developement ,i hereby solicet for your urgent assitance, to present you as the next of kin to my late deceased, therefore you are required to send to me urgently your full contact address and telephone/fax number , as already i have with me all the necessary documents to backup your claims, however i shall make the change of ownership to your favour, and send to you the Deposit Certificate and the Consignment batch Number, so that you can contact the security company in Spain. Thanks Mr NNAMDI IBENEME.
---
Subject: PLEASE SAVE ME FROM MY ENEMIES
PRIVATE AND CONFIDENTIAL FROM MRS. MARIAM SUHU FATAH I know you will be surprise to receive this but do please consider it a Request from a suffering family in serious need of your assistance. I have to bring before you this proposal because we sincerely hope you will be reliable to assist us. My name is MRS. MARIAM SUHU FATAH. I am the first wife of the recently assassinated DEPUTY GOVERNOR OF BAGHADAD MR. HATEM KAMIL ABDUL FATAH. I got your contact information through a family friend who works with the United Arab Emirates Chamber of Commerce and Industry. Before the assassination of my late husband he deposit in a metal box the flat sum of twenty three Million United States Dollars=us$23 m=in a vault of a private security firm in Middle East. The Security Company does not know the actual content of the box deposited with them since my late husband declared it to be precious metals. As it is, I have now decided to divert this money for our own personal use but we would want to get it transferred outside the continent for onward investment purposes. We do not want to invest here due to the volatile and sensitive status of the region. As an international partner, I genuinely solicit that you kindly help me and my family transfer this money into your country through your personal or Company bank account for safekeeping pending my immediate arrival for onward investments, in your country because since they assignation of my husband , they were still looking in any means to kill me and my children . This money will be paid into your account as a contract fund through a prime private online bank here in Middle East, United Arab Emirates. I must stress here that there is no risk involvement of any kind since our Attorney have mapped out a very perfect and smooth-free transfer plans that will be concluded within a maximum of five working days of receiving your Approval. We have resolved to offer you 25% of the money for your assistance and 5% of it will be for all kinds of expenses you will incur in the course of transferring this money. The rest will be for investments in your country or anywhere you might suggest. Further Discussions will commence when we hear from you but do not forget the absolute confidentiality and mutual trust required in this transaction. MAY THE ALMIGHTY ALLAH BLESS YOU. MARRIAM SUHU FATAH
---
Subject: CONSIDER THIS TRANSACTION
From: Mr. David Sanogo Abidjan Cote d'ivoire. Hello dear , I know this mail will come to you as a suprise since we have not met or knew each other before but I got your contact and decided to contact you for this wonderful opportuntiy which I know we can use to better our lives together. My name is Mr. David Sanogo an accounts clerk with one of the International Bank here in Abidjan in the Remittance Department office which has it's corporate office here in Abidjan, Côte d'Ivoire. My bank is involved in the disbursement of funds to finance United Nation projects and other common wealth development projects in the West African Sub-regoin. In the course of my duty, I discovered the total sum of USD $11,500,000 ( Eleven Million Five Hundred Thousand United State Dollars) in disbursement for a contract that has been concluded. Unfortunately, the beneficiary to that fund is dead. The fund was deposited in a name of a family with an access coded number, which I happene to have in my possession. I have all the necessary information within my disposal to move this money out of the bank for private use without the knowledge of anybody given your assistance. The area of assistance required of you is to front you as the Beneficiary, so that the fund can be retrieved for onward transfer to your designated bank account overseas. I shall provide you with detailed information on how to execute this transaction upon receipt of your reply. I have mapped out 35% for you, 60% for me and 5% for reimbursement of both parties for expenses incurred during the pendency of the transaction. Be rest assured that there is no risk involved as the feasibility for a hitch-free claim and transfer of the fund have been done by me and I can assure you that with your co-operation, that we can realise the claim and transfer of the money into your accocunt within a very short period of time. It is important that you contact me as soon as you receive this mail through my email account indicating your interest towards my proposal so that I can give you further explanations on the process. Bye and have a nice day while I look forward to hear from you soonest. Regards, Mr. David Sanogo
---
Subject:PLEASE REPLY WITH HONESTY
DEAR FRIEND, MY NAME IS MRS.LARISA NITSKAYA, PERSONAL SECRETARY TO MR.BORIS MIKHAIL KHODORKOVSKY, THE ARRESTED CHAIRMAN/CEO OF YUKOS OIL AND BANK MENATEP SPB IN RUSSIA. I HAVE THE DOCUMENTS OF A LARGE AMOUNT OF FUNDS WHICH HE HANDED OVER TO ME BEFORE HE WAS DETAINED AND NOW BEEN TRIED IN RUSSIA FOR FINANCING POLITICAL PARTIES (THE UNION OF RIGHT FORCES, LED BY BORIS NEMTSOV AND YABLOKO, A LIBERAL/SOCIAL DEMOCRATIC PARTY LED BY GREGOR YAVLINSKY) OPPOSED TO THE GOVERNMENT OF MR.VLADMIR PUTIN, THE PRESIDENT THEREBY LEADING TO THE FREEZING OF HIS FINANCES AND ASSETS. AFTER SEARCHING THROUGH THE BOOKS OF YOUR COUNTRY'S CHAMBERS OF COMMERCE AND INDUSTRIES HERE IN RUSSIA I AM CONTACTING YOU TO ASSIST ME TO RE-PROFILE THE FUNDS AND EQUALLY INVEST SAME ON HIS BEHALF. THE TOTAL AMOUNT OF FUNDS TO BE RE-PROFILLED IS EIGHTY SIX MILLION DOLLARS (USD$86,000,000.00) AND YOU WILL BE PAID 10% FOR YOUR MANAGEMENT SERVICES. AS SOON AS I RECEIVE YOUR ACCEPTANCE, I WILL SEND YOUTHE NECESSARY DETAILS AND MY IDENTIFICATION. YOURS SINCERELY, MRS.LARISA NITSKAYA.
---
Subjct:COME LET US WORK THIS OUT TOGETHER
Mr Marras H Mbeti. Bank of Africa BENIN Rue du Gouverneur Bayol Cotonou ATTENTION: Dear Sir, I am Mr Marras H Mbeti the director in charge of Auditing and Accounting Department of Bank of africa Benin, in West Africa, and also the account officer of Mr.Hassan Balhas Ghadar, a Lebanese. He was a Seasoned Contractor with Benin Cement Company in Benin Republic; who unfortunately died in the plane crash of Union Transport Africaines Flight Boeing 727 in Cotonou, Benin Republic on the december 25,2003. Before his death on the 25th December 2003, Mr.Ghadar had a fixed deposit account with the bank and no other person outside the bank knows about this account or any thing concerning it, the account has no other beneficiary and my investigation proved that his supposed next of kin died along with him in the crash. Since then I have made several enquiries to locate any of my clients extended relatives, this has also proved unsuccessful. After these several unsuccessful attempts, I decided to contact you. I contacted you to assist in transfering the money left behind by my client to your nominated account before the bank confiscates the fund. Consequently, since l have been unsuccessful in locating the relatives for over 5 weeks now. I seek your consent, to present you as the next of kin of the deceased so that the proceeds of this account valued at US$9.6 million can be paid into your account and thereafter you and l can share the money. 70% to me and my colleagues 30% to you.I have all necessary legal document that can be used to back up any claim we may make. All I require is your honest co-operation to enable us see this deal through. I guarantee that this deal will be executed under a legitimate arrangement that will protect you from any breach of the law. All document of transaction shall be destroyed immediately we receive this money leaving no trace to any place. If this proposal is acceptable to you, kindly email the following information to me: a. Complete names b. Private telephone number c. Private fax number d. Private email Until you write,have a nice day and God bless. Sincerely, Mr Marras H Mbeti.
---
Subject:HELLO
Dear Friend, My name is Mr. JOHN OLA an administrative offic er for a financial Firm, I am writing this letter regarding a proposal which I would like to present to you, I would need your support to be able to carry out this mutual business transaction. I know you might be wondering why I am Writing you with a request such as these but I only urge you to read on. Pending in our vault is a numbered time fixed deposit Belonging to Late Mr. Morris Thompson an American client of our Bank and also the former president and chief executive officer of Doyon Ltd Native Corporation in America. Late Mr. Morris Thompson deposited the sum of $8.34 Million dollars. In our bank some years back before losing his life in an AIRLINE CRASH four year ago killing 83 passengers and five crew members, which left the entire Alaska state in shock, I am sorry if this news is too traumatic for you, please understand that I'm only Trying to paint the picture to you. His time deposit in our bank has been re-run Twice and inline with the contractual agreement entered with him, the bank cannot re-run it again and all efforts has since been exhaustively made to source out his next of kin but to no Avail. Information reached me that the bank wants to return the account as Dormant thereby paving way for the fund to be Remitted into the governments confine for arms purchase, at this point I had to stampede that possibility by writing to debunk all efforts for the government to seize the funds, hence am asking you to stand in as the next of Kin to late Thompson and the funds shall be transmitted to you, we shall share the funds in the ratio of 60% for me while 30% for you finally 10% will be for expenses incurred by both parties in the course of this transfer. Please I would like you to go through these sites and gather more information for your self-regarding the death of Late Mr. Morris Thompson Please if you feel you're in a position to assist me in this transaction, kindly send your response via email I anticipate having a wonderful working Relationship with you. Please note that this transaction is risk free. Respectfully, JOHN OLA. Administrative Officer
---
Subject: I AM WAITING FOR YOUR URGENT REPLY
Dear Sir, It is with trust and confidence that I make this urgent proposal to you in view of the fact that you are a matured man and reasonable.I am the Western District Manager, Union Bank (NIG.) PLC. However, there is an account opened in this bank in 1998 and since then, no body has operated this account again. And after careful investigation, I discovered that the owner of this account was the president of GUNN FINANCE PTY LTD, a foreigner who died in 2001.his name is Mr Alex Sim from Singapore. The account has no beneficiary at present and investigation has proved that this company does not know anything about the account. The total amount in this account is US$25.5M (Twenty-five Point Five Million United States Dollars Only).In light of the above, I therefore solicit your assistance to provide a Well maintained account that can accommodate this fund. The management is ready to welcome anybody preferably a foreigner who has the correct information of the account which I will give you immediately, if you indicate your willingness to handle this project with me.Now, the management of the bank has ordered that all dormant accounts will be frozen. On the strength of this order, I wish to make advantage of this situation and present you as the beneficiary of this fund and get it Transferred to your designated account. Please be informed that all documents relating to this transaction will be destroyed immediately after the transfer, for safety purposes. On the receipt of your positive response, I shall apply for annual leave for our face to face meeting in your country SHARING RATIO: I will compensate you with 20% of the total money for your assistance, but this percentage is negotiable.If this offer contends with your approvals, kindly drop me email.Please include your phone number and fax to enable me speak with you orally for more clarification. Looking forward to hearing from you. Best regards Dr. Jones Dike
---
Subject: URGENT REPLY
Dear Friend, I am Barrister Owen Adams, the Personal Attorney to a Foreign Contractor, who worked with a Multinational Oil Firm in Nigeria. On the November 1997, my client, an American National, late Engineer Steve Moore, an oil Merchant / Contractor with the Federal Government of Nigeria, until his death eight years ago, He died along with his entire family of a wife and two children in November 1997 in a Moto accident. Since then I have made several inquiries to Several Embassies to locate any of my clients extended relatives, this has also proved nsuccessful. After these several unsuccessful attempts, That is why I decided to trace his relatives over the Internet, to locate any member of his family but of no avail, hence I contacted you. I have contacted you to assist me in repatriating the money left behind by my client before they get confiscated or declared unserviceable by the Bank where this huge deposits were lodged. Particularly, the Bank where the deceased had an account valued at about US$15 Million has issued me a notice to provide the next of kin,relatives so that the fund left will be transferred or have the account confiscated within the next twenty official working days. Since I have been unsuccessful in locating the the relatives for over 8 years now I seek your consent to present you as the next of kin to the deceased so that the proceeds of this account valued at US$15 Million can be paid to you and then you and I can share this money. 70% to me and 25% to you,while 5% should be for expenses or tax as your Government may require. All I require is your honest and co-operation to enable us see this deal through. I guarantee that this will be executed under a legitimate arrangement that will protect you from any breach of the law. I will want you to send to me on your return email the following information for the transfer in your favour. 1, Name of beneficiary 2, Your contact address 3, The name of bank you wish we will use in receiving the fund successfully and the Account numbers. 4, The complete address of the bank 5, Your private phone and fax numbers where we will be communicating to each other. I will want you to also send your reply to my private email as soon as you get this mail to enable us discuss on the modalities and process forsuccess of this transaction. PLEASE, REPLY TO THIS MY CONFIDENTIAL EMAIL I await your kind response, Good day and God bless. Regards, Barrister Owen Adams. (SAN)
---
Subject: DONATION FOR THE LORD
DONATION FOR THE LORD From: Mrs. Praise Uwaoma PLEASE ENDEAVOUR TO USE IT FOR THE CHILDREN OF GOD.I am the above name person from Sierra-Leone. I am married to Dr Theophilus Uwaoma who worked with Sierra Leonian Embassy in South Africa for nine years before he died in the year 2001. We were married for eleven years without a child. He died after a brief illness that lasted for only four days. Before his death we were both born again Christians and we lived happilly. Since his death, I decided not to re-marry or get a child outside my matrimonial home which the Bible is really against. When my late husband was alive he secured $15Million (Fifteen Million U.S. Dollars) with financial institution here in Cote D'Ivoire. Presently, this money is still with the financial institution. Recently, my Doctor told me that from all the test conducted on my health, I am not going to last long, expecially, due to my cancer and stroke. But what disturbs me most now is stroke. Having known my condition, I decided to donate this fund to churches or Christian individual that will utilize this money the way I am going to instruct. I want a church or individual that will use this money to fund churches, Orphanages and Widows. Also, the propagation of the work of God, building and maintaining the house of God through this money, is very important. The Bible made us to understand that Blessed is the hand that giveth. I took this decision because I don't have any child that will inherit this money and my husband relatives are not Christians. I don?t want my husband's hard earned money to be misused by unbelievers, for their own selfish interest and in an ungodly manner. I am not afraid of death hence I know where I am going. I know that I am going to be in the bossom of the Lord. Exodus 14 VS 14 says that the lord will fight my case and I shall hold my peace. I don't need any telephone communication in this regard because of my health, and because of the presence of my husband's relatives around me sometimes. I don't want them to know about this development, but I know that With God all things are possible. As soon as I receive your reply I shall give you the contact of the Financial institution in Ivory coast. I will also give you all information regarding the deposit of this money. I will also issue you a letter of authority that will empower you as the original- beneficiary of this fund. I want you and your church to always pray for me because God work in misterious ways. My happiness is that I lived a life of a worthy Christian. Who ever that wants to serve the Lord must serve him in spirit and truth. Please always be prayerful all through your life. Any delay in your reply will give me room in sourcing for a church or christian individual for this same purpose. Please assure me that you will act accordingly as I stated herein. Hoping to hear from you soon. Remain blessed in the name of the Lord. Yours in Christ, Mrs Praise Uwaoma
---
CONGRATULATIONS! you found the hidden page of KRAP ... a collection of somewhat random news snippets
2005
"Dude was a homosexual," He "asked me several times if that was something I might dig. One day, frustration started eating on me, like a little old black shroud covering my eyes." By the time prison officers stopped the attack, Delgado's "face could not be recognized as being that of a human, and I'm not exaggerating that one bit, I said: Hey man, you should give me a certificate of accomplishment for taking this dude out instead of trying to kill me," he recalled. The district attorney used the note against him, telling jurors Porter was boasting and proud of the slaying. "In a way, I was," Porter said. "Dude never touched any little boys again." It also helps alleviate homesickness. A "Morale, Welfare and Recreation" center just off the gym is filled with Playstation 2 consoles. Marines back from the fight stop in for a few hours to unwind. The military awoke to the power of video games years ago. "In a game, you can die and press start and go all over again. This is a little bit different." Games have also not caught up with reality: civilians blending in with insurgents, and soldiers not being able to distinguish between them. Nor do games cover the types of scenarios faced in the combat, such as what its like to die. Humming sex toy shuts Australian airport. Taiwanese man tries to convert lions to Jesus, gets bitten. Talking toilet orders German men to sit down. Chinese get busy signal on Beijing suicide line. Canadian guide dog barred for only answering its master's commands in French. Japanese boy writes apology in blood for dozing in class. A vibrating sex toy chucked into a rubbish bin at an Australian airport sparked a security alert that only ended when an embarrassed passenger came forward to claim what was identified as "an adult novelty device." A fervent evangelist who leapt into the lions' den at Taipei zoo and shouted "Jesus will save you" was lucky to escape with just a bite in the right leg when he tried to convert the king of beasts to Christianity. Feeling suicidal in Beijing? Then be patient. Nine out of 10 Chinese calling into a suicide-prevention hotline were greeted by an engaged signal. A German inventor came up with a best-selling gadget that berates men if they try to use the toilet standing up, telling them: "Put the seat back down right away, you are definitely not to pee standing up." The Germans have been accused of being a deadly serious people with a severe sense of humor failure. But several surreal tales that would not look out of place in a Monty Python sketch prove they can laugh at themselves. German police arrested a flasher who stumbled over his dropped trousers during an aborted attempt to flee. A cost-cutting German theater was berated for using just four dwarves instead of seven in their Snow White show. A survey revealed that most German men wear the wrong size condoms. Germans said they find smelly co-workers to be the most annoying aspect of their jobs. Britain had its share of oddities too. UK nursing home staff were so proud of a 105-year-old woman who had smoked since the age of 15 that they cremated her with a packet of her favorite cigarettes in the coffin. A British train conductor stamped and carefully returned the ticket of a slumbering passenger without realizing the man was dead. A South African radio reporter went a little more live than he anticipated when he was mugged on air for his cellphone while transmitting from a squatter settlement. A Norwegian court acquitted a man accused of raping a sleeping woman after he said he was also asleep at the time. All three wives of a 67-year-old Iranian man took overdoses in an unsuccessful triple suicide bid after the youngest wife sparked jealousy by buying an expensive pair of boots. A Malaysian man shot his wife dead after he mistook her for a monkey picking fruit behind their house. A Spaniard tried to have his wife charged with domestic abuse because she refused to have sex with him on five consecutive nights. A Mexican man killed his lover in a drunken, drugged fight and then cooked the man's body in tomato and onion sauce and ate it over three days. And a Zambian man hanged himself in shame after his wife rushed into their house to investigate a noise and found him having sex with a chicken. The chicken was slaughtered afterwards. "Well Ma'am, MNF and ISF engaged with AIF, who were planting IEDs, after coming under small arms fire," came the reply. The history of warfare is written in acronyms that cleanse the blood from gory wounds and strip the horror from bombs. Many, like MNF, just make the longwinded multinational forces less of a mouthful. Some, like IED, take the bang out of an improvised explosive device -- a makeshift bomb. Others, like AIF, or anti-Iraqi forces, are part of the information war -- the U.S. military uses the phrase to describe insurgents. Ready for a translation? IEDS SPELL DEATH. The IED long predated the Iraq war, but as rebels get more creative, so tongue-twisting variations on classics are born. VBIEDs, or vehicle-borne improvised explosive devices, often spell death for Iraq's fledgling forces, who have borne the brunt of such rebel attacks. They are better known as car bombs. If the bomber is still in the vehicle when it explodes, it is an SVBIED -- S for suicide. When the bomber straps the explosives to his person, he becomes a PBIED. Since roadside bombs have emerged as the weapon of choice for insurgents attacking U.S. patrols, the military has begun to "up-armor" its "soft" vehicles. Sometimes soldiers harden their vehicles using odds and ends. This is "hillbilly armor." When American soldiers are hit, they are often "medivaced" to the CASH, or combat support hospital. If they recover, they will end up RTDed, or returned to duty. If not they become Angels, a euphemism U.S. military doctors use for troops killed in battle, and contender for Word of the Year 2004, the American Dialect Society's annual competition for the best new word. Colombian drug traffickers surgically hid heroin in puppies' bellies in a plan to evade international customs controls, police said on Tuesday. Using animals for smuggling is unusual although drug smugglers often rely on couriers to swallow condoms full of drugs and one Colombian woman was once found with cocaine surgically implanted in her buttocks. A man serving a life sentence for murder was sentenced to three additional years in prison for passing out cheese sandwiches while in jail. Prosecutors said he had the sandwiches while in jail awaiting trial on the murder charge and he tried to give them to other inmates, which is a violation of jail rules. A sheriff's deputy testified at a hearing in May that they warned him not to pass food to other inmate then shocked him with a stun gun when he ignored them. "Why are the taxpayers paying the judiciary to hold this hearing on some contraband sandwiches?" he said in a telephone interview. "Taxpayers want to know where their money is going - there it is." He is also charged with using threatening, abusive or insulting behavior with intent to stir up racial hatred, one offence of possessing threatening, abusive or insulting sound recordings, and one charge of possessing a "terrorist" document. Nine-year-old Joey is so interested in how toilets work that he wrote a letter to a toilet maker asking if they would produce a clear commode. "He thought it would be neat to have a clear toilet in his house, so he can see how it works," said Joey's father. A clear toilet wasn't doable. But officials wrote back twice. In December, the little pooper got a present - a state-of-the-art bulk flush toilet. "That is the most asinine and juvenile thing I have heard," she said. "I wouldn't get that close to him. It is just childish stuff, and I don't want to be a part of it any more." A Burger King customer berated the employees and nearly hit one of them with his truck after the clerk at the drive-thru window told him they were out of french fries, police said. Gregg Buttman, 22, made an obscene gesture at the drive-thru clerk on New Year's Day, then walked into the restaurant and cursed at the staff. When he returned to his pickup truck, he saw restaurant workers taking down his license number and put the vehicle in reverse, nearly hitting one of them. After being stopped on a highway a short distance away, Buttman scuffled with police and kicked out the back window of a police car. Buttman was charged with assault, reckless endangerment and other offenses. Defense lawyer Guy Womack played down the photographs that showed naked prisoners stacked in pyramids. "Don't cheerleaders all over America make pyramids everyday?" he said. "It's not torture." Missouri lost a Supreme Court appeal Monday over its decision to bar a Ku Klux Klan group from a highway litter cleanup program. The court's rejection, made without comment, means that the KKK chapter must be allowed into Missouri's Adopt-A-Highway program, which is designed to save money by using volunteers for garbage pickup. Volunteer groups are publicly thanked with signs along the highway acknowledging their help. The dispute involves a half-mile stretch of Missouri 21 near Potosi, a town of fewer than 3,000 in the eastern part of the state. A KKK chapter sought permission to pick up trash along the road, but was turned down because the program is not open to groups that discriminate based on race or those that courts have said have a history of violence. The Klan sued and won on grounds that it had a First Amendment free speech right to participate. "When I see Americans in Fallujah I feel as if I am seeing devils in front of me," he said. "When I came back the next day I found the house totally burnt although there were no weapons in it and the Americans had earlier put a blue X sign," he said. Though he had no evidence, he immediately blamed the United States for killing and wounding civilians. He did not mention Iraq's insurgents. "The Americans have destroyed our city," he said. Graner made him eat pork and drink alcohol, in violation of his Muslim faith, and on one occasion made him thank Jesus for keeping him alive at the notorious Baghdad prison. He listened through his cell wall while Graner and other Americans forced a Yemeni prisoner eat from a toilet. "He was laughing. ... He laughed. He was whistling. He was singing." A former inmate at Iraq's Abu Ghraib prison forced by U.S. guards to masturbate in public and piled onto a pyramid of naked men said Tuesday even Iraqi dictator Saddam Hussein did not do such things. "I was extremely emotional because (even) Saddam didn't do this to us." Two private U.S. companies have designs on building the first luxury recreational vehicle that could withstand nuclear radiation. A privately held company in Florida, has partnered with Homeland Defense Vehicles to offer consumers a luxury motor coach that can protect occupants against nuclear radiation from dirty bombs as well as biological and chemical attacks. The idea is to offer the option on the pricey vehicles to consumers worried about terror attacks, officials for both companies said Tuesday. Before, musicians produced a "sonic tsunami," Wall Street analysts foresaw "tsunamis" of bad earnings news and Japanese restaurants served "tsunami" sushi rolls. The word was used in dozens of different contexts, but now it likely will appear with just one, tragic. Thousands of sports teams around the world use tsunami into their names, like the Tsunami Aquatics Swim team of Livermore, California. He said there are also some 10,000 products called tsunami, like Tsunami Point-to-Point Wireless Bridges, Tsunami Multimedia Speakers and Tsunami Image Processors. Newspaper headline writers also liked the colorful word, as the Detroit News' "Ford Releases a Tsunami of New Products" and "Heading for the presidency on a tsunami of visions" in London's The Times. A company that sells cuddly Teddy bears through the mail has angered mental health advocates with a special item for Valentine's Day. The $69.95 stuffed animal is called the "Crazy for You Bear" and comes with its own commitment papers. Mental health advocates believe the bear is "a tasteless use of marketing that stigmatizes persons with mental illness." The FBI's $581 million effort to modernize its antiquated computer system to help prevent terrorist attacks has suffered a serious reversal. The centerpiece of that effort - a $170 million computer software program called "Virtual Case File" - is already viewed as inadequate and outdated by FBI officials. The Bureau may seek proposals for a new software system in the spring. The software was expected to be completed by the end of 2003, but the FBI is no longer giving an estimate on when it might be ready. Money for the celebratory activities is being raised by the Presidential Inaugural Committee, which as of the end of last week had received $18 million, much in six-figure donations from wealthy supporters and corporate sponsors. Among the dozens of $250,000 donors are Home Depot, Bank of America Corp., Bristol-Myers Squibb and Ford Motor Co. Sales of inaugural memorabilia, another source of revenue, have been even better than in 2001, he said. Big donors are rewarded with a variety of inaugural packages, including meetings with political VIPs, tickets to the swearing-in ceremony and parade, and hard-to-get entry into the official inaugural balls and dinners. The events begin Tuesday with a salute to the troops and a youth rally. A Virginia-based missionary group said this week that it has airlifted 300 "tsunami orphans" from the Muslim province of Banda Aceh to Jakarta, the Indonesian capital, where it plans to raise them in a Christian children's home. Most of the religious charities do not attach any conditions to their aid, and many of the larger ones have policies against proselytizing. But a few of the smaller groups have been raising money among evangelical Christians by presenting the tsunami emergency effort as a rare opportunity to make converts in hard-to-reach areas. The appeal said WorldHelp was working with native-born Christians in Indonesia who want to "plant Christian principles as early as possible" in the 300 Muslim children, all younger than 12, who lost their parents in the tsunami. "These children are homeless, destitute, traumatized, orphaned, with nowhere to go, nowhere to sleep and nothing to eat. If we can place them in a Christian children's home, their faith in Christ could become the foothold to reach the people," it said. Its workers often hand out Bibles or other religious tracts along with emergency supplies because disaster victims naturally question the existence of God. The White House acknowledged Wednesday that its hunt for Iraqi weapons of mass destruction - a two-year search costing millions of dollars - has closed down without finding the stockpiles that President Bush cited as a justification for overthrowing Saddam Hussein. The search for weapons of mass destruction in Iraq has quietly concluded without any evidence of the banned weapons that President Bush cited as justification for going to war. Bush unapologetically defended his decision to invade Iraq. As of Tuesday, Jan. 11, 2005, at least 1,356 members of the U.S. military have died since the beginning of the Iraq war in March 2003. Bush unapologetically defended his decision to invade Iraq. Since May 1, 2003, when President Bush declared that major combat operations in Iraq had ended, 1,218 U.S. military members have died. Bush unapologetically defended his decision to invade Iraq. Since the start of U.S. military operations in Iraq, 10,372 U.S. servicemembers have been wounded in hostile action, according to a Defense Department tally released Tuesday. Bush unapologetically defended his decision to invade Iraq. Bush's spokesman said the president had no regrets about invading Iraq. "Based on what we know today, the president would have taken the same action because this is about protecting the American people," said Press Secretary McClellan. As of Wednesday, Jan. 12, 2005, at least 1,356 members of the U.S. military have died since the beginning of the Iraq war in March 2003. At least 1,068 died as a result of hostile action, the Defense Department said. The president had no regrets about invading Iraq. President Bush refuses to rule out war with Iran. Iranian President Mohammad Khatami says his country is ready to defend itself against a U.S. attack. KANSAS CITY, Mo. - A mother has been arrested on charges that she gave crack to her 4-year-old son to "calm him down." Michelle R. Shelton, 32, of Kansas City, was arrested Thursday on a child endangerment charge. Police said the boy did not suffer any obvious injuries from taking the highly addictive drug. He remains in state custody. Police said some residents at the complex told investigators Shelton sometimes gave the boy crack cocaine to "calm him down." According to court records, Shelton told detectives she found empty crack bags and drug paraphernalia throughout her home after parties her son attended. She said it was possible the child found some of the drug. Go ahead, call state Sen. Jeanne Kohl-Welles a scurvy wench, a wanton strumpet, a shameless hussy. She probably won't like it, but she doesn't want you to be prosecuted for it. The statute prohibits "false or defamatory words or language which shall injure or impair" the virtuous and chaste reputation of any female over 12. The law does say it is OK to slander a "common prostitute." In Michigan, a man who let loose with a few profanities after falling out of a canoe was found guilty in 1999 of violating a century-old state law against cursing in front of women and children. President Bush and some of his advisers received worst-acting nominations for their appearances in news and archival footage in Michael Moore's "Fahrenheit 9-11," which assails Bush for his actions surrounding the Sept. 11 attacks. Bush was nominated for worst actor, while Secretary of State-designate Condoleezza Rice got a nomination for worst supporting actress and Defense Secretary Donald Rumsfeld for worst supporting actor. Although "Fahrenheit 9-11" was a piece of anti-Bush propaganda, the president and his associates earned their Razzie nominations on their own. "It wasn't Mr. Moore's editing," Wilson said. "It's the raw footage of these people just making fools of themselves." Just a few seconds of screen time in "Fahrenheit 9/11" brought a nomination as worst supporting actress for Britney Spears, who sits for a moment blank-faced and chewing gum in the film before saying she thinks people should support the president in all decisions he makes. Sen. Mark Dayton, D-Minn., following up, accused the Bush administration of lying and said he was voting against Rice's confirmation as a way of trying to stop mistruths. And Sen. Carl Levin, D-Mich., charged she concealed the Central Intelligence Agency's skepticism that Iraq was trying to obtain uranium for a nuclear weapons program from Africa. "She exaggerated and distorted the facts. We have a moral obligation to provide better leadership. Those in charge must be held accountable for mistakes." The crewcut young man stares into the video camera and recites a plan to kill his mother, her husband - and anybody else affiliated with The Family International, a church with roots in the sexual revolution of the 1960s. Between expletives, he vows revenge for physical and sexual abuse he claims was inflicted on him, his sister and "thousands" of other children by older members of an organization with communal homes scattered worldwide. "Anger does not begin to describe how I feel about these people," loading bullets into a handgun and admiringly stroking a hunting knife. "I've seen how ugly humans can get." Like other apocalyptic sects, Family members believe they are destined to lead a battle against Satan as Jesus Christ returns. The group produces inspirational audio and videotapes, according to its Web site. It claims 8,000 full-time members. "They've left a trail of broken minds and bodies," said a former member from Los Angeles who helps edit an Internet site where ex-members post allegations. More than half of Americans polled by The Associated Press in mid-January - 53 percent - said they think it's unlikely that a stable, democratic Iraq will be established, while 46 percent said that is likely. Optimism has waned in the last eight months in almost every group of Americans. But it remains strongest among Republicans and suburbanites, especially men, and those who are married. A commuter train smashed into an SUV left on the tracks by a suicidal man early Wednesday, sending the train careening off the rails in a wreck that killed 10 people and injured about 200, authorities said. Dozens of the injured were in critical condition. The SUV driver changed his mind about suicide and left the vehicle before it was hit. The man will be charged with homicide, he said. "I think his intent at that time was to take his own life but changed his mind prior to the train actually striking this vehicle." Two boys were arrested for making pencil-and-crayon stick figure drawings depicting a 10-year-old classmate being stabbed and hung, police said. The children, charged with a felony, were taken from school in handcuffs. The 9- and 10-year-old boys were arrested Monday and charged with making a written threat to kill or harm another person. They were also suspended from school. One drawing showed the two boys standing on either side of the other boy and "holding knives pointed through" his body, according to a police report. The figures were identified by written names or initials. Another drawing showed a stick figure hanging, tears falling from his eyes, with two other stick figures standing below him. Other pieces of scrap paper listed misspelled profanities and the initials of the boy who was allegedly threatened. JEFFERSON CITY, Mo. (AP) - Gov. Matt Blunt banned video games from the state's prisons Monday, a month after a newspaper reported some of Missouri's most violent inmates were allowed to play games simulating murders, carjackings and the killings of police officers. Blunt, a Republican who took office two weeks ago, called video games "a luxury that inmates should not be allowed to enjoy. Our penitentiaries are punitive institutions where those who have committed crimes against society are sent to pay for their actions. They are not meant to be arcades," Blunt said in a statement. The games, which were paid for with profits from the prison canteen, included titles such as "Hitman: Contracts," in which players use everything from meat hooks to silencer-equipped pistols to carry out contract killings. A British man trying to sell a deactivated Soviet-era missile on eBay was forced to delete it after Web site staff contacted him for breaching company rules. But eBay told him to remove the missile because he broke eBay regulations by listing it alongside its vehicle launcher, which should have appeared as a separate item -- and not because it was a weapon. "There's a large market in demilitarized weaponry, and they're classified as museum pieces," the spokesman said. On his eBay page, he describes the Zil 135 Free Range Over Ground (FROG) rocket launcher as the "mother of all toys." A recently disciplined auto worker burst into a Jeep production plant with a shotgun, ordered an employee to lure over three workers and then opened fire, killing a supervisor and wounding two others. He then fatally shot himself in the head. The bomb squad was called when police noticed wires coming out from under his coat, apparently from a homemade wire sling he had used to conceal the weapon. Police also said he had strapped a stuffed animal to the back of his neck. "... he should approve the use of medical marijuana so women can have a joint and relax instead of putting their babies in a microwave. Then all they want to do is cook Doritos. Women who claim they suffer from this postpartum depression ... they must be crazy in the first place." A man testified that the now-defrocked priest at the center of the Boston Archdiocese sex scandal would wait for him in the bathroom with the lights off, pull him from catechism classes and rape and fondle him in the church pews, confessional and rectum. A bus driver shuttling pupils to school in northern Greece shocked their parents when he put on a porn tape, officials said on Thursday. "The driver said 'kids we've got porn, do you want to watch it'," one of the pupils told reporters. "Everyone started shouting yes, yes and he just put in a tape and we watched it on the small TV screens on the bus." The children were aged 12 to 15. Female interrogators tried to break Muslim detainees at the U.S. prison camp in Guantanamo Bay by sexual touching, wearing a miniskirt and thong underwear and in one case smearing a Saudi man's face with fake menstrual blood, according to an insider's written account. One female civilian contractor used a special outfit that included a miniskirt, thong underwear and a bra during late-night interrogations with prisoners, mostly Muslim men who consider it taboo to have close contact with women who aren't their wives. Beginning in April 2003, "there hung a short skirt and thong underwear on the hook on the back of the door" of one interrogation team's office. "Later I learned that this outfit was used for interrogations by one of the female civilian contractors ... on a team which conducted interrogations in the middle of the night on Saudi men who were refusing to talk." Some Guantanamo prisoners who have been released say they were tormented by "prostitutes." In another case, a female military interrogator questioning an uncooperative 21-year-old Saudi detainee who allegedly had taken flying lessons in Arizona before the Sept. 11 terror attacks. "His female interrogator decided that she needed to turn up the heat," she repeatedly asked the detainee who had sent him to Arizona, telling him he could "cooperate" or "have no hope whatsoever of ever leaving this place or talking to a lawyer.'" The man closed his eyes and began to pray. The female interrogator wanted to "break him," describing how she removed her uniform top to expose a tight-fitting T-shirt and began taunting the detainee, touching her breasts, rubbing them against the prisoner's back and commenting on his apparent erection. The detainee looked up and spat in her face, the manuscript recounts. The interrogator left the room to ask a Muslim linguist how she could break the prisoner's reliance on God. The linguist told her to tell the detainee that she was menstruating, touch him, then make sure to turn off the water in his cell so he couldn't wash. Strict interpretation of Islamic law forbids physical contact with women other than a man's wife or family, and with any menstruating women, who are considered unclean. "The concept was to make the detainee feel that after talking to her he was unclean and was unable to go before his God in prayer and gain strength," says the draft, stamped "Secret." The interrogator used ink from a red pen to fool the detainee. "She then started to place her hands in her pants as she walked behind the detainee," he says. "As she circled around him he could see that she was taking her hand out of her pants. When it became visible the detainee saw what appeared to be red blood on her hand. She said, 'Who sent you to Arizona?' He then glared at her with a piercing look of hatred. "She then wiped the red ink on his face. He shouted at the top of his lungs, spat at her and lunged forward" - so fiercely that he broke loose from one ankle shackle. "He began to cry like a baby," the draft says, noting the interrogator left saying, "Have a fun night in your cell without any water to clean yourself." In a series of letters to the media and to authorities, the killer known only as BTK - which stands for "Bind, Torture, Kill" - claimed responsibility for seven unsolved killings from the 1970s in Wichita and an eighth in 1986. The killer had not been heard from for years until he resurfaced in March with new letters. At Auschwitz, Mengele was responsible for what came to be known as "selection," choosing who was fit for slave labor and who was to die in the gas chambers. He was also fascinated by twins on whom he experimented. "He would tell little children to sit on his lap and tell them to call him 'uncle,"uncle Mengele' and sometimes give them a sweet - and in the same tone of voice that he said 'I'm uncle Mengele,' he would tell the officials to give them a lethal injection." The way many high school students see it, government censorship of newspapers may not be a bad thing, and flag burning is hardly protected free speech. It turns out the First Amendment is a second-rate issue to many of those nearing their own adult independence, according to a study of high school attitudes released Monday. The original amendment to the Constitution is the cornerstone of the way of life in the United States, promising citizens the freedoms of religion, speech, press and assembly. Yet, when told of the exact text of the First Amendment, more than one in three high school students said it goes "too far" in the rights it guarantees. Only half of the students said newspapers should be allowed to publish freely without government approval of stories. "These results are not only disturbing; they are dangerous, ignorance about the basics of this free society is a danger to our nation's future." The students are even more restrictive in their views than their elders, the study says. When asked whether people should be allowed to express unpopular views, 97 percent of teachers and 99 percent of school principals said yes. Only 83 percent of students did. The results reflected indifference, with almost three in four students saying they took the First Amendment for granted or didn't know how they felt about it. It was also clear that many students do not understand what is protected by the bedrock of the Bill of Rights. "Schools don't do enough to teach the First Amendment. Students often don't know the rights it protects, this all comes at a time when there is decreasing passion for much of anything. And, you have to be passionate about the First Amendment." Three in four students said flag burning is illegal. It's not. About half the students said the government can restrict any indecent material on the Internet. It can't. "I'll never accept it. These justices need to go. They didn't just create a loophole; they opened the cell door to these killers." Iraq's interior minister said Monday that insurgents used a handicapped child as one of the suicide bombers who launched attacks on election day. 38 attacks were carried out on polling stations in Iraq on Sunday and that one of the suicide bombings was carried out by a disabled child. "A handicapped child was used to carry out a suicide attack on a polling site. This is an indication of what horrific actions they are carrying out." He gave no other details about the attack, but police at the scene of one the Baghdad blasts said the bomber appeared to have Down's Syndrome. The FBI's failure to roll out an expanded computer system that would help agents investigate criminals and terrorists is the latest in a series of costly technology blunders by government over more than a decade. Experts blame poor planning, rapid industry advances and the massive scope of some complex projects whose price tags can run into billions of dollars at U.S. agencies with tens of thousands of employees. "There are very few success stories, failures are very common, and they've been common for a long time." The FBI said earlier this month it might shelve its custom-built, $170 million "Virtual Case File" project because it is inadequate and outdated. The Internal Revenue Service sought $388 million last year for its $1.7 billion "Business System Modernization" program, which congressional investigators said continues to be over budget and 15 months late. The plan will modernize the IRS systems for collecting taxes, auditing returns and helping taxpayers with questions. While these are current examples, the problem has lingered for years. The American Nazi Party has volunteered to pick up trash along a quiet stretch of rural road in Oregon state, causing an uproar after getting a sign placed there crediting its work. The issue has flared up in the same week that world leaders and aging survivors gathered in the Polish town of Auschwitz to mark the 60th anniversary of the liberation of the infamous Nazi death camp. "American Nazi Party" reads the sign, which is part of the "Adopt-A-Road" program, a widely promoted U.S. scheme encouraging local groups to clean up road litter in exchange for recognition on small signs. The sign, located on a quiet stretch of road near Salem, Oregon, also lists the initials "NSM," which stands for the National Socialists Movement, another white supremacists group. Marion County officials say there is nothing they can do about the Nazi litter pick up because barring the group from the program would violate its First Amendment free speech rights. "I myself have gotten at least 30 complaints," Dan Estes, the senior policy advisor to the Marion County Board of Commissioners said. "We knew there was going to be a great deal of public outcry." The Ku Klux Klan "adopted" a stretch of road in Missouri. After several legal battles, U.S. courts ruled that attempts to block the white supremacist group from the litter program was a violation of its free speech. Neither the American Nazi Party nor the National Socialists Movement immediately responded to attempts to reach them. The Oregon county put up the two signs at a cost to taxpayers of about $500. If the signs are destroyed, the sponsoring organization must pay for replacements. Any group sponsoring a litter pick-up must clean the roads twice a year. They must be a recognized organization, but it is usually a Boy Scout troop or civic organization. As of Monday, Jan. 31, 2005, at least 1,433 members of the U.S. military have died since the beginning of the Iraq war in March 2003, according to an Associated Press count. At least 1,089 died as a result of hostile action, the Defense Department said. Since May 1, 2003, when President Bush declared that major combat operations in Iraq had ended, 1,295 U.S. military members have died. A teenager who shot and killed his grandparents as they slept is "a shy, decent boy." Deprived of their flat-screen TVs, mobile phones, pizza deliveries and long visits from lovers, inmates at Mexico's top security prison complained on Monday they are being treated like dogs. "This is degrading us, treating us like dogs, like animals, like we are worthless, telling us that we are in this place to be severely punished because we are the scum of society," they said. A Texas man is charged with cutting a pacemaker out of his dead mother's chest with a kitchen knife as part of a long-running dispute with a medical company, police said on Monday. "The son, her caretaker, made the comment, 'I removed the pacemaker,'" police said. "It's my understanding there's been some kind of ongoing dispute between the son, insurance companies and the doctor since this pacemaker was implanted in 1995." He wanted to keep the pacemaker as evidence of possible wrongdoing by its supplier. Investigators also want it to help determine the circumstances of the woman's death. He was charged with tampering with evidence, a felony punishable by up to 10 years in prison, and jailed in lieu of $5,000 bond. A decorated Marine Corps general said, "It's fun to shoot some people" and poked fun at the manhood of Afghans as he described the wars U.S. troops are fighting in Iraq and Afghanistan. "Actually, it's a lot of fun to fight. You know, it's a hell of a hoot. ... It's fun to shoot some people. I'll be right up front with you, I like brawling." America's enemy was Satan, that God had put President Bush in the White House and that one Muslim was an idol-worshipper. Governments have tried and mostly failed to keep such sites - and the Iraqi guerrillas - offline. When they succeed, it's only temporary. The Web sites pop up on new computer hosts. Individual postings and entire sites are replicated elsewhere by sympathizers. And forcing a site offline can prompt a backlash of revenge attacks on government Web sites. "It's like putting your fingers in the dike." Rebel Web sites also happen to be primary sources of intelligence for the troops pressing the counterinsurgency war: the U.S. military, the CIA and others grappling to understand Iraq's shadowy guerrilla bands. On Wednesday, a visitor to ansarnet.ws posted a grainy photograph purporting to show a kidnapped U.S. soldier dressed in desert fatigues, wearing a vest and knee pads. A gun was held to the soldier's head. But the photo turned out to depict "Cody," a U.S.-made toy action figure. The accompanying statement was posted in the name of a group that has claimed previous kidnappings, the Mujahedeen Brigades. The Arabic text, however, contained several misspellings and repetitions. Analysts asked about potential perpetrators of the hoax said it was possible the scam was a so-called "black" information operation by the U.S. government or an ally intended to hurt the credibility of ansarnet.ws. A U.S. university in Wisconsin has blocked an attempt by Republican students to raise money for a group called "Adopt a Sniper" that raises money for U.S. sharp-shooters. The students were selling bracelets bearing the motto "1 Shot 1 Kill No Remorse I Decide." A Texas woman has been indicted for criminally negligent homicide for causing her husband's death by giving him a sherry enema, a police detective said on Wednesday. Tammy Jean Warner, 42, gave Michael Warner two large bottles of sherry as an enema on May 21, which raised his blood alcohol level to 0.47 percent, or nearly six times the level considered legally drunk in Texas. "We're not talking about little bottles here, these were at least 1.5-liter bottles." Warner, 58, was said to have an alcohol problem and received the wine enema because a throat ailment left him unable to drink the sherry. The woman admitted administering the enema, but denied causing her husband's death. A couple is being sought on child abuse charges for allegedly torturing seven children who lived with them - pulling out their toenails with pliers, delivering electric shocks and striking them with a hammer, authorities said Thursday. At least three children were severely malnourished, including twin 14-year-old brothers who weighed just 36 and 38 pounds each - about 80 pounds below the normal weights for their age, police said. Some of the children showed signs of physical injury, including missing toenails, which appeared to support their claims. Others said they were also tortured by electric shocks and were hit with a hammer, she said. Five of the seven children told deputies they were forced to sleep in a locked walk-in closet because the Dollars accused them of stealing food and misbehaving, the sheriff's office said. Pass the ammunition and a slice of pizza. U.S. soldiers in Iraq spend hours - sometimes days - on patrol hunting insurgents and dodging roadside bombs. But when they get back to base, they can pick up a case of Dr. Pepper, buy the latest DVD and take a Pizza Hut meal back to the room to relax after a hard day at war. A soldier's life isn't what it used to be. "This generation of soldiers has grown up with name-brand fast food," McCoy said. "It's the taste from home that they're missing. It not only gives them that little moment of comfort, I like to think it ... takes them back home for just the 15 minutes they are enjoying a Whopper." Some extremists also consider Western-style haircuts an offensive symbol of the hated, secularized culture of Europe and the United States. To them, sporting a clipped beard or a modern haircut is an infraction worthy of death. "They are even forbidding us to hang posters showing the most recent haircuts," Hussein said. He now cuts customers' hair in secret inside his house. "I don't want to be killed, but I don't want to be broke either," he said. Many spousal rape laws were drafted in the 1970s and were considered progressive at the time, because they recognized it was possible to rape a spouse. Historically, wives were considered the property of their husbands, and sex was regarded as a wifely duty. A Colorado judge ordered two teen-age girls to pay about $900 for the distress a neighbor said they caused by giving her home-made cookies adorned with paper hearts. The pair were ordered to pay $871.70 plus $39 in court costs after neighbor Wanita Renea Young, 49, filed a lawsuit complaining that the unsolicited cookies, left at her house after the girls knocked on her door, had triggered an anxiety attack that sent her to the hospital the next day. A member of a punk clique surrendered Wednesday for scalping another member, apparently as punishment for her disrespectful behavior toward women, police said. The victim, a 16-year-old girl whose hair was cut in a mohawk, survived. Dahle is accused of tying up the teenager and cutting away a 6-by-8-inch section of her scalp. She allegedly used a 4-inch knife to cut away the crown and back portion of the scalp. "When I say this gal was scalped, she was truly scalped, the top of her head, her hair, was completely cut off. The motive, as near as we've been told by witnesses, was retaliation for acting in a way that the adult perceived as being offensive to women as a gender. In their punk group, wearing a mohawk is a sign of being a punker, and according to their creed if you disrespect women you are not allowed to wear a mohawk, but I don't think the victim had any idea in the world she was going to be scalped." A Welsh rugby fan cut off his own testicles to celebrate Wales beating England at rugby. Geoff Huish, 26, was so convinced England would win Saturday's match he told fellow drinkers at a social club, "If Wales win I'll cut my balls off," the paper said. Friends at the club thought he was joking. But after the game Huish went home, severed his testicles with a knife, and walked 200 yards back to the bar with the testicles to show the shocked drinkers what he had done. A woman concocted a heartbreaking story of how her soldier husband died a hero in Iraq - and then admitted the story was all a hoax. "I think I need some serious counseling," she said. When a band teacher was arrested here and charged with sexually abusing 16 students, jaws dropped at the allegations: Police said the teacher had tied young girls to chairs with duct tape and rope and then re-enacted bondage scenes from his porn collection. Investigators now say the school district in this blue-collar Chicago suburb had received complaints about the teacher years earlier and had warned him in 2001 against "inappropriate touching" but never reported him. A couple was charged with locking the woman's 11-year-old daughter in a chain-link dog kennel for days at a time as discipline, releasing her only to go to school and do chores. The girl, now 13, told police about the alleged punishment when they responded to reports of screaming from the home in January. A police complaint said the confinements happened for three days in August 2003 and for seven days in October 2003, when she was 11. Bare allegedly told police he placed two car seats in the kennel along with a throw rug and a blanket. He said the kennel - 12 feet long, 3 feet wide and 6 feet high - was assembled over the floor drain in case the girl needed to urinate, according to the complaint. The only grade school in a rural town is requiring students to wear radio frequency identification badges that can track their every move. Some parents are outraged, fearing it will take away their children's privacy. The badges introduced at Brittan Elementary School on Jan. 18 rely on the same radio frequency and scanner technology that companies use to track livestock and product inventory. Similar devices have recently been used to monitor youngsters in some parts of Japan. The system was imposed, without parental input, by the school as a way to simplify attendance-taking and potentially reduce vandalism and improve student safety. Principal Earnie Graham hopes to eventually add bar codes to the existing ID's so that students can use them to pay for cafeteria meals and check out library books. But some parents see a system that can monitor their children's movements on campus as something straight out of Orwell. "There is a way to make kids safer without making them feel like a piece of inventory," said Michael Cantrall, one of several angry parents who complained. "Are we trying to bring them up with respect and trust, or tell them that you can't trust anyone, you are always going to be monitored, and someone is always going to be watching you?" Cantrall said he told his children, in the 5th and 7th grades, not to wear the badges. He also filed a protest letter with the board and alerted the ACLU. Graham, who also serves as the superintendent of the single-school district, told the parents that their children could be disciplined for boycotting the badges - and that he doesn't understand what all their angst is about. A British woman was sentenced to two and a half years in jail Thursday for ripping off her ex-lover's testicle with her bare hands during a drunken brawl after he refused her sex. Amanda Monti, 24, flew into a rage in May last year after Geoffrey Jones, 37, who had ended their long-term relationship, rejected her advances. She grabbed him by the genitals, tearing off his left testicle, then hid it in her mouth before a friend of Jones handed it back to him saying "that's yours." A man used e-mail to try to set up a mass suicide on Valentine's Day involving as many as 32 people across the United States and Canada, authorities said. Detectives learned of the plan from a woman in Canada who said she saw the message in an Internet chat room. The woman, who was not identified by authorities, told detectives she was going to take part in the suicide but had second thoughts when another chat room participant said she would do it and talked about killing her two children. "He was potentially seeking individuals with the same ideology about suicide as he had." The chat room participants planned to log in on Valentine's Day and commit suicide simultaneously. Virginia lawmakers dropped their droopy-pants bill Thursday after the whole thing became just too embarrassing. The bill, which would have slapped a $50 fine on people who wear their pants so low that their underwear is visible in "a lewd or indecent manner," passed the state House on Tuesday but was killed by a Senate committee two days later in a unanimous vote. "If people in Florida can wear bikinis, a little underwear showing isn't going to hurt anybody." The bill's sponsor, Democratic Delegate Algie T. Howell, declined to answer reporters' questions Thursday but issued a statement saying the bill "was in direct response to a number of my constituents who found this to be a very important issue." He has said perturbed constituents included customers at his barber shop who were offended by exposed underwear. All the school's more than 3,300 students were sent home late in the morning after administrators failed to persuade the protesters to return to class. "The vast majority walked out because it's a good excuse for them to get out of class." A Texas woman indicted last month for allegedly giving her husband a lethal sherry enema said he was an enema addict who did it to himself, a newspaper reported Thursday. Tammy Jean Warner said late husband Michael Warner had an alcohol problem and enjoyed giving himself wine or sherry enemas because his body would absorb the spirits more quickly that way. "That's the way he went out and I'm sure that's the way he wanted to go out because he loved his enemas." Mrs. Warner, 42, is accused of giving her husband a sherry enema even though she knew alcohol was bad for this health and faces a charge of criminally negligent homicide. "There's no way I could have gave my husband that enema, no way," she said. "It all started back when he was a child," Mrs. Warner explained. "His mother used to give him enemas all the time, and he started to depend on them. He did coffee enemas, he did Castile soap, Ivory soap," she said. "He had enema recipes." Wine labeled with a photo of brutal Soviet dictator Joseph Stalin was pulled from shelves in the Canadian province of Manitoba this week after complaints from the local Ukrainian community, a spokeswoman for government-owned liquor stores said. The sherry and port from the Massandra winery in Ukraine featured a photo on the bottles' labels of Stalin seated with former U.S. President Franklin Delano Roosevelt and former British Prime Minister Winston Churchill. "I don't want Stalin to be forgotten. I want him to be remembered for exactly what he was: a genocidal mass murderer, I don't think anyone in Canada would welcome a Hitler Riesling or a Stalin sherry enema or a Pol Pot port or a Mao Tse-tung merlot." At the main warehouse in Galle, mountains of cardboard boxes and suitcases ready to burst take up a quarter of the cavernous building. Some are labeled "Aid for Tsunami Victims," but their contents - winter jackets, expired cans of salmon, stiletto shoes, winter tents, thong panties and even Viagra - have left Sri Lankans scratching their heads. In the warehouse in Galle, a hard-hit district where aid is being distributed to 120,000 people, cardboard boxes are stacked to the ceiling. Battered suitcases tied with rope or tape contain blankets, winter coats and woolen Mickey Mouse pajamas. One suitcase held only heavily embroidered curtains - complete with steel hooks. Officials also complain that labels don't always tell the full story, meaning every box must be inspected. Three boxes labeled sheets actually contained wool blankets. Expired cans of salmon were found among clothes. In a country where most people wear flip-flops or sandals, some boxes held only used shoes, including soccer cleats, boots and silver evening shoes with 4-inch heels. "Oh no! More clothes," she said. "We're not beggars. We don't need these hand-me-downs." The new arrivals will likely end up on a heap in the compound where refugees cook over open fires and use garments as pot holders. "It's clear that some people have sent clothes that are actually meant to be used as dusters, we don't mean to be ungrateful, but it would be appreciated if people take a little more care before just unloading their basements and garages." The black-and-pink thong underwear will not be offered to refugees. Nor would a spaghetti-strap, sequin-studded black evening dress. Still, nothing will be thrown away. Warm clothing may be sent to shelters or to tea plantation workers in the hills, where the climate is cooler. Among the most unlikely supplies sent in were six packs of Viagra from Australia, "We were quite nonplussed." Brown, who is black, was behind the wheel of the stolen car that led officers on a 4 a.m. chase and backed into a patrol car. A Hispanic officer fired 10 shots at the driver. Congressional investigators warned federal agencies this week that the promotion of government policies through video news releases meant to look like TV news stories may violate federal rules against propaganda. "Prepackaged news stories have become common tools of the public relations industry." The presentations "are intended to be indistinguishable from news segments broadcast to the public by independent television news organizations." Such productions may violate a government prohibition, enacted in 1951, against the use of appropriated funds for propaganda. The White House Office of National Drug Control Policy was criticized last year for a series of video news releases in which a narrator, sometimes identified as "Karen Ryan" or "Mike Morris," said she or he was "reporting" on the office's activities. The tapes were sent to local television stations for use in news programs. In a second case criticized by the GAO last year, the Health and Human Services Department's Centers for Medicare and Medicaid Services produced video news releases touting changes to Medicare. Those productions were also narrated by "Karen Ryan" and were offered to local TV news operations. "Television-viewing audiences did not know that stories they watched on television news programs about the government were, in fact, prepared by the government. We concluded that those prepackaged news stories violated the publicity or propaganda prohibition." Federal authorities are investigating two e-mail scams, including one targeting families of soldiers killed in Iraq, that claim to be connected to the Homeland Security Department. The scams "are among the worst we have ever encountered." Both of the online pleas for help - and money - link themselves to the bureau. In one scheme, e-mail sent to families of U.S. soldiers killed in Iraq include a link to the bureau's Web site. The e-mail seeks to recover money from a friend of the slain soldier. In the other, the e-mail identifies itself as being sent by a federal agent trying to track down funds looted from the Iraqi Central Bank by Saddam Hussein's son. The e-mail also links to the bureau Web site and asks for confirmation of the recipient's address by urging, "There is a very important and confidential matter which I want us both to discuss." A federal judge ruled against the state and found a constitutional "right to use sexual devices like ... vibrators, dildos, anal beads and artificial vaginas." "This case involves conduct that is both public and commercial -- the sale of sexual devices to the general public in commercial retail shopping centers" and at in-house Tupperware-style parties. A 44-year-old Anchorage man had his penis surgically reattached after it was cut off by an angry girlfriend and flushed down a toilet, local police said on Sunday. The events unfolded about midnight on Saturday, after the pair had been arguing over an impending breakup, an Anchorage Police Department statement said. At some point, the two decided to have sex and the man agreed to let the woman tie his arms to a windowsill. But the woman used a kitchen knife to amputate her partner's penis and flushed it down the toilet, police said. On the tapes, recorded over the course of the two years before Bush became the Republican presidential nominee, Bush discusses strategy for his presidential run and appears to acknowledge past drug use. He says he will refuse to answer questions about using LSD, cocaine and marijuana. The majority of American teens believe in God and worship in conventional congregations, but their religious knowledge is remarkably shallow and they have a tough time expressing the difference that faith makes in their lives, a new survey says. Still, the notably comprehensive National of Study of Youth and Religion concluded that "religion really does matter" to teens. The research found that devout teens hold more traditional sexual and other values than their nonreligious counterparts and are better off in emotional health, academic success, community involvement, concern for others, trust of adults and avoidance of risky behavior. Many were so detached from the traditions of their faith, says the report, that they're virtually following a different creed in which an undemanding God exists mostly to solve problems and make people feel good. Truth in any absolute, theological sense, takes a back seat. "God is something like a combination Divine Butler and Cosmic Therapist" who's on call as needed. Demonstrating a deep understanding of what its computer-gaming audience, Sony has built the ability to order pizza into its latest online multiplayer game. Type the command "/pizza" while playing Everquest II, a fantasy game with 330,000 active players, and get the Pizza Hut Web site, where you can place orders for delivery. The North Americans were asked not to attend the next meeting of the Anglican Consultative Council, which is a body of bishops, priests and lay people from national Anglican churches who meet and consult in between the once-a-decade Lambeth Conferences for the primates. However, Anglican leaders also recommended a hearing be organized at the council's gathering in June to allow the North American churches to send representatives who could explain their views on homosexuality. "In the meantime, we ask our fellow primates to use their best influence to persuade their brothers and sisters to exercise a moratorium on public rites of blessing for same-sex unions and on the consecration of any bishop living in a sexual relationship outside Christian marriage," the statement said. American forces fired on a car carrying a freed Italian hostage as it approached a checkpoint in Baghdad on Friday, killing an Italian intelligence officer and wounding at least two others, including the just-released journalist. Four members of an unchartered fraternity were charged with involuntary manslaughter after a pledge died from drinking too much water during hazing. Four other members of the Chi Tau fraternity at the University of California, Chico, were charged Thursday with hazing, a misdemeanor. The four people charged with manslaughter could face up to four years in prison. Matthew Carrington, 21, died of water intoxication Feb. 2 after being forced to drink water throughout the night in the basement of the off-campus fraternity house. Sgrena said Calipari died shielding her. She offered no evidence to support her claim that the attack was deliberate, and in an interview published in Monday's edition of the daily Corriere della Sera, she said she doesn't know what led to the attack. "I believe, but it's only a hypothesis, that the happy ending to the negotiations must have been irksome," she said. "The Americans are against this type of operation. For them, war is war, human life doesn't count for much." In separate remarks Sunday, she said: "The fact that the Americans don't want negotiations to free the hostages is known." In an article Sunday, Sgrena said her captors warned her shortly before her release to beware of the Americans. She later told Italian state TV RAI that "when they let me go, it was a difficult moment for me because they told me, 'The Americans don't want you to return alive to Italy.'" She didn't elaborate. The parents of white supremacist Matthew Hale, looking forward to visiting their imprisoned son this week, said they don't believe that any member of Hale's group is capable of murdering a federal judge's husband and mother. "They're scared the government's going to do something to them like they did to Matt," said Evelyn Hutcheson, Hale's mother. "They've all run. They're scared to death ... They're scared puppies is all they are." Five police officers and four dispatchers were suspended for sending computer messages after a nightclub caught fire joking about the blaze and quoting a line from the song "Disco Inferno" - "burn baby burn." As of Wednesday, March 9, 2005, at least 1,512 members of the U.S. military have died since the beginning of the Iraq war in March 2003, according to an Associated Press count. At least 1,149 died as a result of hostile action, according to the Defense Department. The figures include four military civilians. "He told me if I had ever heard of Jesus juice. He told me, 'Like you know how Jesus drank wine? We call it Jesus juice,'" he said. "I drank a little bit of it and I told him it tasted ugly. ... He said he knew I was stressed out from all the media stuff going on and the Jesus juice would relax me." The boy said he had previously sipped wine in church. "As we were inside the mosque, we saw a ball of fire and heard a huge explosion," said Tahir Abdullah Sultan. "After that, blood and pieces of flesh were scattered around the place." Rows of overturned white plastic chairs were stained in blood. Body parts, believed to be of the bomber, were spread around the area, and the smell of gunpowder filled the yard. Windows of nearby cars were shattered. "After the cloud of smoke and dust dispersed, we saw the scattered bodies of the fallen and smelled gunpowder," said another witness. It was just another weekend service for churchgoers in this Milwaukee suburb when, without warning, they began to be gunned down by one of their own. Now victims' relatives are struggling to keep their faith and find answers. Terry Ratzmann, a buttoned-down churchgoer known for sharing homegrown vegetables with his neighbors, walked into the room and police said he shot 22 bullets from a 9 mm handgun within a minute. But Saturday, the Sabbath for the Living Church of God, Ratzmann turned on worshippers. When it was over, seven people, including the church's minister and his teenage son, were killed, and four others, including the minister's wife, were wounded. Ratzmann, 44, then shot himself; he sat slumped against the back wall with four rounds left in his gun, police said. "The Lord works in mysterious ways." Since 1998, many federal departments have been reducing the amount of information they release to the public - even as the government fields and answers more requests for information than ever, an Associated Press review has found. The locations of stores and restaurants that have received recalled meat, the names of detainees held by the U.S. overseas and details about Vice President Dick Cheney's 2001 energy policy task force are all among the records that the government isn't sharing with the public. The tightening began even before the Sept. 11 attacks, and now government defenders say the nation needs protection from its enemies in the war on terror. But open government advocates worry that U.S. citizens' freedom is eroding with every file they can't access. Several of the bombs over the last 11 years were packaged in objects likely to attract children, including soap bubbles, a colorful marker pen, a jar of a popular snack spread and plastic eggs. An attacker used an ax to kill a man in a busy street in an affluent part of London on Monday morning, as horrified onlookers screamed at the suspected assailant to put the long-handled weapon down. Some witnesses have said the attacker, Jeff Weise, was smiling and waving as he shot at people. Authorities were investigating whether Weise, who dressed in black and wrote stories about zombies, may have posted messages on a neo-Nazi Web site expressing admiration for Adolf Hitler and using the handle "Todesengel" - German for "Angel of Death." TheSmokingGun.com reported that Weise posted a computer animation on a multimedia Web site in October, Newgrounds.com, that showed a gunman shooting four people, blowing up a squad car and committing suicide. The animation was accompanied by a photograph of Weise and a description of him as "nothin' but a Native American teenage-stoner-industrialist." In another posting, on LiveJournal.com and dated Jan. 4, Weise wrote: "I should've taken the razor blade express last time around. ... Well, whatever, man. Maybe they've got another shuttle comin' around soon?" In Hickory Hills, a tidy mobile home community popular with retirees, the 70-year-old was known as a friendly woman who baked cookies for the neighbors and talked too much. Nothing about the white-haired MacClellan suggested a capacity for violence, which is why the accusation she now faces - that she bludgeoned her 84-year-old neighbor to death with a hammer - has come as such a shock to residents here. Outside, the gunman tried one door, then another. "He looked right at me. I made eye contact with him," Grant said. The boy quickly found the open door. "He walked in and fired another shot and I was telling Derrick, 'Come on, let's go. Let's go, Derrick. Run. We need to save these kids, we need to do something.' And I radioed in ... 'There's a guy coming in the school and he's shooting and he has a gun.'" The noise drew students toward the front doors. Some thought maybe there was a fight, and they wanted to see, Grant said. "I start yelling at them, 'Run! There's a guy with a gun here! Just run!' And then I took off to try to protect them," she said. "I turned back a little bit, and you could see Derrick kind of getting up, going right toward Jeff. And then I heard two shots again." Other witness accounts indicate that's when Brun was killed. "I just ran," Grant said. There was no refuge. Like most schools after Columbine in 1999, Red Lake High School had a system for securing the school in case of violence. Alerted to trouble, its teachers locked the classroom doors, as they were trained. Still, Grant tried to open some doors to get in and hide. Other students did the same. None opened. Grant's keys were back by the front door. "I told them, 'Never stop running. Don't look back no matter what.'" Grant ran, too, with bullets striking the wall as she went. A boy running a little ahead of Grant fell. "He got shot and went down, and then I was going to stop and grab him, but all those other students stopped and I told them to run. And then, by that time, Jeff was pretty much right by us again and I just ducked and took off again." She said the gunman eventually turned down another hall, and Grant and the students made it out of the building. KANSAS CITY, Mo. A symbol of Christianity that sits atop church steeples, dangles from necks and hangs on walls is now ending up in the mouths of the faithful, over the objections of some religious officials. A mass-produced chocolate cross is being sold this Easter by Russell Stover Candies Inc. in about 5,000 stores nationwide, which experts say is apparently a first for a major American company. "Obviously they've seen that there's a market for chocolate crosses at Easter," said Lisbeth Echeandia, a consultant for Candy Information Service, which monitors candy industry trends. "I don't see it growing tremendously but I think there would be growth in the Christian market." However, not all Christians are happy about it. Chomping on a chocolate cross can be offensive to some, said a spokesman for the Roman Catholic diocese in Bridgeport, Conn. "The cross should be venerated, not eaten and pooped, nor tossed casually in an Easter basket beside the jelly beans and marshmallow Peeps," he said. "It's insulting." Nonetheless, Kansas City-based Russell Stover, the third-largest American chocolate manufacturer, said it is targeting some of the most devout Christians - Hispanic Americans. Pangburn, which Russell Stover bought in 1999, has long had a hold in that market. The milk chocolate cross is about 6 inches high, adorned with a floral bouquet and filled with caramel made of goat's milk, popular in Mexico and Latin America. Its packaging features Spanish more prominently than English. Russell Stover President Tom Ward doesn't expect the chocolate cross to overtake the chocolate bunny, but he does expect it to bring in new customers who "wouldn't buy rabbits. I think it's a market that's potentially overlooked." Ward said Russell Stover considered making other traditional images out of chocolate but eventually opted not to. "A molded Jesus, for example, would not be a good call and a cross with Jesus on it wouldn't be a good idea either," Ward said. A man dressed like an old-time pioneer and parked along Interstate 70 puzzled deputies with his claim that he was headed to South Dakota with Bibles and "supplies" for American Indian children. Then the deputies noticed a smell of marijuana as the man argued with them, and they searched his vehicle and found a staggering arsenal, including loaded pistols and an assault rifle with a 30-round clip and a bullet in the chamber. A double-edged knife with an 8-inch blade was in the sun visor above the man's head, and a loaded two-shot Colt Derringer pistol was in his pocket, authorities say. Searchers also seized about 400 rounds of ammunition. Jittery babies, mistreated toddlers, strung-out mothers: Cheryll Jones' pediatric nursing practice is far from what it was when she started out 30 years ago - long before methamphetamine invaded this riverside Corn Belt town. "If anybody told me my primary caseload would be kids exposed to illicit drugs, I'd have said they were crazy," said Jones, who now runs a local task force helping the most helpless victims of the nation's meth epidemic - small children whose parents make and use the highly addictive drug. The scars are inflicted in myriad ways: Exposure to the drug in the womb, contamination from toxic chemicals used in home-based meth manufacture, explosions and fires, long-term neglect from parents obsessed with their drug habits, physical abuse and sexual abuse. Many of the meth-lab homes are filthy, often strewn with drug paraphernalia and pornography; meth-making chemicals have been found in diaper bags and toy chests. "I've been in homes where you'd find jars of meth oil in the refrigerator, but no milk, no bread for the kids," said Marvin Van Haaften, a former country sheriff who is now Iowa's drug policy coordinator. The meth epidemic took root on the West Coast, and is now worsening in many big cities nationwide. But nowhere is its heartbreaking toll on young children more evident than in the towns and small cities of America's heartland - notably Iowa, Missouri, Tennessee, Arkansas, Oklahoma, Kentucky and Indiana. Ottumwa, a meatpacking and slaughterhouse town of 25,000 in southeast Iowa, has become a focal point of the state's efforts to aid meth-affected children, both because of the steady caseload at Cheryll Jones' clinic and because it is home to the country's first Moms Off Meth group - a self-help program for mothers trying to confront their addiction and reorder their lives. Accusations by Islamic preachers that vaccines are part of an American anti-Islamic plot are threatening efforts to combat a measles epidemic that has killed hundreds of Nigerian children, health workers say. Government officials play down the anti-vaccine sentiment, but all the measles deaths have been in Nigeria's north, where authorities had to suspend polio immunizations last year after hard-line clerics fanned similar fears of that vaccine. Nigeria, whose 130 million people make it Africa's most populous nation, has recorded 20,859 measles cases so far this year. At least 589 victims have died, most of them children younger than 5 and all in the north, the Nigerian Red Cross and the U.N. World Health Organization say. Southern Nigeria, which is mainly Christian, had only 253 measles cases, and no deaths. Nasir Mohammed Nasir, imam of Kano's second-largest mosque, said Americans "can't be killing my brothers and children in Iraq and at the same time claim to want to save my children from polio and other diseases. We suspect a sinister motive," he said. "You can't trust these Americans." Police said Tuesday they still have no motive in the case of a man who was bound by the ankles, tied to a vehicle and dragged more than a mile early Easter morning, leaving a trail of blood and skin. A former high-ranking Boy Scouts of America official has been charged with possession and distribution of child pornography. Douglas Sovereign Smith Jr., 61, who as program director coordinated scouting programs with schools and churches, was accused of receiving images over the Internet in February of children engaging in oral sex, intercourse and other sexually explicit conduct. "We're shocked and dismayed to learn of this, Smith was employed by the Boy Scouts for 39 years and we had no indication of prior criminal activity." Some Christian conservatives and others who want to prolong Schiavo's life do not see why her husband gets to decide her fate. But the role of the spouse as next of kin and decision-maker has deep roots in both civil and biblical law. "It's odd that conservative Christians would be making this claim," said Christopher Schroeder, director of the public law program at Duke University. "You can find biblical passages that say once you have a union like this, the union's all that matters. The parents drop out of the picture." Protesters have accused Michael Schiavo of violating "God's law" by withholding nourishment from his wife and by having had two children over the years with his live-in girlfriend. But the legal tradition now separating Terri Schiavo from her parents' presumed protection also has a foundation in biblical law. In Genesis 2:24, it reads: "Therefore, a man leaves his father and his mother and cleaves to his wife, and they become one flesh." You've watched the movies. Now you can jack in and play it - no cranial implants required. Early Wednesday, a man was arrested when he tried to take a plastic cup of water into the hospice. Officers stopped him at the gate as he shouted: "You don't know God from Godzilla!" He was the 48th protester arrested since the tube was removed. Though the Soviet Union is gone, the nuclear fears that fueled the Cold War haven't disappeared. Most Americans think nuclear weapons are so dangerous that no country should have them, and a majority believe it's likely that terrorists or a nation will use them within five years. The Bush administration repeatedly warns about nuclear weapons and is using diplomacy - and force - to try to limit the threat. Still, North Korea claims it has nuclear weapons now and is making more. Iran is widely believed to be within five years of developing such weapons. And security for the nuclear material scattered across the countries of the old Soviet Union remains a major concern. Lurking in the background is the threat that worries U.S. officials the most - terrorists' desire to acquire nuclear weapons. All that helps explain why 52 percent of Americans think a nuclear attack by one country against another is somewhat or very likely by 2014, according to an AP-Ipsos poll. Fifty-three percent think a nuclear attack by terrorists is at least somewhat likely. Two-thirds of Americans say no nation should have nuclear weapons, including the U.S., and most of the others say no more countries should get them. The threat from nuclear terrorism is greatest, analysts say, because terrorists with nuclear weapons would feel little or no hesitance about using them. "We're in the race of our lives, and we're not running fast enough. That's why those who monitor nuclear proliferation are so concerned about securing weapons stockpiles and dismantling weapons as quickly as possible. "I'm concerned, but I don't worry about it," Winter said. "I'm not a nail biter. I don't lose sleep over it." A former high-ranking Boy Scouts of America official who ran a task force that worked to protect children from sexual abuse pleaded guilty Wednesday to a child pornography charge. Authorities found 520 images of child pornography, including video clips, on Smith's home computer, Assistant U.S. Attorney Bret Helmer said. The images included children engaging in sex acts. The Boy Scouts have had other problems with their personnel, including volunteers. A California court case in the early 1990s revealed about 2,000 cases of sexual abuse of scouts and other boys that Boy Scouts officials in Irving had documented privately for two decades without telling law enforcement officials. "Maybe we have the next 'greatest generation' coming along here," Butts said. Butts also said improvements in such diverse categories as drug use, teen pregnancy and crime are hard to explain through government initiatives. After all the loud protests and arrests, the end came quietly. When word of Terri Schiavo's death reached the demonstrators who had fought so long and so passionately to prolong her life, many responded with silence, with tears and with disbelief. Fifteen-year-old Harvest Bashta buried her face in her hands, tears running down her arms and onto the pages of the Bible she had turned to for solace. "I just don't want to believe it," the high school sophomore from Chicago said as she sat in the grass outside the Woodside Hospice where Schiavo lay for 13 days without her feeding tube. "It grieves my heart to know God's heart is grieving." The only outburst of the morning came right after the announcement. Michael Stafford of Hollywood, Fla., stood before the police who had arrested more than 50 people trying to bring Schiavo water. He gave them the Nazi salute and shouted, "Heil Hitler!" Upon hearing the news, Patrick Bautch of Milwaukee tossed away with disgust a sign that read President Bush, Please Help Terri. "He could have done something," Bautch said. "He was supposed to be for life and he neglected his role. ... The value of human life has just gone down the drain." This mugger was left holding a bag he didn't really want. Police said they were searching for a gunman who ran up to a woman while she was walking her dog Monday night and grabbed the bag she was holding. It contained poop. When the gunman discovered what was in it, he threw it down in disgust, pointed his gun at the 32-year-old woman and demanded money. He then aimed his .22-caliber semiautomatic at the dog, named Misty, and pulled the trigger twice but the gun didn't fire, Hassen said. The robber, who was believed to be in his 20s, ran to a waiting small, silver car and fled, police said. Rudolph, dressed in a red jail uniform, winked toward prosecutors as he entered court and spoke tersely to answer a series of questions from the judge, saying the government could "just barely" prove its case if it went to trial. He drummed his fingers on the side of a podium as a prosecutor told of the Wal-Mart hose clamp that was found inside the body of the off-duty police officer who died in the blast, then described pieces of a remote control receiver found in Lyons' body. Meiwes recorded the deed on video tape and shocked the court with his matter-of-fact account of how he severed the man's penis at the latter's request, and how they both tried to eat it, first raw and then fried in a saucepan. Prosecutors believe the initial ruling and sentence were inadequate and said they wanted judges to convict Meiwes of murder as he had killed his victim to satisfy perverted desires. "For the accused, it was only about fulfilling his fetish for human flesh," state prosecutor Lothar Senge told Germany's Federal Court of Justice. "He will kill again if he gets the chance," he said. Meiwes' lawyer Harald Ermel instead urged a conviction on the lesser charge of "killing on request," a form of illegal euthanasia that carries a maximum five year sentence. China is coming clean about its filthy toilets, first hosting a world toilet summit and now about to hold its first ever toilet exhibition which will lift the lid on new technology. The World Toilet Expo will run from May 8 to 10 in Shanghai, China's most fashionable city, with some experts going potty about a dial-a-loo phone line people can call to find the nearest public toilet. Most of China's public lavatories are squat-style pits with no running water, toilet paper or hand-washing facilities. A Greek court on Wednesday has lifted a ban on selling a cartoon book from Austria depicting Jesus Christ as a drinking buddy of Jimi Hendrix and a marijuana-smoking, naked surfer. Austrian cartoonist Gerhard Haderer had been found guilty by a Greek court of "malicious public blasphemy" earlier this year and given a six-month suspended prison sentence for his take on the life of Christ. A French shipment of nuclear power plant fuel made from weapons-grade plutonium arrived in the United States despite protests it poses environmental and terrorist risks. The shipment of mixed-oxide fuel arrived in Charleston early Tuesday. The MOX fuel, a mixture of plutonium oxide and uranium oxide, will be tested at the Catawba Nuclear Station on Lake Wylie, which is about 20 miles south of Charlotte, N.C. A small group of protesters tried unsuccessfully to follow a convoy thought to be carrying the fuel. "It's quite clear that their scrambling to meet the conditions of storage, to me it represents the poor planning for the overall plutonium disposition program and they're just trying to make up things as they go along." He also complained about how easily he was able to "get right up near the trucks" in the convoy as it left the Charleston Naval Weapons station. "If we could identify them with minimal resources then anyone could identify them," he said. "If I come back tomorrow and it's still there, I'll fix it myself and you won't like it, I'll tear the wall down." It's all part of a war of words in Iraq, where U.S. troops patrolling the northern city of Mosul constantly inspect handbills and graffiti on sun-scorched walls, searching for insurgent messages that they counter with their own psychological operations - or "psy-ops." The propaganda also is spread by word-of-mouth. Militants started rumors that candy American soldiers toss to children from their vehicles was poisoned, or that a tip-line set up by the Americans wasn't confidential and people calling it would be punished by insurgents. In a small building on an American forward-operating base in Mosul, the Americans' offerings whir out of a copying machine. Officers insist it isn't a propaganda mill. "It's a fine line, but propaganda is more based on untruth. "Psy-ops is a multiplier. We multiply the effectiveness of the troops on the ground, which saves lives. We're just one of the many cogs in a system that works." An Army sergeant charged in a deadly grenade attack on his comrades wrote in his diary that his fellow soldiers were mistreating him, and that once he was sent to Iraq, "I am going to try and kill as many of them as possible," a jury was told Thursday. "I suppose they want to punk me or just humiliate me. Perhaps they feel that I will not do anything about that. They are right about that. I am not going to do anything about it as long as I stay here. But as soon as I am in Iraq, I am going to try and kill as many of them as possible." Another entry said: "I will have to decide to kill my Muslim brothers fighting for Saddam Hussein or my battle buddies. I am hoping to get into a position so I don't have to take any crap from anyone anymore." Elsewhere, he wrote: "I may not have killed any Muslims, but being in the Army is the same thing. I may have to make a choice very soon on who to kill." Waking up in a pool of blood, Carolyn Thomas didn't realize a bullet had blown off most of her face, leaving a concave void. She worried about her mother, who had been shot in the stomach. She wondered if help would come in time. When police entered the apartment, an officer stepped over her, thinking she was dead. Boredom proved costly to a potential juror who let out a loud yawn in a Los Angeles courtroom and was promptly ordered to pay a $1,000 fine. Germany's top-selling daily Bild blasted its British counterparts Thursday for what it saw as their disrespectful coverage of the new Pope and their focus on his brief membership of the Hitler Youth. "'Hitler Youth' - English insult German Pope!" the paper titled its front page before listing headlines from British newspapers a day earlier announcing the election of conservative German Cardinal Joseph Ratzinger as Pope Benedict XVI. The Sun newspaper -- Bild's nearest British equivalent -- headlined its front page on Wednesday: "From Hitler Youth to Papa Ratzi," while even the sober Daily Telegraph carried the title "'God's Rottweiler' is the new Pope." In an interview published in book form almost a decade ago, Ratzinger says he briefly joined the Nazi party's youth organization as a schoolboy during World War II. In a video purporting to show the killing of the sole survivor of a downed helicopter in Iraq, a gunman orders, "Carry out God's verdict," and his colleagues open fire, riddling the man with bullets. "Look at that filth," someone says in Arabic. There are brief glimpses of a man carrying an assault rifle along with the cameraman. The scene moves to tall grass, where a man with thinning, gray hair and wearing a blue flight suit is lying on his back, the right side of his head bloody. The helicopter's three-man crew was Bulgarian, and it appeared that the man shot in the video was one of the crew. "Stand up! Stand up!" the cameraman shouts to him in English. "I can't, it's broken. Give me a hand," the survivor says in accented English, raising his hands for help. "Give me your hand." It appears the militants help pull him to his feet. The cameraman tells the crewman, whose face is visible, to step back. "Go! Go!" he shouts. The survivor then tries to walk, limping with his back to the insurgents, who say something to him that makes him turn around. He raises his hands to somebody off camera as if gesturing to them to stop what they are about to do. "Carry out God's verdict," someone is heard saying, and the militants shoot the man at point-blank range, continuing even after he falls to the ground. One gunman shouts, "Allahu akbar!" Pope Benedict XVI said Monday he had viewed the idea of being elected pope as a "guillotine," and he prayed to God during the recent conclave to be spared selection but "evidently this time He didn't listen to me." The poor are most likely to be fat, but the more affluent are closing the gap. For years doctors have known that the people most likely to be overweight have the lowest incomes. Fresh produce and other healthful fare can be expensive as well as less accessible than fast food and other high-fat options in low-income neighborhoods. "I'm looking forward to getting my hands dirty," Bush, who spends hours during his down time clearing brush on his Texas ranch, told young people awarded for their environmental work at the White House on Thursday. "You, Bush, we will not rest until we avenge our dignity," the voice said. "We will not rest while your army is here as long as there is a pulse in our veins. Be aware, these are the devil's tricks," he warned. "They (the Americans) have offered this dialogue after the defeats they have suffered." The Dave Matthews Band, settling a lawsuit stemming from human waste dumped from a tour bus onto people touring the Chicago River, has agreed to pay $200,000 to an environmental fund and take measures to avoid a repeat of the incident. The bus was crossing a bridge last summer when the fecal waste poured through metal grates onto the open deck of an architectural tour boat carrying more than 100 passengers. A woman doused a 2-month-old girl with pepper spray while feuding with the infant's family in a Wal-Mart, police said. Lorlie M. Gantenbein, 36, of Sagle, was charged Tuesday with felony injury to a child. She was released after posting $5,000 bail. The 2-month-old girl was recovering at home after being sprayed, he infant was treated at a hospital. A pop culture controversy that has simmered for decades came to a head when a middle school marching band was told not to perform "Louie Louie." In a letter sent home with McCord students, Dawning said "Louie Louie" was not appropriate for Benton Harbor students to play while representing the district - even though the marching band wasn't going to sing it. Band members and parents complained to the Board of Education at its Tuesday meeting that it was too late to learn another song. "It was not that I knew at the beginning and said nothing," Dawning said. "I normally count on the staff to make reliable decisions. I found out because a parent called, concerned about the song being played." Prisons do a good job at keeping knives and other weapons away from inmates. What they can't take away from offenders are their own bodily fluids. Urinating in a corrections guard's ice tea and throwing feces at the officers are the types of offenses that guards and prison administrators alike say should be punished more severely. Assault with bodily fluids poses a health risk for the employees because of the potential for spreading diseases such as hepatitis or AIDS. It also makes retention of prison guards a difficult task, he said. A 27-year Corrections employee, said being hit with bodily fluids is worse than being punched. "I've been spit at. It's degrading. It's humiliating," he said. The department is looking at new ways of disciplining inmates for unacceptable behavior, including the possibility of feeding them a "nutrition loaf" instead of the traditional meal. The loaf would provide all the nutrition required without the flavor. Two officers accused of handcuffing a 5-year-old boy after a fight on a school bus have been suspended with pay from police duties while the city investigates the allegations, authorities said. In a similar case, police in St. Petersburg, Fla., handcuffed a 5-year-old girl on March 14 after she tore papers off a bulletin board and allegedly punched an assistant principal in kindergarten class. Police were investigating why three officers pinned her arms behind her back and put on handcuffs as she screamed, "No!" In central Athens, about 500 supporters of a hard-line Orthodox movement staged a protest to denounce the conference and other initiatives, such as Greek government plans to build Athens' first mosque in more than 170 years. Banners read: "No to the pan-religious heretical congress" and "The Church is Orthodox: Every other church and religion are machinations of the devil." There are some 144,000 unmarried couples living together in North Carolina, and they are all breaking the law - a statute that has been on the books since 1805. The law against cohabitation is rarely enforced. But now the American Civil Liberties Union is suing to overturn it altogether, on behalf of a former sheriff's dispatcher who says she had to quit her job because she wouldn't marry her live-in boyfriend. A stain under a highway bridge that had drawn hundreds of faithful who thought it resembled the Virgin Mary was painted over by a road crew on Friday after a vandal defaced the image. Chicago police said they charged a 37-year-old man with damage to state property after he used black shoe polish to paint "big lie" on the yellow and white stain which had become the site of an impromptu shrine for the past three weeks. A year after federal agents raided his home in a terrorism investigation, Muslim businessman Syed Maswood is lucky to get on an airplane without being detained and searched. But that didn't stop him from getting an invitation to dine with President Bush. A Bangladeshi immigrant who became an American citizen in 1997, Maswood spent much of the past year writing letters demanding to know why he is detained whenever he travels. Only guests who pay for a photo with Bush are required to undergo security checks. Maswood said he voted for Bush in 2000 but not in 2004. "I supported President Bush. I supported President Bush on Iraq. I really think he's a good guy," Maswood said. "But when you become a victim of this kind of thing over and over again, it becomes personal." When President Reagan was shot in a 1981 assassination attempt, there was confusion in the White House as national security adviser Richard Allen and Secretary of State Alexander Haig tried to sort out the whereabouts of the nuclear footballs - one with the president at the hospital, one with the vice president in Texas and a spare at the White House. The drama of the moment was captured by a tape recorder that Allen kept running in the White House Situation Room. Haig: "The football is near the vice president - so that's fine." Allen: "We should get one over here. We have a duplicate one here." Haig: "Get the football over here." Allen: "There is one at the military aide's office. The football is in the closet." Later, Haig asks: "Do we have a football here? Do we?" Allen: "Right here." Former aides say there are plenty of misconceptions about the football. Among them: MYTH: It is handcuffed to the military aide. FACT: It has a leather cinch strap that can be looped around the wrist. MYTH: It contains nuclear launch codes. FACT: It contains codes the president would need to order the Pentagon to launch nuclear weapons. MYTH: It is always at the president's side. FACT: It must always be easily accessible but sometimes is kept nearby, in another room or vehicle, for example. MYTH: There is only one football. FACT: There are three. The president has one, the vice president has one and a backup is stored at the White House. The sexual area of a gay man's brain works a lot like that of a woman when exposed to a particular stimulus, researchers say. The homosexual men's brains responded differently from those of heterosexual males, and in a similar way to the women's brains. They found that gay men differed from heterosexual men and women and from lesbian women, both in terms of which body odors gay men preferred and how their own body odors were regarded by the other groups. Gay men preferred odors from gay men, while odors from gay men were the least preferred by heterosexual men. Go figure. "Anytime there is a fatality or an injury of any sort, the amusement industry is very concerned with the outcome." Analysis of 1,936 capital indictments from 1981 through 2002 found that defendants were more than twice as likely to receive a death sentence for killing a white victim than for killing a black victim. "If we're going to be in the killing business, we need to be sure we're doing it right." Described by his attorney as a white-haired businessman in his mid-50s, Jesus Christ is moving to West Virginia to enjoy a slower lifestyle. He bought property near Lost River, about 100 miles west of Washington, and has a U.S. passport, Social Security card and Washington driver's license bearing the name Jesus Christ. Christ applied for the legal name change in May 2003, but it was denied by a District of Columbia Superior Court Judge because "taking the name of Jesus Christ may provoke a violent reaction or may significantly offend people." Any comment from the man in the middle of this legal tussle? "Christ is not speaking to the press at this time." A stain on the wall of an expressway underpass that some believe resembles the Virgin Mary is again attracting visitors after two car wash employees cleaned graffiti and brown paint off the image. Hundreds of people have flocked to the underpass since last month to see the image. Some leave devotional candles, take snapshots or kneel in prayer before the wall. Others approach the image, touch it and make the sign of the cross. A Rhode Island man charged with stomping to death a Canada goose and five goslings said he did it because he felt threatened by the birds. John A. Sanders, 33, pleaded innocent at his arraignment Monday on charges of animal cruelty and disorderly conduct. According to the police report, he was walking on the campus when an adult goose hissed at Sanders, who slipped and fell in mud. "Angered by this fall, he began his rampage, chasing the goslings and kicking them," the report said. A witness reported seeing Sanders running across the grass, shouting and stopping to jump up and down. The witness called police, who found two goslings flattened on the parking lot, and three more dead on the grass. The adult goose, believed to be the goslings' mother, was taken to an animal hospital, where it was euthanized Sunday because its injuries were too severe. David McGowan, 44, left a trail of bloody sockprints and song lyrics behind as he went on his killing spree in the middle of the night Tuesday, shooting each victim in the head as they slept. Vapor from the deadly nerve agent sarin leaked from a stockpile of old rockets at the Blue Grass Army Depot. A routine daily test Monday showed no evidence of a sarin leak, he said. But the test Tuesday detected a "small" amount of sarin, so a filtering machine was connected to the igloo to remove the contaminated air. The last sarin leak at the depot was in 2000, officials said. The last chemical weapon leak there was in 2003, when mustard vapor seeped from an old projectile. The father of an 8-year-old girl who was slain along with her best friend admitted to authorities that he was the killer, saying he was angry at his daughter for taking money, authorities said Wednesday. Hobbs told investigators he was angry that girl had gone out and went out looking for her, authorities said. He told Laura to go home but she refused, so he punched her for disobeying. Krystal then pulled out a potato knife to try to defend her friend, and he attacked her as well, getting the knife away and stabbing both girls, according to the interviews. "It was a brutal beating, repeated punching of the two little girls and then repeated stabs. It's pretty horrible." A man with a sword cut off the hands of a government social worker in central India for trying to stop child marriages, officials said Wednesday. The attack on the woman highlighted the difficulty of ending the centuries-old practice in the region. A police officer who was fired for returning a boy to serial killer Jeffrey Dahmer months before authorities discovered Dahmer's crimes has been elected president of the Milwaukee Police Association union. The 14-year-old boy, Konerak Sinthasomphone, became one of Dahmer's 17 victims before the murder spree was discovered in July 1991 - two months after the incident. Balcerzak and his partner, Joseph Gabrish, were called to the scene by passersby who noticed the apparently inebriated boy wandering outside. Dahmer persuaded the officers the boy was his adult lover and the two had been arguing, and they returned him to Dahmer's apartment. Blood from sheep butchered in a religious ritual at one of South Africa's busiest tourist beaches could tempt sharks toward bathers, an official warned Thursday. A small group called the Healing Oracle has carried out such sacrifices on a beach in the eastern coastal city of Durban, media reported. Its leader Prophet Moses Michael said it was inspired by the Old Testament to help cure sick people. "A beach is a public place and we can't have animals being sacrificed in front of visitors and children," the beach official told Durban's daily news. A schoolgirl told a British court Thursday she was put into a laundry bag and was going to be thrown from a third-floor apartment window into a river by her mother and aunt who thought she was a witch. Prosecutors say the girl, brought to London from Angola by a woman claiming to be her mother, had been regularly abused by members of her family after they had become convinced she was putting curses on members of her family. A life-like prosthetic penis called the Whizzinator and other products promising to help illegal drug users pass urine tests provoked U.S. lawmakers on Wednesday to take legal action with subpoenas of manufacturers. "I don't think there's anything wrong with the products we're selling, we do a service. I think it's way more positive than negative." The now-retracted report that American interrogators flushed a Quran down a toilet did not spark violent protests in the Middle East as it did in Afghanistan and Pakistan - but it added another layer of bitterness among many Arabs who see the United States as anti-Muslim. Across the Islamic world, many were unconvinced by Newsweek's retraction of the report. From Afghanistan to Egypt, some people believed the U.S. had pressured Newsweek to deny the story, using the magazine as a "scapegoat." U.S. officials have said they found nothing to substantiate the Newsweek report that interrogators at the prison camp in Guantanamo Bay, Cuba, flushed a copy of the Quran down the toilet to unnerve an inmate. But given frequent reports of mistreatment at the camp from released detainees, some Muslims remained convinced the desecration happened. "In Guantanamo they're throwing Muslims into the garbage. ... To flush their holy book down the toilet is the easy part." Still, the talk of violating the sanctity of the Quran struck a deep nerve. Muslims revere the Quran as the literal word of God, transmitted to the prophet Muhammad by the archangel Gabriel. Some Muslims believe they must be ritually clean before they touch the Quran and often keep it in a high place in the home. If "Muslim peoples revolt (against the desecration of their holy book), even mass destruction weapons won't be able to stop them." The City Council will vote on whether to demand the resignation of Mayor James West, who has been accused of offering city jobs to men he met in gay online chat rooms. The Spokesman-Review has published a series of stories that included allegations that West molested two boys in the 1970s. West, a longtime opponent of gay rights, has denied those allegations, but he has acknowledged seeking dates on Gay.com. The newspaper has also alleged he has offered gifts, favors and positions at City Hall to lure young men. Corporate insiders who sabotage computers so sensitive they risk endangering national security or the economy commonly are motivated by revenge against their bosses, according to a government study released Monday. The study, paid for by the Department of Homeland Security, examined dozens of computer-sabotage cases over six years to determine what motivates trusted insiders to attack and how their actions damage the country's most sensitive networks and data. The review described most attackers as disgruntled workers or former employees - typically working in technology departments - who were angry over disciplinary actions, missed promotions or layoffs. The attacks included deleting vital software or data, posting pornography on an employer's Web site or crippling whole networks. The study said most saboteurs showed troubling signs before the attacks: truancy, tardiness, arguments with co-workers or shoddy performance. Nearly all the employees took some steps to conceal their identities online - sometimes even posing as co-workers - as they plotted their attacks. Attackers ranged from teens to retirees. In one case highlighted in the study, an unidentified employer said he recognized unusual behavior by one saboteur - who shut down the company's communications for more than two days over a dispute involving a severance payment - but attributed the behavior to the worker being a "weird tech guy." A computer virus spewed neo-Nazi-tinged spam in English and German into inboxes over the weekend. The virus, first spotted on Thursday, sends out a blast of e-mail to addresses found on infected PCs. Most of these messages contain links to news stories with content that "smells of right-wing political rhetoric." A Russian village was left baffled Thursday after its lake disappeared overnight. NTV television showed pictures of a giant muddy hole bathed in summer sun, while fishermen from the village of Bolotnikovo looked on disconsolately. "It is very dangerous. If a person had been in this disaster, he would have had almost no chance of survival. The trees flew downwards, under the ground." Officials in Nizhegorodskaya region, on the Volga river east of Moscow, said water in the lake might have been sucked down into an underground water-course or cave system, but some villagers had more sinister explanations. "I am thinking, well, America has finally got to us," said one old woman, as she sat on the ground outside her house. The family of former professional football Pat Tillman says the Army disrespected his memory by lying in its investigation of his death in Afghanistan last year. In interviews with The Washington Post, the Army Ranger's mother and father said they believe the military and the government created a heroic tale about how their son died to foster a patriotic response across the country. "Pat had high ideals about the country; that's why he did what he did," Mary Tillman told the Post. "The military let him down. The administration let him down. It was a sign of disrespect. The fact that he was the ultimate team player and he watched his own men kill him is absolutely heartbreaking and tragic. The fact that they lied about it afterward is disgusting." Shortly after arriving in the mountains to fight, Tillman was killed in a barrage of gunfire from his own men, mistaken for the enemy as he got into position to defend them. After a public memorial service, at which Tillman received the Silver Star, the Army told Tillman's family what had really happened. "After it happened, all the people in positions of authority went out of their way to script this. They purposely interfered with the investigation, they covered it up. I think they thought they could control it, and they realized that their recruiting efforts were going to go to hell in a handbasket if the truth about his death got out. They blew up their poster boy," the father said. "In the case of the death of Corporal Patrick Tillman, the Army made mistakes in reporting the circumstances of his death to the family," Brig. Gen. Vincent K. Brooks told the Post. "For these, we apologize. We cannot undo those early mistakes." Federal officials are scrambling to find a way to plug a legal loophole that allows convicted rapists and other high-risk sex offenders to receive erectile-dysfunction drugs paid for by Medicaid. The issue was revealed Sunday by the New York state comptroller's office, which said audits covering the period of January 2000 to March 2005 found 198 sex offenders in New York received Medicaid-reimbursed Viagra after their convictions. Their crimes included offenses against children as young as 2 years old, Comptroller said. "Giving convicted sex offenders government-funded Viagra is like giving convicted murderers an assault rifle when they get out of jail." An 8-year-old girl who was raped and buried alive told a friend she remembers her attacker towering over her before she passed out, then awoke seven hours later beneath a pile of rocks and concrete blocks when she heard the voices of rescuers. Sex tech, titillating toys and porn stars featured in a seedy carnival of carnal pleasures across the street from Madison Square Garden on Saturday at New York's first Erotic Expo. In sizing the sex industry market at $40 billion, the organizers include topless clubs, exotic dancing, sex toys, party goods, books and pornographic movies. A crowd of mainly young- to middle-aged men shuffled by the stations to ogle hard-core movie stars and sex accessories. Mynx, showing off her features in a scanty costume, flexed her muscular derriere and encouraged a woman who asked to pose for a picture with her to "go ahead, grab it, squeeze it." On the counter were copies of her films including "Tales from the Crack," and "Weapons of Ass Destruction." A neighbor said he and his daughter were awakened by gunshots and a girl pleading for her life. "There was a burst of gunfire, and then there was a small pause, and that's when I heard the girl say, 'Please don't kill me, I'm sorry,'" Michael Thomas said. "And I heard two more gunshots." Thomas added: "You send your kids to the prom and you just hope they don't drink and drive. You'd never expect they're going to get murdered in cold blood." President Bush called a human rights report "absurd" for criticizing the United States' detention of terrorist suspects at Guantanamo Bay, Cuba, and said Tuesday the allegations were made by "people who hate America. It's absurd. It's an absurd allegation. The United States is a country that promotes freedom around the world," Bush said of the Amnesty International report that compared Guantanamo to a Soviet-era gulag. "Frankly, I was offended by it," Cheney said in the videotaped interview. "For Amnesty International to suggest that somehow the United States is a violator of human rights, I frankly just don't take them seriously." Cheney said detainees at Guantanamo "have been well treated, treated humanely and decently. Occasionally there are allegations of mistreatment," Cheney said. "But if you trace those back, in nearly every case, it turns out to come from somebody who had been inside and released to their home country and now are peddling lies about how they were treated." Pentagon officials say they have substantiated five cases where copies of the Quran, the Muslim holy book, were mistreated, although the military has refused to offer details other than to say none was ever flushed down a toilet. On the morning he was to graduate from high school, Scott Moody walked a half-mile to his grandparents' farmhouse and began what authorities say was the first stop in a gruesome murder-suicide that ended in six deaths. According to investigators, Moody shot his grandparents with a .22-caliber rifle before heading home, where he went from bedroom to bedroom, shooting his mother, teenage sister and two friends before killing himself. Residents in this community were still fixing shattered windows and bullet-pocked walls when a lawyer issued an apology from sheriff's deputies who fired 120 rounds at an unarmed driver in a Compton neighborhood. Police can be reluctant to apologize after incidents for several reasons, including the macho culture within some law enforcement agencies and concerns about outsiders second-guessing their actions. Concerns also rise about potential discipline, civil claims or criminal charges. "If you're apologizing, you're saying upfront that you were wrong and opening up the floodgates for lawsuits." Two Florida teenagers found a homeless man in the woods and beat and kicked him to death "to have something to do," according to Volusia County sheriff's investigators. The teens said they attacked the man "for fun" and "to have something to do. They went back to the woods three times after the initial attack to beat the man again," he said. The victim was found Saturday, and the condition of the body indicated he had been dead for several days. An autopsy Sunday determined that the man died from blunt force trauma to the head and body. A 4-year-old boy was fatally wounded when he wandered behind a paper target while family and friends were practicing shooting, authorities said. A 9-year-old girl fatally stabbed an 11-year-old girl in the chest with a steak knife during a fight over a ball, authorities said. The girls had been playing together, but the 9-year-old's mother had stepped out to borrow something from a neighbor, police said. By the time the mother returned, the 9-year-old had plunged the knife into Queen's chest, police said. Queen stumbled into the hallway and collapsed. The rock band Nine Inch Nails said on Friday it canceled plans to appear on next week's MTV Movie Awards after the network questioned the band's plans to perform in front of an image of President Bush. The band was slated to perform "The Hand That Feeds," the first single from its latest album. "We were set to perform 'The Hand That Feeds' with an unmolested, straightforward image of George W. Bush as the backdrop. Apparently, the image of our president is as offensive to MTV as it is to me," Nine Inch Nails' leader Trent Reznor said in a statement posted on the band's Web site. MTV said in a statement: "While we respect Nine Inch Nails' point of view, we were uncomfortable with their performance being built around a partisan political statement. When we discussed our discomfort with the band, their choice was to unfortunately pull out of the Movie Awards." MTV is owned by Viacom Inc., the corporate parent of broadcast network CBS. An independent investigation of the Atlanta-area Boy Scouts found that the organization inflated its number of black Scouts by more than 5,000 in a program for inner-city youth. In one example, an official changed the birth date of 87 Cub Scouts so they would be old enough to participate in the program. In another case, an official continued to report membership of a church Boy Scout unit although the church had burned down three years earlier. The inflated numbers also included 200 Scout units that did not exist. An attorney with the law firm that conducted the audit, said the Atlanta Area Council claimed there were 10,238 Scouts in Operation First Class in 2004, but the audit found that only 5,361 were registered. A Web site critical of the Rev. Jerry Falwell's views on gays contains constitutionally protected, noncommercial speech and should be allowed to keep its name - a common misspelling for the conservative evangelist, a lawyer for the site owner argued Thursday. The owner of fallwell.com took his case to the 4th U.S. Circuit Court of Appeals seeking to reverse a federal judge's ruling that he violated federal trademark law. He created the sites in response to Falwell's public comments after the 2001 terrorist attacks. Falwell claimed feminists, homosexuals and abortion-rights advocates provoked God to "lift the curtain" of divine protection on America. hey fed them well. The Pakistani tribesmen slaughtered a sheep in honor of their guests, Arabs and Chinese Muslims famished from fleeing U.S. bombing in the Afghan mountains. But their hosts had ulterior motives: to sell them to the Americans, said the men who are now prisoners at Guantanamo Bay. "When I was in jail, they said I needed to pay them money and if I didn't pay them, they'd make up wrong accusations about me and sell me to the Americans and I'd definitely go to Cuba," he told the tribunal. "After that I was held for two months and 20 days in their detention, so they could make wrong accusations about me and my (censored), so they could sell us to you." Another prisoner said he was on his way to Germany in 2001 when he was captured and sold for "a briefcase full of money" then flown to Afghanistan before being sent to Guantanamo. "It's obvious. They knew Americans were looking for Arabs, so they captured Arabs and sold them - just like someone catches a fish and sells it," he said. The detainee said he was seized by "mafia" operatives somewhere in Europe and sold to Americans because he was in the wrong place at the wrong time - an Arab in a foreign country. A detainee who said he was a Saudi businessman claimed, "The Pakistani police sold me for money to the Americans." In March 2002, the AP reported that Afghan intelligence offered rewards for the capture of al-Qaida fighters - the day after a five-hour meeting with U.S. Special Forces. Intelligence officers refused to say if the two events were linked and if the United States was paying the offered reward of 150 million Afghanis, then equivalent to $4,000 a head. That day, leaflets and loudspeaker announcements promised "the big prize" to those who turned in al-Qaida fighters. Said one leaflet: "You can receive millions of dollars. ... This is enough to take care of your family, your village, your tribe for the rest of your life - pay for livestock and doctors and school books and housing for all your people." Helicopters broadcast similar announcements over the Afghan mountains, enticing people to "Hand over the Arabs and feed your families for a lifetime." People who smoke marijuana because their doctors recommend it to ease pain can be prosecuted for violating federal drug laws, the Supreme Court ruled Monday, overriding medical marijuana statutes in 10 states. Americans are far more likely to consider religion central to their lives and to support giving clergy a say in public policy than people in nine countries that are close allies, according to an AP-Ipsos poll. Yet, the U.S. embrace of faith has its limits. Religion and public policy often mix in the United States. More than two decades ago, John Brown grew mesmerized by an evangelical preacher's theory that the Bible hinted at a major oil field deep beneath Israel's soil. Brown, a born-again Christian from Michigan with no previous experience in the oil business, found his life mission when an Evangelical preacher gave a lecture to his church in 1981 using the Bible as proof of Israel's oil wealth. Soon after, Brown traveled to Jerusalem and visited the Western Wall, the holiest site in Judaism. "I prayed and asked God for oil for Israel," he said. "In my heart, I knew the answer was yes." He left his job in the tool manufacturing business and started Zion Oil in 1986. Israel is considering using an unusual new weapon against Jewish settlers who resist this summer's Gaza Strip evacuation - a device that emits penetrating bursts of sound that leaves targets reeling with dizziness and nausea. Security forces could employ the weapon to overcome resistance without resorting to force, their paramount aim. But experts warn that the effects of prolonged exposure are unknown. The army employed the new device, which it dubbed "The Scream," at a recent violent demonstration by Palestinians and Jewish sympathizers against Israel's West Bank separation barrier. Protesters covered their ears and grabbed their heads, overcome by dizziness and nausea, after the vehicle-mounted device began sending out bursts of audible, but not loud, sound at intervals of about 10 seconds. An Associated Press photographer at the scene said that even after he covered his ears, he continued to hear the sound ringing in his head. A military official said the device emits a special frequency that targets the inner ear. Exposure for several minutes at close range could cause auditory damage, but the noise is too intolerable for people to remain in the area for that long, he said. Another official, also speaking on condition of anonymity because of his sensitive position, said the device hasn't been tested on subjects for hours at a time, so he couldn't discuss effects from prolonged exposure. As of Thursday, June 9, 2005, at least 1,683 members of the U.S. military have died since the beginning of the Iraq war in March 2003, according to an Associated Press count. At least 1,293 died as a result of hostile action, according to the Defense Department. The figures include four military civilians. The AP count is two lower than the Defense Department's tally, last updated at 10 a.m. EDT Thursday. The British military has reported 89 deaths; Italy, 25; Ukraine, 18; Poland, 17; Spain, 11; Bulgaria, 10; Slovakia, three; Estonia, Thailand and the Netherlands, two each; and Denmark, El Salvador, Hungary, Kazakhstan and Latvia one death each. Since May 1, 2003, when President Bush declared that major combat operations in Iraq had ended, 1,545 U.S. military members have died, according to AP's count. That includes at least 1,184 deaths resulting from hostile action, according to the military's numbers. About one-third of adults, 35 percent, said they think the country is headed in the right direction, while 43 percent said they approve of the job being done by Bush. Just 41 percent say they support his handling of the war, also a low-water mark. "There's a bad mood in the country, people are out of sorts, Iraq news is daily bad news. The election in Iraq helped some, and the formation of the government helped some, but dead bodies trump the more positive news. I don't think he's read his history enough about different countries and foreign affairs. Anything they try to do in Iraq has spelled trouble. I think he bit off more than he can chew." While Bush has gotten generally low scores for his handling of domestic issues for many months, most Americans have been supportive of his foreign policy. Not any more. Two kittens picked the wrong place to relieve themselves when they urinated on a fax machine, sparking a fire that extensively damaged their Japanese owner's house. Authorities say a disagreement over a frozen snack led a McComb teenager to fatally shoot his father and threaten his mother. Investigators said the shooting occurred after the teen was punished for being involved in a minor wreck, and the boy became enraged when his parents returned home eating Sno-Balls and there wasn't one for him. The teen then allegedly threatened his mother with the gun before speeding away in the family's car and leading authorities on a one-hour high-speed chase through three counties. A red-light district tentatively cleared for construction on the Internet - the ".xxx" domain - is being billed by backers as giving the $12 billion online porn industry a great opportunity to clean up its act. A distinct online sector for the salacious, one with rules aimed at forbidding trickery, will reduce the chances of Internet users accidentally stumbling on porn sites, they argue. If only it were so simple: Zoning in cyberspace has always been a daunting proposition, and participation in the porn domain will be voluntary. Critics wonder why ".xxx" got the OK at all when so many other proposals sit unaddressed, some for years. Macs will soon switch to chips built by the same company that has made a fortune selling the hardware that powers PCs running Microsoft Corp. Windows operating system. Though the transition is likely to be rocky at first for Apple, programmers and customers, the move could lead to Macs that are both more competitive and more compatible with Windows. It could even open the Mac to software titles now available only to Windows users. But Microsoft isn't likely to complain. After all, Apple or its customers would still have to buy a copy of Windows. Nonetheless, Apple faces technical and psychological hurdles in the near term. "I'm sure some of Apple's loyal customer base see this as a sellout. These users supported this niche, boutique player for years and this agreement with Intel removes a very important difference between a Mac and a PC." Michael Jackson's Web site trumpeted his courtroom vindication Tuesday, linking it with such historic events as the birth of Martin Luther King Jr., while his lawyer vowed his client wouldn't be sharing his bed with boys anymore. The Jackson Web site mjjsource.com featured graphics declaring "Innocent" and showing a hand giving a victory sign as a fanfare plays. A scrolling calendar highlights historic events such as "Martin Luther King is born,""The Berlin Wall falls,""Nelson Mandela is freed," and finally, "June 13, 2005, Remember this date for it is a part of HIStory." Jurors may have acquitted Jackson of all charges of molesting a 13-year-old cancer survivor, but not all of them were convinced the King of Pop had never molested a child. Despite its pacifist Quaker beginnings, this soybean farming community is not shy about celebrating its military history. Bracketing the two-stoplight town are iron plaques honoring the Army colonel who guided the first automated aircraft landing and the general who led Marines in the first Gulf War. There was a time when some could have imagined a similar honor for Sgt. Charles Robert Jenkins, who as a freckle-faced, jug-eared boy stitched soldier patches from Kellogg's Cornflakes boxes onto his clothes, prowled the woods with his BB gun for "commies" and lied about his age to join the National Guard. "I would have liked to have seen him lined up and shot like a traitor. I don't care how old he is. He still did it," says Vera Outland, who had considered lining Main Street with protest signs for Jenkins' return. (note: I would like to see Vera Outland lined up and shot for being such a piece of shit). A longtime FBI agent who helped arrest infamous outlaw Claude Dallas has been sentenced to a year in prison for possessing child pornography. William Buie, 64, was sentenced Monday after pleading guilty in March. Buie told authorities that he learned to access child pornography Web sites while attending a seminar on preventing child exploitation in 2000 or 2001. British animal welfare inspectors said on Tuesday they had cautioned two people after finding more than 350 animals in one residential house in eastern England. The RSPCA (Royal Society for the Prevention of Cruelty to Animals) said its inspectors had discovered 131 dogs, 48 cats, 80 rabbits and 86 guinea pigs at the house in Cromer, Norfolk. Chinese bloggers, even on foreign-sponsored sites, had better choose their words carefully - the censors are watching. Users of the MSN Spaces section of Microsoft's new China-based Web portal get a scolding message each time they input words deemed taboo by the communist authorities - such as democracy, freedom and human rights. "Prohibited language in text, please delete," the message says. However, the restrictions appear to apply only to the subject line of such entries. Writing them into the text, with a more innocuous subject heading, seems to be no problem. The consequences of defying government limits can be severe: at least 54 people have been jailed for posting essays or other content deemed subversive online. An autopsy that found Terri Schiavo suffered from severe and irreversible brain-damage has done nothing to sway her parents' position that she deserved to live and may have gotten better with therapy. It also found no evidence that she was strangled or otherwise abused. The autopsy also determined she was blind, because the "vision centers of her brain were dead," and that her brain was about half of its expected size when she died 13 days following the feeding tube's removal. Her parents cling to their belief that her condition could have improved, in spite of the autopsy report, their lawyer said. Blond porn star, political candidate. And now you can add one more line to Mary Carey's resume: Republican booster. Carey was in Washington Tuesday to attend the President's Dinner, an annual fundraiser put on by the National Republican Congressional Committee and the National Republican Senatorial Committee. She plans to run for lieutenant governor of California next year as an independent. But her trip to Washington has swayed Carey's political leanings. She says she's been a Republican "for a couple of days." An Indian rape victim is being forced by village elders to "marry" her rapist -- her father-in-law, a newspaper reported on Wednesday. Community leaders in Charthawal village, backed by local Muslim clerics, believe that by being raped, 28-year-old Imrana's 10-year marriage has been nullified under Islamic law. Billy Graham sidesteps the opportunity to dispute Franklin's 2001 remark that Islam is "a very evil and wicked religion." Instead, Graham says that he's proud of his son's leadership. After Sept. 11, the "crusade" label for Graham's mass meetings was dropped due to Muslim sensitivities, but local sponsors revived it at Pasadena's Rose Bowl last year and for the New York City event because the term is closely associated with Graham's ministry. Saddam Hussein loves Doritos, hates Froot Loops, admires President Reagan, thinks Clinton was "OK" and considers both Presidents Bush "no good." He talks a lot, worries about germs and insists he is still president of Iraq. Those and other details of the deposed Iraqi leader's life in U.S. military custody appear in the July issue of GQ magazine, based on interviews with five Pennsylvania National Guardsmen who went to Iraq in 2003 and were assigned to Saddam's guard detail for nearly 10 months. When Saddam fell during his twice-a-week shower, "panic ensued. No one wanted him to be hurt while being guarded by Americans." One GI had to help Saddam back to his cell, while another carried his underwear. Saddam was friendly toward his young guards and sometimes offered fatherly advice. When O'Shea told him he was not married, Saddam "started telling me what to do," recalled the soldier. "He was like, 'You gotta find a good woman. Not too smart, not too dumb. Not too old, not too young. One that can cook and clean.'" Then he smiled, made what O'Shea interpreted as a "spanking" gesture, laughed and went back to doing his laundry in the sink. The article said Saddam preferred Raisin Bran Crunch for breakfast, "No Froot Loops." He ate fish and chicken but refused beef. For a time his favorite snack was Cheetos, and when that ran out, Saddam would "get grumpy," the story said. One day, guards substituted Doritos corn chips, and Saddam forgot about Cheetos. "He'd eat a family size bag of Doritos in 10 minutes." The magazine said Saddam told his guards that when the Americans invaded Iraq in March 2003, he "tried to flee in a taxicab as the tanks were rolling in," and U.S. planes struck the palace he was trying to reach instead of the one he was in. "Then he started laughing," 'America, they dumb. They bomb wrong palace.'" Saddam also said his capture in an underground hideout on Dec. 18, 2003, resulted from betrayal by the only man who knew where he was, and had been paid to keep the secret. "He was really mad about that," Dawson said. "He compared himself to Jesus, how Judas told on Jesus. He was like, 'That's how it was for me.' If his Judas never said anything, nobody ever would have found him, he said." The clamps are coming down on released sex offenders like never before. But some experts wonder sex offenders are being pushed so far to the fringes that they could actually become more dangerous to society. Laws restrict where they can live, Web sites list their names, satellites track their steps. Neighbors and bosses force them from their homes and jobs. The tightening of restrictions around the country comes after several recent slayings of children, allegedly by released sex offenders. The crackdown is aimed at protecting youngsters. "I would rather have someone who has committed a sex offense be going to work every day, come home tired, have a sense of well-being that comes from having a regular paycheck and a safe home, as opposed to having a sex offender who has a lot of free time on his hands, you tell me: Who is at a greater risk of reoffending?" Sixteen foreign-born construction workers with phony immigration documents were able to enter a nuclear weapons plant in eastern Tennessee because of lax security controls, a federal report said Monday. Controls at the Y-12 weapons plant have since been tightened and there was no evidence the workers had access to any sensitive documents, said the National Nuclear Security Administration, which oversees nuclear weapons facilities for the Department of Energy. However, the DOE inspector general's office said in the report issued Monday that its field agents found "official use only" documents "lying unprotected in a construction trailer which was accessed by the foreign construction workers" at the plant. The cover-up is over at the U.S. Justice Department. After more than three years of being blocked by large blue drapes, two Art Deco aluminum statues of semi-nude figures in the building's Great Hall can be seen again. The "Spirit of Justice" and the "Majesty of Justice," which loom over the stage in the Great Hall, were blocked from view by curtains installed by the department in January 2002, when former Attorney General John Ashcroft was in office. At one end of the stage is a 1930s-era female statue representing the "Spirit of Justice." Although she wears a toga-style garment, one breast is exposed. At the other end of the stage, a male statue represents the "Majesty of Justice," and has a cloth draped by his waist. When they were covered up, officials working for Ashcroft -- a devout Christian -- said the move to spend about $8,000 for curtains to cover the figures were made for "TV aesthetics." When Ashcroft announced plans to restructure the Justice Department to focus on terrorism after the Sept. 11, 2001, hijacked plane attacks, photographers took pictures showing him with the towering female statue in the background. The most famous picture of the female statue came in the 1980s, when Attorney General Edwin Meese released the final report of his commission on pornography. For years, the U.S. military has explored a new kind of firepower that is instantaneous, precise and virtually inexhaustible: beams of electromagnetic energy. "Directed-energy" pulses can be throttled up or down depending on the situation, much like the phasers on "Star Trek" could be set to kill or merely stun. A separate branch of directed-energy research involves bigger, badder beams: lasers that could obliterate targets tens of miles away from ships or planes. Such a strike would be so surgical that, as some designers put it at a recent conference here, the military could plausibly deny responsibility. If you're on the job, and you're reading this story, you should probably get back to work. The average worker wastes more than two hours a day, and that's not including lunch, according to a new Web survey by America Online and Salary.com. That means companies spend as much as $759 billion on salaries annually for which they receive no apparent benefit, the research found. The No. 1 state for wasting time was Missouri, where workers who responded to the survey reported slacking off 3 hours and 12 minutes a day. The survey didn't specifically look at why Missouri is the worst in the nation, but if Missouri workers think the perception is unfair, "We would encourage people to visit the home page and weigh in further on that." Missouri's governor Matt Blunt responded to the survey in a statement: "Nobody can match the work ethic of Missourians. This survey, which our busiest citizens did not want to waste their time on, cannot undermine decades of experience. Missouri workers are among the most productive in the world." The Missouri Department of Economic Development said a study it published last year on the industries driving the state economy found Missouri employees hard at work. About 10,000 people responded to the poll. More than 44 percent said the No. 1 way they waste time at work is personal Internet use, like reading e-mail, instant messages, playing interactive games - and responding to online polls. The second most popular, according to 23 percent of respondents, was socializing with co-workers. Other excuses included conducting personal business, spacing out, running errands and making personal phone calls. Employers expect that workers will waste some time on the job, about an hour per day in addition to the lunch hour. A 45-year-old transgender woman who received illegal silicone injections at a party in a private home in San Diego has died after nearly a month on life support, the county medical examiner said on Monday. Patricio Gonzalez, who police said received silicone injections to her hips, buttocks, cheeks and lips, died on Sunday. Gonzalez and at least nine other people were injected at a so-called "pumping party" on June 19, police said. "Pumping parties," where people seeking a more feminine appearance have silicone injected into their bodies, have been on the upswing in the last few years, experts say. The silicone used at the parties is often industrial-grade material like floor sealant. About 300 cats, nearly a third of them dead, were removed from an elderly woman's Virginia home after neighbors complained of a stench coming from the house, police said on Tuesday. The house, less than a mile from late President George Washington's historic Mount Vernon estate, looked neat from the outside with manicured lawns and bright flowers, but inside it was overflowing with wild cats, feces and urine. "Cats were coming out of the cabinets and drawers and were inside the walls. There were hundreds of them," Fairfax County Police officer Richard Henry told Reuters. He said animal control officers removed 273 cats -- 86 of them dead -- over the weekend and slapped a condemnation order on the door of the house. The woman, her husband and daughter were told to leave. Later on, Henry said, the woman returned and attempted to smuggle an additional 30 cats from the house. These animals were confiscated, bringing the total to more than 300. Ruth Knueven, 82, was charged with failing to care for her animals and of improperly disposing of them. Dozens of dead cats were found in plastic bins around the house. A Western Kentucky University student died from injuries he suffered while "car surfing" on a moving vehicle. Benjamin Watson, 19, of Louisville, fell off a car and hit his head Saturday night. He was a great kid," the father said. Pope Benedict believes the Harry Potter books subtly seduce young readers and "distort Christianity in the soul" before it can develop properly, according to comments attributed to him by a German writer. Gabriele Kuby, who has written a book called "Harry Potter - Good or Evil," which attacks J.K. Rowling's best selling series about the boy wizard, published extracts from two letters written to her by Benedict in 2003, when he was a cardinal. Kuby, a devout Catholic, had sent him a copy of her Potter critique and he wrote to thank her, according to a passage from one of the letters published in German on her Web site. "It is good that you enlighten people about Harry Potter, because these are subtle seductions which act unnoticed and by this deeply distort Christianity in the soul, before it can grow properly," Benedict wrote, according to the excerpt. An 84-year-old man who said he strangled his wife of more than 50 years as she slipped deeper into Alzheimer's disease was sentenced to prison by a judge who said the case was the toughest he had faced on the bench. William Wallace Hurt was sentenced Wednesday to a 10-year prison term, to be suspended after he serves one year, for killing 83-year-old Neva Hurt. Hurt had pleaded no contest in March to second-degree murder. On Easter morning 2004, Hurt placed a plastic bag over his wife's head to end what he said was her steady decline to the disease. He then attempted to kill himself - first by placing a bag over his head, then by ingesting weed killer and finally by striking his head repeatedly with a hammer. Thirty percent of U.S. troops surveyed have developed stress-related mental health problems three to four months after coming home from the Iraq war, the Army's surgeon general said Thursday. The survey of 1,000 troops found problems including anxiety, depression, nightmares, anger and an inability to concentrate. A smaller number of troops, often with more severe symptoms, were diagnosed with post-traumatic stress disorder, or PTSD, a serious mental illness. Military medical officials, however, cautioned against people reading their data as suggesting the war had driven so many soldiers over the edge. Instead, they characterized the anxiety and stress as normal reactions to combat, seeing dead and mutilated bodies, and feeling helpless to stop a violent situation. An annual weeklong cruise led by researchers with the Louisiana Universities Marine Consortium found an area of low-oxygen measuring 4,564 square miles and extending from the Mississippi River to the Texas border. On average, the dead zone has measured about 4,800 square miles since 1985. The dead zone, also known as hypoxia, forms each spring and summer as fresh water enters the Gulf of Mexico and causes large algae blooms. The algae die and sink to the bottom of the Gulf, where they decompose, using up oxygen in the deeper, saltier water. Fish avoid the low-oxygen water, and bottom-living organisms are killed. The dead zone could grow much larger this year - perhaps as large as 6,200 square miles - if major storms do not stir up the Gulf in the coming months. KANSAS CITY, Mo. (AP) - The stepfather of a girl whose decapitated body was long known only as "Precious Doe" has been indicted by a grand jury for first-degree murder, prosecutors said Tuesday. Erica was almost 4 when her body was found in a park in Kansas City in 2001. Her head was discovered in a trash bag nearby. The community called her "Precious Doe" and rallied to identify the girl and her killer. He allegedly admitted grabbing her, kicking her and throwing her to the ground, leaving her unconscious. After she died, with the help of his wife, he said he used hedge clippers to sever her head and dispose of her body, the papers say. A man lifting his infant daughter out of his car was killed in an apparent case of road rage by a motorist "who obviously exploded" and shot him four times at close range in front of dozens of witnesses, authorities said. After dropping his wife off, he allegedly returned to the scene of the confrontation, pointed a handgun through an open window and fired, police said. "Pop! Pop! Pop! Pop! Four shots. It sounded like a cap gun," Louis McPhee, the manager of a car wash across the street, told The Boston Globe. "The guy was lying there in his own blood with a hole in his head and his arm still on the baby." Jimi Hendrix, regarded as one of the greatest electric guitar players and known as a prodigious womanizer, lied about being gay to get out of the U.S. Army and pursue his true love -- music, according to a new biography of the rock legend. Hendrix did not begin playing guitar until he was 15. Three years later, Hendrix enlisted in the 101st Airborne Division in 1961 as a court-offered alternative to jail for riding in stolen cars. He claimed he was discharged after 13 months after breaking his ankle in a parachuting drill, but military records showed he was discharged for "homosexual tendencies." According to the records, he told the base psychiatrist he had sexual fantasies about his bunkmates, grew addicted to masturbating and was in love with a member of his squad. "We condemn what the Nazis did because there are some things that we always could do but we haven't done, because science always has to be guided by ethics and by morality," Dobson said. "And you remove ethics and morality, and you get what happened in Nazi Germany." Abraham H. Foxman, national director of the Anti-Defamation League, said Dobson should apologize. "There is no legitimate comparison between stem-cell research, which seeks to find a cure for disease and to counter human suffering, and the perversion of science and morality represented by the actions of Nazi doctors who deliberately tortured their victims in medical 'experiments,'" Foxman said. "The Nazi experiment analogy is accurate and appropriate," she said. "If any apologies are due, it is advocates of destroying embryonic humans who should be apologizing." Rep. Diana DeGette, D-Colo., called Dobson's remarks "extremely ignorant and insulting," saying they "diminish the enormity of the Nazis' atrocities and are an appalling distortion of the debate." A soldier who returned from Iraq nine days earlier apparently shot and killed his wife and then himself at their home near Fort Collins, Army officials said Thursday. "I was ashamed by my disease and I didn't want to admit I was mentally ill," the statement read. "I never knew or thought that by not taking my medicine, I would be able to do these things." McCoy, of Columbus, told psychiatrists that he threw wood and bags of concrete mix off highway overpasses and shot at cars to quiet voices in his head that called him a "wimp." Psychiatrists for both sides agreed that McCoy had severe delusions that television programs and commercials were speaking directly to him and mocking him. Toward the end of the shootings, he believed firing from overpasses would make news coverage of Michael Jackson stop. A 20-year-old whose lawyers claimed the video game "Grand Theft Auto" and childhood abuse caused him to kill three small-town police officers was convicted Tuesday of capital murder. Moore, after his arrest, told police "Life is a video game; everybody has to die sometime." The Kansas Board of Education voted 6-4 Tuesday to include greater criticism of evolution in its school science standards, but it decided to send the standards to an outside academic for review before taking a final vote. Fucking moron department: The Kansas school system was ridiculed around the country in 1999 when the board deleted most references to evolution. The system later reversed course, but the language favored by the board Tuesday comes from advocates of intelligent design. The intelligent design concept holds that some features of the natural world are best explained by an unspecified intelligent cause. Evolution is a fundamental scientific theory that species evolved over millions of years through natural selection. The standards are used in developing state tests for fourth, seventh and 10th-graders, though local schools have the final say on what is taught in their classrooms. Students will be tested on the new standards in the 2014-08 school year. The trouble began last fall after the district issued some 600 Apple iBook laptops to every student at the high school about 50 miles northwest of Philadelphia. The computers were loaded with a filtering program that limited Internet access. They also had software that let administrators see what students were viewing on their screens. But those barriers proved easily surmountable: The administrative password that allowed students to reconfigure computers and obtain unrestricted Internet access was easy to obtain. A shortened version of the school's street address, the password was taped to the backs of the computers. The password got passed around and students began downloading such forbidden programs as the popular iChat instant-messaging tool. At least one student viewed pornography. Some students also turned off the remote monitoring function and turned the tables on their elders- using it to view administrators' own computer screens. The administrative password on some laptops was subsequently changed but some students got hold of that one, too, and decrypted it with a password-cracking program they found on the Internet. A South Korean man who played computer games for 50 hours almost non-stop died of heart failure minutes after finishing his mammoth session in an Internet cafe, authorities said Tuesday. The 28-year-old man, identified only by his family name Lee, had been playing on-line battle simulation games at the cybercafe in the southeastern city of Taegu, police said. Lee had planted himself in front of a computer monitor to play on-line games on Aug. 3. He only left the spot over the next three days to go to the toilet and take brief naps on a makeshift bed, they said. After he failed to return home, Lee's mother asked his former colleagues to find him. When they reached the cafe, Lee said he would finish the game and then go home, the paper reported. He died a few minutes later, it said. A rush to purchase $50 used laptops turned into a violent stampede Tuesday, with people getting thrown to the pavement, beaten with a folding chair and nearly driven over. One woman went so far as to wet herself rather than surrender her place in line. "This is total, total chaos," said one woman, who lost one of her flip-flops in the ordeal and later limped around on the sizzling blacktop with one foot bare. People threw themselves forward, screaming and pushing each other. A little girl's stroller was crushed in the stampede. Witnesses said an elderly man was thrown to the pavement, and someone in a car tried to drive his way through the crowd. Seventeen people suffered minor injuries, with four requiring hospital treatment. "It's rather strange that we would have such a tremendous response for the purchase of a laptop computer - and laptop computers that probably have less-than- desirable attributes." One woman standing in front of her was so desperate to retain her place in line that she urinated on herself. The only woman ever executed in Georgia's electric chair is being granted a posthumous pardon, 60 years after the black maid was put to death for killing a white man she claimed held her in slavery and threatened her life. Baker was sentenced to die following a one-day trial before an all-white, all-male jury in Georgia. RANDOM INSULT GENERATOR The flip-side of withering scorn for North Korea's perceived foes is fawning praise for Kim and his father, state founder Kim Il-sung. Kim Il-sung, who died in 1994, is hailed as a "peerlessly great man" in 139 articles since 1996. "Inveterate" is another popular KCNA word and a search for it returns an entry describing "U.S. imperialists" as "a pack of beasts in human skin and the inveterate enemy with whom the Korean nation cannot live under the same sky." "From browsing through the KCNA's propaganda, even the most casual observer can see that the regime is a cult." "You loudmouthed beast, your ridiculous clamor for 'human rights' is nothing but a shrill cry!" reads one insult. One click later and the message is: "You sycophantic stooge, you have glaringly revealed your true colors!" Although he has found a source of satire in a country that is mostly known for weapons threats, repression and famine, Davis does not joke about North Korea's nature and says the world must not cut Kim's government any slack. "The 'axis of evil' remark pales in comparison to a single day of KCNA rhetoric," he said, referring a controversial 2002 Bush speech that lumped North Korea, Iran and prewar Iraq in a trio of malign countries. BTK serial killer Dennis Rader's torturous fantasies were fueled by the final moments of his victims' lives, a detective testified Thursday in the second day of his sentencing hearing. He even recreated those moments, photographing himself tied to a chair and wearing a mask, a wig and a victim's dress, prosecutors said. Prosecutors flashed a photograph of Rader wearing the mask, tied to a chair and donning a woman's blond wig. They also showed other pictures the killer took in which he had bound himself and was wearing a dress he had taken from Davis' house - apparently reliving the ecstasy of the murder. After Rader killed Josephine Otero's parents and brother in 1974, he took the girl to the basement. Prosecutors projected to a screen Rader's recollection of the exchange he had with Josephine before he killed her. "What's going to happen to me?" she asks. Rader: "Well, honey, you're going to be in heaven with the rest of your family." Rader then hanged the girl and masturbated over her body. Wednesday's testimony was peppered with the bizarre acronyms and names police said Rader used. He called his potential victims projects, or PJs, and gave each a name. He initially targeted Josephine Otero, who was Hispanic, as the object of his sexual fascination, calling it Project Little-Mex. Davis had a dog kennel at her home, so he dubbed her killing Project Dogside, according to testimony. Religious broadcaster Pat Robertson suggested on-air that American operatives assassinate Venezuelan President Hugo Chavez to stop his country from becoming "a launching pad for communist infiltration and Muslim extremism." Robertson has made controversial statements in the past. In October 2003, he suggested that the State Department be blown up with a nuclear device. He has also said that feminism encourages women to "kill their children, practice witchcraft, destroy capitalism and become lesbians." Supporters of President Bush clashed with anti-war activists as they wound their way through California after rallying in the hometown of Cindy Sheehan, the mother who started a protest camp outside Bush's Texas ranch. Conservative activists and military families embarked on the tour Monday, calling it "You don't speak for me, Cindy!" A verbal confrontation erupted when the caravan arrived in Sacramento and was met by anti-war protesters chanting for Bush to bring home the troops. Sheehan supporter Dan Elliott, 71, confronted caravan members by waving a sign reading "Death is not support" and heckling one of the tour's organizers as she addressed the crowd. "You are ruining the morale over there," responded a Bush supporter. Some caravan members called the anti-war protesters communists and said they were "aiding and abetting the enemy." Those comments enraged Sheehan supporter Dee Ann Heath, who said she has two sons serving in Iraq and another preparing to leave. "I'm a Democrat and proud of it," Keith Lynch, 67, said while taking a break from trimming the brush around the flag pole in front of his 600-acre ranch near the Bush spread. "But you've got to respect your country, you've got to respect your flag, and you've got to respect your president." An online thesaurus struck a listing Monday for the word "Arab" after Arab-American groups complained the entry listed derogatory synonyms. The entry, which appeared on thesaurus.com, listed the word as a noun meaning "beggar," and gave 16 pejorative synonyms including "homeless person" and "welfare bum." Families of fallen soldiers and Marines are being told they have the option to have the government-furnished headstones engraved with "Operation Enduring Freedom" or "Operation Iraqi Freedom" at no extra charge, whether they are buried in Arlington or elsewhere. A mock-up shown to many families includes the operation names. The vast majority of military gravestones from other eras are inscribed with just the basic, required information: name, rank, military branch, date of death and, if applicable, the war and foreign country in which the person served. Families are supposed to have final approval over what goes on the tombstones. That hasn't always happened. "I was a little taken aback," Robert McCaffrey said, describing his reaction when he first saw the operation name on Patrick's tombstone. "They certainly didn't ask my wife; they didn't ask me." He said Patrick's widow told him she had not been asked either. "In one way, I feel it's taking advantage to a small degree," McCaffrey said. "Patrick did not want to be there, that is a definite fact." The owner of the company that has been making gravestones for Arlington and other national cemeteries for nearly two decades is uncomfortable, too. "It just seems a little brazen that that's put on stones," said Jeff Martell, owner of Granite Industries of Vermont. "It seems like it might be connected to politics." Religious broadcaster Pat Robertson insisted Wednesday that he did not call for the assassination of Venezuelan President Hugo Chavez, despite comments broadcast on his program two days earlier. "I didn't say 'assassination,'" Robertson said Wednesday on his Christian Broadcast Network show "The 700 Club" about remarks reported by The Associated Press and other media outlets. "I said our special forces should 'take him out. "Take him out' could be a number of things including kidnapping. "There are a number of ways of taking out a dictator from power besides killing him. I was misinterpreted by the AP, but that happens all the time." But a video of Monday's telecast shows that Robertson's exact words were: "You know, I don't know about this doctrine of assassination, but if he thinks we're trying to assassinate him, I think that we really ought to go ahead and do it. It's a whole lot cheaper than starting a war, and I don't think any oil shipments will stop." He continued: "We have the ability to take him out, and I think the time has come that we exercise that ability. We don't need another $200 billion war to get rid of one, you know, strong-arm dictator. It's a whole lot easier to have some of the covert operatives do the job and then get it over with." Getting President Bush from here to there consumes an enormous amount of fuel, whether he's aboard Air Force One, riding in a helicopter or on the ground in a heavily armored limousine. The bill gets steeper every day as the White House is rocked by the same energy prices as regular drivers. Taxpayers still foot the bill. Almost every vehicle Bush uses is custom-made to add security and communications capabilities, and the heavier weight of these guzzlers further drives up gas and jet fuel costs. The White House declines to discuss travel costs related to the presidential entourage, and did not respond to a request for the overall effect of higher fuel prices on its budget. The address was his, but the name on the credit-card offer took Sami Habbas by surprise: "Palestinian Bomber.""I thought it was a joke or something," said Habbas, 54, a Palestinian American who served in the U.S. Army. Habbas opened the letter, and the salutation read "Dear Palestinian Bomber." When he called the company, JPMorgan Chase & Co., provided his ZIP code and invitation number, two operators said to him: "Yes, Mr. Bomber, what can we do for you?" "It's very upsetting," Habbas said. "I'm not what they are saying, a Palestinian bomber. That's uncalled for. I have a name. My name is Sami Habbas." A gunman killed four people at a rural church in a small north Texas town, then held off police in an nine-hour standoff before apparently killing himself, officials said Monday. At least one other person was wounded. The gunman reportedly knocked on the door of the Sash Assembly of God church Sunday night, then started firing when the door was opened. Three people were shot, including the pastor. It was not immediately clear if the pastor was the wounded person or one of the two dead. Two women in a car outside the church were then shot and killed, police said. "These two ladies, from what it appeared, happened to be in the wrong place at the wrong time." The man fled and was later tracked to his home near the church in Sash, an unincorporated community about 80 miles north of Dallas near the Oklahoma border. Vandals burned swastikas and obscenities into the lawn of a Jewish family, splattering windows with eggs and fouling the front porch of their home. Two swastikas were spray-painted in the road in front of the two-story home Sunday and a third was etched onto the lawn, along with the word "Fascist" and an obscenity scrawled in the grass. Trees were draped with toilet paper and someone had urinated and defecated on the porch. Police are investigating the vandalism in the town northeast of Atlanta and are uncertain whether to classify it as a hate crime. "I could handle the toilet paper and the egging," she said. "But for them to put swastikas and write 'fascist,' that turned it personal." Members of a church say God is punishing American soldiers for defending a country that harbors gays, and they brought their anti-gay message to the funerals Saturday of two Tennessee soldiers killed in Iraq. The church members were met with scorn from local residents. They chased the church members cars' down a highway, waving flags and screaming "God bless America." "My husband is over there, so I'm here to show my support," 41-year-old Connie Ditmore said as she waved and American flag and as tears came to her eyes. "To do this at a funeral is disrespectful of a family, no matter what your beliefs are." The Rev. Fred Phelps, founder of Westboro Baptist in Kansas, contends that American soldiers are being killed in Iraq as vengeance from God for protecting a country that harbors gays. The church, which is not affiliated with a larger denomination, is made up mostly of Phelps' children, grandchildren and in-laws. The church members carried signs and shouted things such as "God hates fags" and "God hates you." About 10 church members protested near Smyrna United Methodist Church and nearly 20 stood outside the National Guard Armory in Ashland City. Members have demonstrated at other soldier funerals across the nation. The funerals were for Staff Sgt. Asbury Fred Hawn II, 35, in Smyrna and Spc. Gary Reese Jr., 22, in Ashland City. Both were members of the Tennessee National Guard. Hundreds of Smyrna and Ashland City residents and families of other soldiers turned out at both sites to counter the message the Westboro Baptist members brought. So many counterdemonstrators were gathered in Ashland City that police, sheriff's deputies and state troopers were brought in to control traffic and protect the protesters. The church members held protesting permits, and counterprotesters in Smyrna turned their backs to Westboro Baptist members until time expired on the protest permits. "If they were protesting the government, I might even join them," Danny Cotton, 56, said amid cries of "get out of our town" and "get out of our country." Sandwich police accused the doctor of buying back painkillers he had prescribed to a patient. A sculpture made with the pickled head of a dead fetus attached to a seagull's body has fueled a furor in Switzerland about the boundaries of art. Berne's Museum of Fine Arts removed the piece from a Chinese art exhibition earlier this month after a complaint that it was disrespectful to the dead, and following concerns its grisly appearance might traumatize visiting schoolchildren. The piece, named "Ruan," stole headlines in Swiss newspapers when artist Xiao Yu confirmed that the fetus head was real. Now the museum's management will decide next week whether to reinstate the work, which sits pickled in a jar of formaldehyde. Fewer than half of Americans know the purpose of the Patriot Act, and the more they know about it the less they like it, according to a poll released Monday. Fewer than half of those polled, 42 percent, are able to correctly identify the law's main purpose of enhancing surveillance procedures for federal law enforcement agencies, according to the poll conducted by the Center for Survey Research and Analysis at the University of Connecticut. Almost two-thirds of all Americans, 64 percent, said they support the Patriot Act. But support dropped to 57 percent among those who could accurately identify the intent of the legislation. Fights and fires broke out, corpses lay out in the open, and rescue helicopters and law enforcement officers were shot at as flooded-out New Orleans descended into anarchy Thursday. Anger mounted across the ruined city, with thousands of storm victims increasingly hungry, desperate and tired of waiting for buses to take them out. An old man in a chaise lounge lay dead in a grassy median as hungry babies wailed around him. Around the corner, an elderly woman lay dead in her wheelchair, covered with a blanket, and another body lay beside her wrapped in a sheet. "I don't treat my dog like that," a man said as he pointed at the woman in the wheelchair. "I buried my dog." He added: "You can do everything for other countries but you can't do nothing for your own people. You can go overseas with the military but you can't get them down here." Crews are driving around coastal Mississippi, picking up bodies left on sidewalks like garbage and depositing them in refrigerated mobile morgues. Coroners are conducting autopsies in parking lots because the only available light is from the sun. The dead are a lower priority, and many bodies have been putrefying since the water receded Monday. "This is a national emergency. This is a national disgrace," he said. "FEMA has been here three days, yet there is no command and control. We can send massive amounts of aid to tsunami victims, but we can't bail out the city of New Orleans." A refrigerated truck was running in the parking lot Thursday with 10 bodies, six of which could not be identified. Broadus said most of the victims drowned or suffered severe injuries when buildings collapsed around them. Their faces have been distorted from the water or the rubble and they have started to decompose. Their identification and clothes were swept away, and many bodies had drifted miles from home. "We are looking for any scars, tattoos, dental work. I'm doing DNA, fingerprinting and photos," she said Thursday. "It's not easy. This isn't like looking at James standing there and telling what he looks like. These people really are not identifiable right now." Sewage and chemicals are mixed into a potentially toxic bathtub soaking New Orleans. Along with the sewage in the floodwater is a witches' brew of chemicals from a variety of sources, including leaking fuels and oils from gas stations and submerged cars, paints and solvents from small businesses and household cleaners and pesticides from peoples' homes. Americans are divided over whether humans and other living things evolved over time or have existed in their present form since the beginning of time, according to a new poll. The total U.S. death toll since the start of the war is now approaching 1,900. A far higher number of Iraqis have been killed; on Wednesday an estimated 800 Shiite pilgrims died in a panicked stampede on a bridge in Baghdad. The "rapex" hooks onto the rapist's skin, allowing the victim time to escape and helping to identify perpetrators. "He will obviously be too pre-occupied at this stage," she told reporters in Kleinmond, a small holiday village about 100km (60 miles) east of Cape Town. "I promise you he is going to be too sore. He will go straight to hospital." The device, made of latex and held firm by shafts of sharp barbs, can only be removed from the man through surgery which will alert hospital staff, and ultimately, the police, she said. World leaders and ordinary citizens have expressed sympathy with the people of the southern United States whose lives were devastated by the hurricane and the flooding that followed. But many have also been shocked by the images of disorder beamed around the world -- looters roaming the debris-strewn streets and thousands of people gathered in New Orleans waiting for the authorities to provide food, water and other aid. "Anarchy in the USA" declared Britain's best-selling newspaper The Sun. "I am absolutely disgusted. After the tsunami our people, even the ones who lost everything, wanted to help the others who were suffering," said Sajeewa Chinthaka, 36, as he watched a cricket match in Colombo, Sri Lanka. "Not a single tourist caught in the tsunami was mugged. Now with all this happening in the U.S. we can easily see where the civilized part of the world's population is." SINKING INTO ANARCHY. "A modern metropolis sinking in water and into anarchy -- it is a really cruel spectacle for a champion of security like Bush," France's left-leaning Liberation newspaper said. "(Al Qaeda leader Osama) bin Laden, nice and dry in his hideaway, must be killing himself laughing." Across the city, law and order broke down. Police officers turned in their badges. Rescuers, law officers and helicopter were shot at by storm victims. Fistfights and fires broke out Thursday at the hot and stinking Superdome as thousands of people waited in misery to board buses for the Houston Astrodome. Corpses lay out in the open in wheelchairs and in bedsheets. The looting continued. Gov. Kathleen Blanco called the looters "hoodlums" and issued a warning to lawbreakers: Hundreds of National Guardsmen hardened on the battlefield in Iraq have landed in New Orleans. "They have M-16s and they're locked and loaded," she said. "These troops know how to shoot and kill, and they are more than willing to do so, and I expect they will." At the Superdome, group of refugees broke through a line of heavily armed National Guardsmen in a scramble to get on to the buses. And about 15,000 to 20,000 people who had taken shelter at the convention center grew ever more hostile after waiting for buses for days amid the filth and the dead, including at least seven bodies scattered outside the building. Police Chief Eddie Compass said there was such a crush around a squad of 88 officers that they retreated when they went in to check out reports of assaults. "We have individuals who are getting raped, we have individuals who are getting beaten," Compass said. "Tourists are walking in that direction and they are getting preyed upon." A military helicopter tried to land at the convention center several times to drop off food and water. But the rushing crowd forced the choppers to back off. Troopers then tossed the supplies to the crowd from 10 feet off the ground and flew away. The chief of the Louisiana State Police said he heard of numerous instances of New Orleans police officers — many of whom from flooded areas — turning in their badges. "They indicated that they had lost everything and didn't feel that it was worth them going back to take fire from looters and losing their lives," Col. Henry Whitehorn said. Tourist Debbie Durso of Washington, Mich., said she asked a police officer for assistance and his response was, "'Go to hell — it's every man for himself.'" Four years after the September 11, 2001, attacks, the storm disaster marked the first time the federal government has invoked its post-September 11 response plan aimed at enhancing Washington's ability to deal with national incidents. But as Americans reeled at images of death and desperation among the city's refugees, experts on domestic security said a nuclear or biological attack on a big U.S. city could cause greater mayhem, and unlike the storm, come without warning. The New Orleans disaster is already viewed as an illustration of what can go wrong in an American city under siege. Many people are frustrated, not just by the bloodshed but by a sense of helplessness. Victory seems elusive. Defeat is unthinkable in a time of terror. Withdraw U.S. troops? Even some of the president's harshest critics are reluctant to advocate that. "It's like we're stuck and we can't move," says Jina Hopkins, 21, an Albuquerque, N.M., fragrance sales clerk. She supported the war at first. "But now that everybody has died. ..." Angie Sanchez, a 23-year-old bagel shop manager from Jasper, Ind., said she has a number of friends who served in Iraq. "I felt that Bush kind of twisted the truth and made it into something it was not," she says. Pulling back the slide of a .45-caliber semiautomatic pistol, William Crawford, a gun store manager in Albuquerque, says to list him as a war supporter. "Whether we should be there or shouldn't be there is not a decision for any of us to make," he says. "We are there, so we should support whatever our government or troops are doing, and in that region of the world a free and independent country would not be a bad thing." In a cold drizzle, Simpson attaches the newly painted shingles to the sign that hangs on his backyard fence. "Support our Troops. USA" reads the sign with the fresh set of grim numbers: 1,970 dead and 14,362 injured - and climbing. He talks about plans to add another flag and a few flourishes when the death toll hits 2,000. "It's not that I have a cause. ... I'm just trying to make people remember that they shouldn't forget the war," he says as a truck rattles past. "Don't forget the troops. The troops are what I'm concerned about. "Nothing we can do about the war now." Republican Jack McAvoy is choking back tears, his eyes swollen and red. "We were lied to by the president and his administration," says the 51-year-old convenience store manager. "I'm angry." Over breakfast at the Court Diner a few blocks from Simpson's home, McAvoy explains that he is a Vietnam-era veteran who fears history is repeating itself in Iraq. "It's Vietnam all over again, less the jungle," he says. Federal Emergency Management Agency officials did not respond to repeated warnings about deteriorating conditions in New Orleans and the dire need for help as Hurricane Katrina struck, the first FEMA official to arrive conceded Thursday. Federal Emergency Management Agency officials did not respond to repeated warnings about deteriorating conditions in New Orleans and the dire need for help as Hurricane Katrina struck, the first FEMA official to arrive conceded Thursday. ater, on Aug. 31, Bahamonde frantically e-mailed Brown to tell him that thousands are evacuees were gathering in the streets with no food or water and that "estimates are many will die within hours. Sir, I know that you know the situation is past critical," Bahamonde wrote. Less than three hours later, however, Brown's press secretary wrote colleagues to complain that the FEMA director needed more time to eat dinner at a Baton Rouge restaurant that evening. "He needs much more that (sic) 20 or 30 minutes," wrote Brown aide Sharon Shitworthy. "We now have traffic to encounter to go to and from a location of his choise (sic), followed by wait service from the restaurant staff, eating, etc. Thank you." Response: "OH MY GOD!!!!!!!! No won't go any further, too easy of a target. Just tell her that I just ate an MRE and crapped in the hallway of the Superdome along with 30,000 other close friends so I understand her concern about busy restaurants. Maybe tonight I will have time to move my pebbles on the parking garage floor so they don't stab me in the back while I try to sleep. The leadership from top down in our agency is unprepared and out of touch. ... But while I am horrified at some of the cluelessness and self concern that persists, I try to focus on those that have put their lives on hold to help people that they have never met and never will. And while I sometimes think that I can't work in this arena, I can't get out of my head the visions of children and babies I saw sitting there, helpless, looking at me and hoping I could make a difference and so I will and you must to." The apparent suicide of a woman found hanging from a tree went unreported for hours because passers-by thought the body was a Halloween decoration, authorities said. The 42-year-old woman used rope to hang herself across the street from some homes on a moderately busy road late Tuesday or early Wednesday, state police said. The body, suspended about 15 feet above the ground, could be easily seen from passing vehicles. State police spokesman and neighbors said people noticed the body at breakfast time Wednesday but dismissed it as a holiday prank. Authorities were called to the scene more than three hours later. "They thought it was a Halloween decoration, it looked like something somebody would have rigged up," she said. For Washington commuters, unattended bags or odd behavior spell "sumpnspicious." The newly coined term is part of a novel campaign by the Washington Metropolitan Area Transit Authority to make jaded customers on the city's buses and underground trains stay alert to terrorist threats -- despite a slew of false alarms and no new attacks since September 11, 2004. Five hundred Washington buses and about 90 subway cars now carry advertising posters with creative dictionary definitions of made-up words urging commuters to keep an eye out for danger and respect fellow travelers on the busy "Metro" system. "Sumpnspicious," -- a play on the slang pronunciation of "something suspicious" -- is defined as "n. (noun) unattended package or odd, unusual behavior that is reported to a bus driver, train operator ... station manager or Metro Police." The city of Rome has banned goldfish bowls, which animal rights activists say are cruel, and has made regular dog-walks mandatory in the Italian capital, the town's council said Tuesday. The classic spherical fish bowls are banned under a new by-law which also stops fish or other animals being given away as fairground prizes. It comes after a national law was passed to allow jail sentences for people who abandon cats or dogs. The newspaper reported that round bowls caused fish to go blind. No one at Rome council was available to confirm this was why they were banned. Many fish experts say round bowls provide insufficient oxygen for fish. In July 2004, parliament passed a law setting big fines and jail terms for people who abandon pets and since then local governments have added their own animal welfare rules many of which will be difficult to police. The car bomb in the southern city of Basra exploded about 8:30 p.m., the restaurants had been packed in the evening with people breaking their fast during the Muslim holy month of Ramadan. Dazed survivors, their clothing stained with blood, stumbled in the darkness or wept in despair, and witnesses said body parts were strewn on the street. "We see an adversary that continues to develop some sophistication on very deadly and increasingly precise stand-off type weapons - IEDs, in particular. They're obviously quite capable of killing large numbers of noncombatants indiscriminately, and we're seeing a lot of that, too. At least 20 innocent people were killed by the U.S. warplanes. Why are the Americans killing families? Where are the insurgents? We don't see democracy. We just see destruction." He didn't give his name. Conservative Anglican clerics from Africa, Asia and Latin America accused North American priests Monday of not doing enough to stop supporting same-sex marriages and gay priests, which threatens to split the church. "Our own Anglican Communion sadly continues to be weakened by unchecked revisionist teaching and practices which undermine the divine authority of the Holy Scripture," the statement said. "The Global South calls for the errant provinces to be disciplined. The Americans think the consecration of a gay priest is a local issue and related to culture of America, but it affects the rest of the world, In a Coptic Orthodox and Islamic context, such a thing is seen as very immoral and the Anglican communion in Egypt, therefore, is being seen as very immoral, even though we oppose the idea." The Global South also praised a plan to allow conservative U.S. dioceses join the newly formed Council of Anglican Provinces of the Americas and the Caribbean, a move that could further isolate the liberal Anglican camp in North America. The six-day conference also urged the church to play a stronger role in helping spread the HIV/AIDS in the Third World and foster nondevelopment projects. VX - Even in small amounts, this potentially lethal nerve agent, developed as a chemical weapon, can affect large numbers of people through inhalation or skin contact. But obtaining its precursor chemicals and manufacturing the compound would be very difficult. SARIN - This potentially lethal nerve agent and traditional chemical weapon is difficult to make, though somewhat less so than VX. It must be inhaled and its victims would be more readily treatable than those of VX. CHLORINE - This industrial chemical would be easy to acquire and can cause serious lung damage. But it is rarely lethal, and large volumes of it must be inhaled to do harm. A pastor performing a baptism was electrocuted inside his church Sunday morning after adjusting a nearby microphone while standing in water, a church employee said. The Rev. Kyle Lake, 33, was stepping into the baptistery as he reached out for the microphone, which produced an electric shock, said University Baptist Church community pastor. Water in a Lake was pronounced dead at Hillcrest Baptist Medical Center. The woman being baptized apparently had not stepped into the water and was not seriously injured. Investigators said Sunday they may never know why a 19-year-old man dressed in a dark cape and paintball mask went on a shooting rampage in an upscale community, killing two neighbors and himself. William Freund, described as a loner, used a 12-gauge shotgun Saturday to kill a neighbor and her father, who lived just 100 yards away, police said. Freund then fired into a separate house and aimed his gun at another neighbor before returning home and committing suicide. "The motive may never be known, It may have been a random thing. What set him off is the big question we're trying to find out. It's without a doubt very bizarre behavior." The violence occurred Saturday morning when Freund drove the short distance to the Smiths' house. A 20-year-old son escaped after hearing shots. Freund then walked across the street and fired into another house, where an occupant suffered cuts from broken glass. Freund tried to fire at a neighbor who came outside after hearing the commotion, but the gun misfired, Amormino said. Freund went home and killed himself with the same firearm. Italian secret services warned the United States months before it invaded Iraq that a dossier about a purported Saddam Hussein effort to buy uranium in Africa was fake, a lawmaker said Thursday after a briefing by the nation's intelligence chief. "At about the same time as the State of the Union address, they (Italy's SISMI secret services) said that the dossier doesn't correspond to the truth." The United States and Britain used the claim that Saddam was seeking to buy uranium in Niger to bolster their case for the invasion, which started in March 2003. The intelligence supporting the claim later was deemed unreliable. Italy knowingly gave forged documents to Washington and London detailing a purported Iraqi deal to buy 500 tons of uranium concentrate from Niger. The uranium ore, known as yellowcake, can be used to produce nuclear weapons. "They are stupid. They are destroying everything," said an 18-year-old. "They should do that in southwest Paris or at the National Assembly - not here. People here are suffering already." Newly-released e-mails show former FEMA director Michael Brown discussing his wardrobe during the crisis caused by Hurricane Katrina. A House panel has released 23 pages of internal e-mail offering additional evidence of a confused and distracted government response to Katrina, particularly from Brown, the former head of Federal Emergency Management Agency, at critical moments after the storm hit. The e-mails show that Brown, who had been planning to step down from his post when the storm hit, was preoccupied with his image on television even as one of the first FEMA officials to arrive in New Orleans, Marty Bahamonde, was reporting a crisis situation of increasing chaos to FEMA officials. "My eyes must certainly be deceiving me. You look fabulous - and I'm not talking the makeup," writes Cindy Taylor, FEMA's deputy director of public affairs to Brown on 7:10 a.m. local time on Aug. 29. "I got it at Nordstroms," Brown writes back. "Are you proud of me? Can I quit now? Can I go home?" An hour later, Brown adds: "If you'll look at my lovely FEMA attire, you'll really vomit. I am a fashion god." A week later, Brown's aide, Sharon Worthy, reminds him to pay heed to his image on TV. "In this crises and on TV you just need to look more hardworking ... ROLL UP THE SLEEVES!" Worthy wrote, noting that even President Bush "rolled his sleeves to just below the elbow." Just as she was trying to rebuild her own life after Hurricane Katrina, Elaine Oneto was told by military officials that her soldier son lost his in Iraq. 1st Lt. Robert C. Oneto-Sikorski, 33, of Bay St. Louis was on a foot patrol Monday near al Haswah, an area west of Baghdad, when he was killed by a roadside bomb, military officials said. "I told him, 'Please be careful, you just have two more months. You just have two more months,'" Oneto said. The back-to-back tragedy has fueled anger for some in Oneto-Sikorski's family. Like other hurricane victims, the family has had a difficult time getting relief and his mother is still waiting for a trailer from the Federal Emergency Management Agency, said his aunt, Eloise Kindja. "What more does she have to give to the country?" Kindja asked. "She gave her only son." Las Vegas Mayor Oscar Goodman has suggested that those who deface freeways with graffiti should have their thumbs cut off on television. Goodman, appearing Wednesday on the "Nevada Newsmakers" television show, said, "In the old days in France, they had beheading of people who commit heinous crimes. "You know, we have a beautiful highway landscaping redevelopment in our downtown. We have desert tortoises and beautiful paintings of flora and fauna. These punks come along and deface it. "I'm saying maybe you put them on TV and cut off a thumb," the mayor added. "That may be the right thing to do." Goodman also suggested that whippings or canings should be brought back for children who get into trouble. "I also believe in a little bit of corporal punishment going back to the days of yore, where examples have to be shown," Goodman said. "I'm dead serious," said Goodman, adding, "Some of these (children) don't learn. You have got to teach them a lesson, and this is coming from a criminal defense lawyer. They would get a trial first," he added. Another panelist on the show, responded by saying that Goodman should "use his head for something other than a hat rack." Police in Papua New Guinea have arrested 320 people for practicing sorcery and religious cults, the National newspaper reported Thursday. Belief in sorcery is widespread in this jungle-clad, mountainous South Pacific island nation where some villages only encountered Western civilization in the 1930s. Police raided three villages Monday near the city of Lae on the north coast and arrested leaders of a "cargo cult" and their followers, the newspaper said. Those arrested were aged between 20 and 70. Cargo cults believe that Western goods or cargo, first encountered through missionaries and explorers, are created by ancestral spirits. They have been known to build airstrips in the jungles in the belief that planes would land with cargo. One group led by two women used menstrual blood as "sacred water" to enable them to see "invisible things," said the newspaper in the capital. One of the female cult leaders, Malamba Kifea, said the sorcery improved the livelihood of the people in Kasin village, a remote settlement some eight hours walk from the main highway. "We read the Bible and in the book of Leviticus, we found strange teachings about women and their monthly period. We were not sure and did not consult our pastor but kept the secret to ourselves after having revelations and seeing cargo and money being given to us." Another group in Sadau village used skeletons from ancestors to summon "supernatural powers" to predict the future and bring prosperity. "We can invoke blessings for protection, hunting, luck and to increase wealth." A Dutch dentist who chopped off his finger and then faked a car crash before claiming 1.8 million euros ($2.2 million) from insurers was given a suspended sentence and fined by a court Thursday. The man, aged 50, mutilated himself and crashed his car into a tree in Belgium in the hope of convincing insurers that the steering wheel had inflicted the injury, the court said. However, the shape of the cut on his index finger, the level of anaesthetic in his blood and the absence of skid marks on the road suggested otherwise. "It was not an accident but an amputation he carried out himself, or he had someone do it for him," a court spokeswoman said. The dentist was fined 25,000 euros and received a six-month suspended jail sentence with 240 hours community service.
---
not had enough abuse yet?
try the Hidden Page o' Krap - 2004!
ROIL NOISE - The Most Crusted Name in News